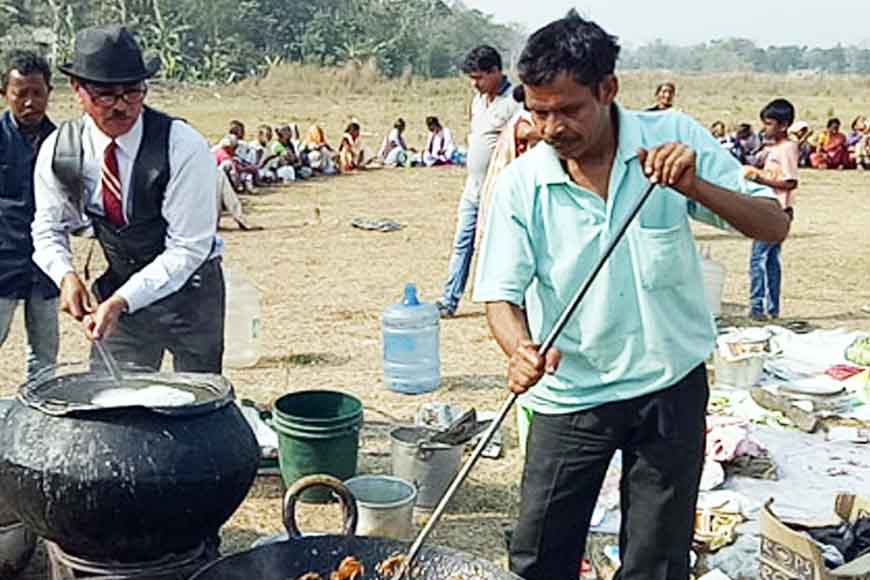 The warm rays of the winter sun bring people together to have some picnic fun. In North Bengal, the banks of River Teesta with its ethereal splendor turn to a picturesque picnic spot every winter. But this year round, the sight was a bit unusual, with a group of old people playing khanjani and some others sitting in tattered clothes. And then there is a man standing tall among them all --- a man who reminds you of Charlie Chaplin, briskly serving bread and bananas tothe poor old men, a smile of contentment lighting up his face. You will also find him dancing and singing at times, while serving the groups bringing a cheer hitherto unknown.
These old people around had always spent their lives in poverty. For them, the only means of earning money is begging. They too deserve few moments of fun amidst all the gloom that have engulfed their morbid lives. Therefore, the 'joker' Surendra Mondal makes the effort of taking them out for picnics at times whenever possible. He has come up with this unique idea of collecting money for such picnics and entertaining the poor and needy with fun and food. At times, he dresses up likea joker of Raj Kapoor's Mera Naam Joker or as Chaplin and funds the picnics. His only agenda is to feed them to their heart's content and offer them a few moments of unadulterated happiness.
Surendra Mondal is everyone's beloved Raju joker.He is a resident of Lichutala area of Dinbazar in Jalpaiguri. Raju's profession requires him to repair televisionsets buthe is a social worker by passion. He belongs to a humble background and lives in a small house with his wife and children. Despite not being financially stable himself, his heart is generous enough to spend most of his income on the needy. Feeding the poor gives him a kind of pleasure that is difficult to describe in words. Be it any special occasion such as Poila Baisakh or Independence Day, his courtyard is always full of guests.
Raju 'joker' does not compromise when it comes to the quality of food. From breakfast to afternoon meals, he leaves no stone unturned to offer the best to the needy. Bread and bananas for breakfast, rice, cereals, chips, paneer, vegetable curry, mutton, chatni -- the arrangements are indeed elaborate and special. He makes it a point to supervise everything himself before serving. Raju 'joker' also arranges picnic with the beggars thrice a year. He also takes out the children of tea garden workers and prostitutes of brothelsto shopping malls, buying them clothes and books.Even his own poverty doesn't hold him back. Within limited means, his only agenda is to make the poor smile. Charity amongst the affluent is common but there are not many who live in broken homes and still considers the happiness of the needy as supreme. Raju 'joker' is the true face of humanity.