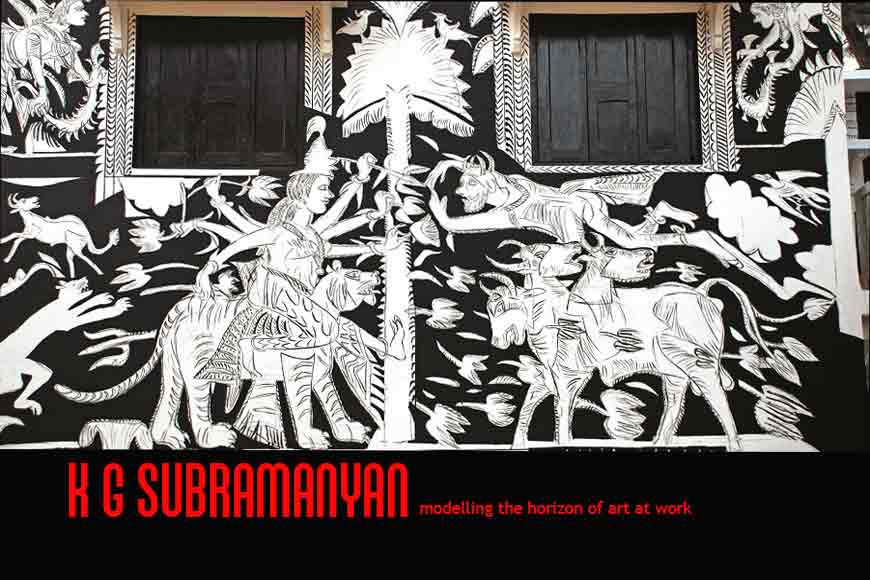 K.G. Subramanyan or Kalpathi Ganpathi Subramanyan, quite legitimately is known as one of the towering figures of Indian modern art, whose vision and experience infused an essence of modern India in contemporary art. Birla Academy of Art and Culture, in association with Seagull Foundation for Arts,had the unique opportunity to showcase a massive collection of K.G. Subramanyan's works. A staggering figure of three hundred and twenty-two paintings and drawings were put up.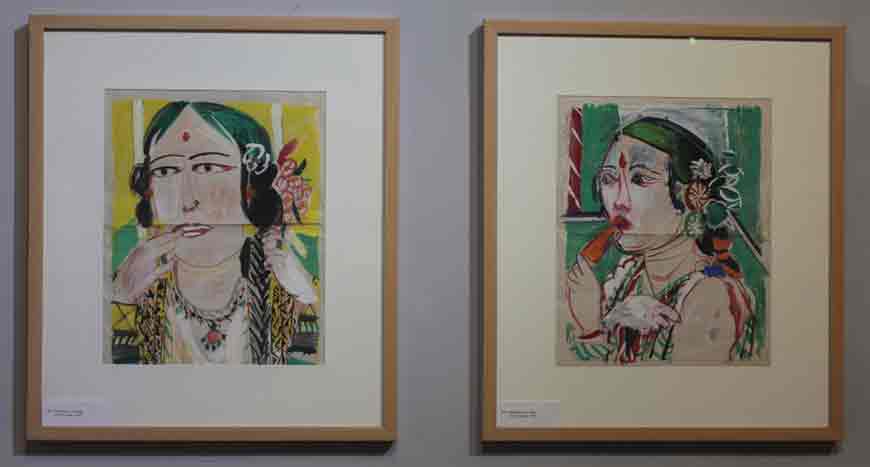 Subramanyan's acute senses grabbed, turned and examined every pebble that he came across in his path, from early days as an economics graduate to Santiniketan and then to Baroda. Like a seafarer, the artist never let himself stagnate under the overwhelming influences of Gandhi and Rabindranath Tagore, even in their active company. A keen yet distant seeker of ad vitam, the artist learned from the masters like Nandalal Bose and Ramkinkar Baij but harboured his originality in isolation. Neither did he move away from his roots, even when he won the British Council fellowship or the Rockefeller fellowship. A dedicated soul to art, Subramanyan's contribution left its mark in his teachings at Santiniketan. The government of India honoured him with Padma Bibhushan Award in 2012. The evolution of Indian modern art down to his final years, gained a new dimension in his prolific hands.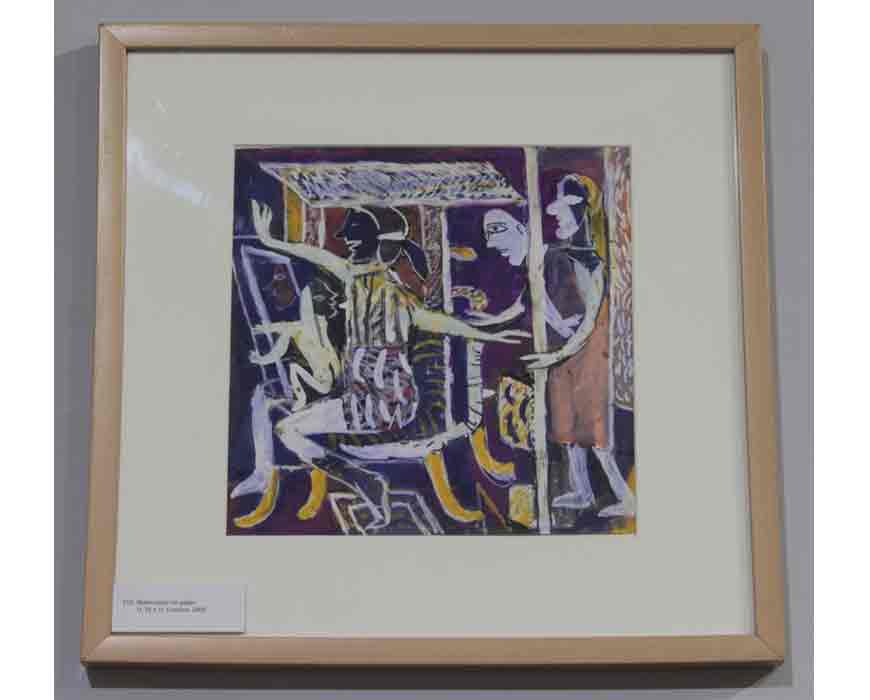 The gallery hoppers of the town are not unfamiliar with Subramanyan's work, but this exhibition was unique as it focuses on a specific theme --Women. The retrospective transcends a mere status of the spectacle to something to be experienced at a higher level and in a more holistic sense in its magnanimity. It had small format drawings and paintings on paper, none of which had a title. Absence of title, cuts the scope a little, to peep into the mind of the artist, but at the same time opens up a wider space of interpretation on the part of the viewer. The works bear evidence of the effortless passage of the artist across a wide range of media, including oil, water colour, ink and even ball point pen.
The earliest work featured here is dated 1953. In his formative years, which began in Santiniketan back in 1944, Subramanyan displays a marked influence of his masters in his watercolour and figure drawings. Ramkinkar, Benodebehari and Nandalal make their presence felt in his water-colours in terms both of subject matter and form. From the '50s to early '60s we see the artist immersed in a rigorous experimentation, in search of his own visual vocabulary. His intense struggle with figuration to find his own mode of expression manifests itself in his restless vacillation between the style child art and decorative figuration. The highly decorative human figures attract attention with their pronounced structural elements. These structures gradually reveal themselves in more of a scaffold of skeletal framework than bare motifs of decoration. The interest in skeletal form and internal architectural qualities prove to be the seeds of Subramanyan's very own understanding of cubism. For the artist, cubism was something which he never lost interest in, as it exemplifies at its best in his late pieces.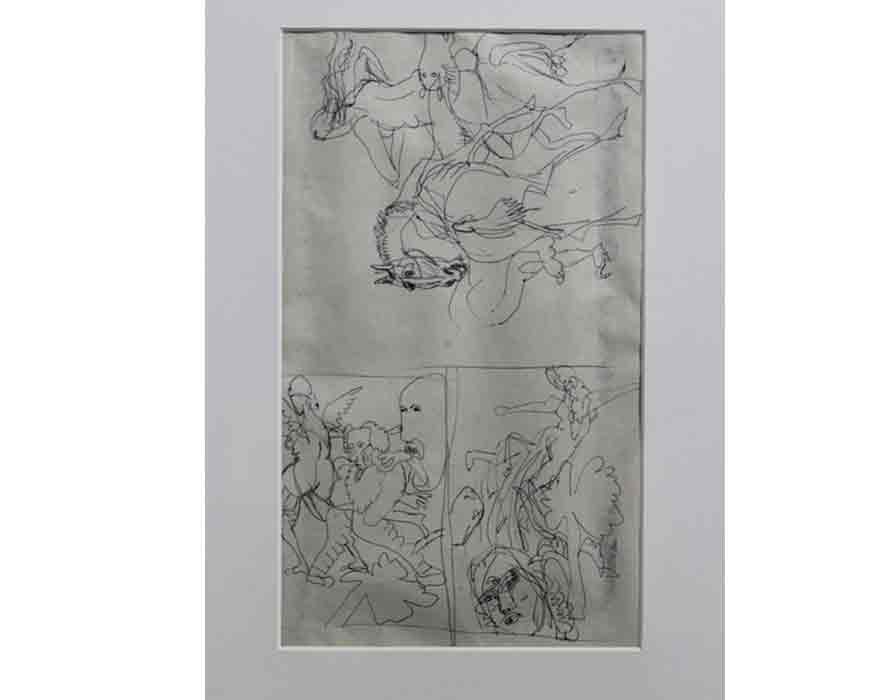 To comprehend his distinctive relationship with cubism, one needs to pay attention to his preoccupation with pictorial space. First, apparently his space is always two dimensional. But he masterfully adds depth to his drawings through bare lines and colour whenever necessary. In these early works a large white space often hangs behind a small rectangular area inhabited by a female figure or two. Second, and more interestingly, he manoeuvres the dimension of time on his small rectangular piece of paper. Multiple rectangular subspaces infiltrate his surface depicting the same body or event from different angles. But sometimes the objects depicted within these subspaces are hard to be identified or discerned. This technique of instilling the fluidity of time in an otherwise static surface of paper imparts a cinematic quality in the paintings.Subramanyan was one of the few visionaries who felt more at home in the midst of the masses than some ivory tower. His art engages into a dialogue with the reality of common women on a same plane. Like a true artist, understanding the nuances of their lives is more important to him than to judge. Stories of desire and despondence, hope and fear, birth and death, fantasies and realities, and the like find voices in the paintings and drawings. Set against an urban or abstract background, they are the most intimate stories of Indian women confided to the viewer in swirling narratives having neither beginning nor end.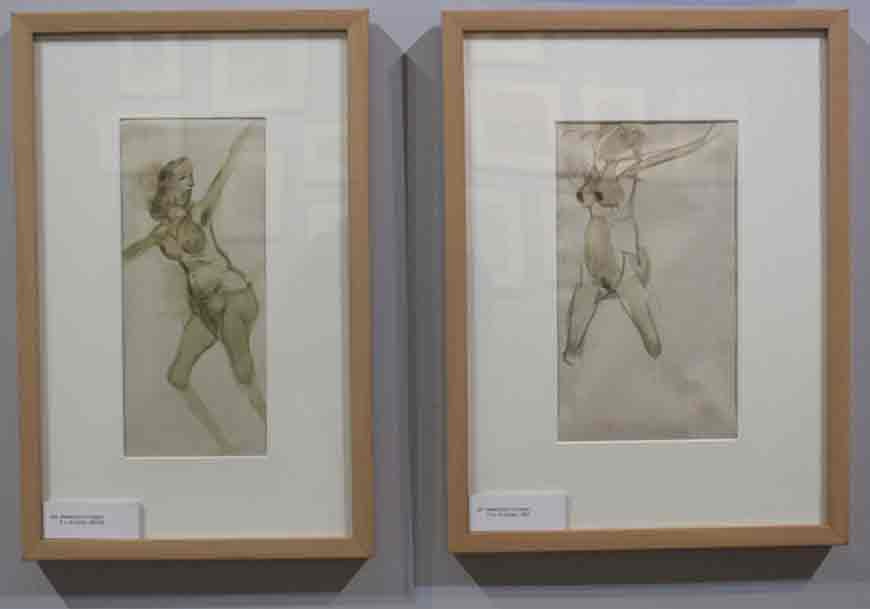 By the first decade of the new millennium the mellowed senses of the artist cast their focus on youth. Figures of young women refreshed his brush but not without a sardonic note. Perhaps the rejuvenation thus gained got internalized in the psychedelic colour schemes and mysterious compositions of Subramanyan's final masterpieces. The pieces show a more down to earth approach towards the daily chores of Indian women in their milieu than ever before. But by dint of the intricacy of fragmentation of the frames, supranatural colour harmony and grotesque mythological suggestions the works, collectively, stand apart from the rest as the epilogue of the master's oeuvre.