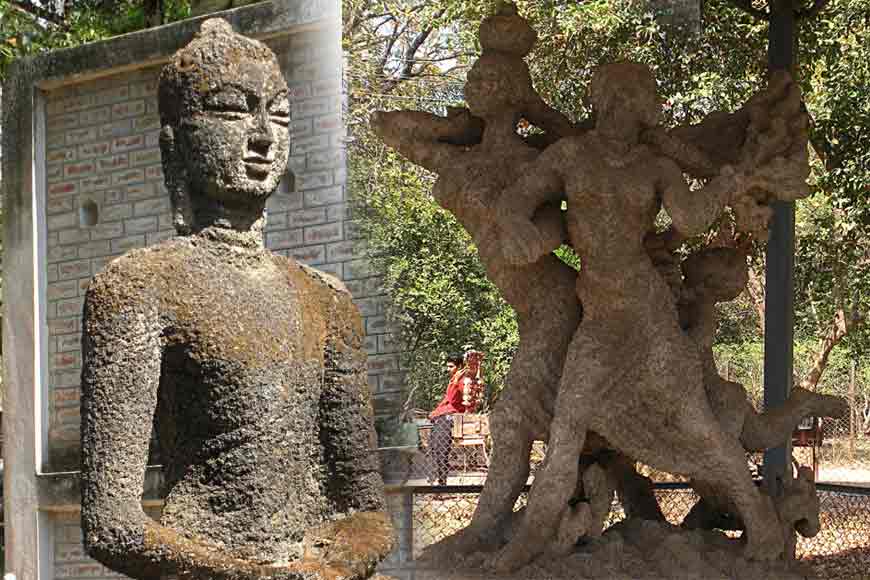 Koch-Debjani, Sujata, Santhal Family, Buddha, Fountain – these are some of the world-renowned sculptures by Ramkinkar Baij which were created between 1930 and 1956. But the sculptures were gradually deteriorating due to lack of maintenance. However, Visva Bharati officials are finally heaving a sigh of relief following the Central government's decision to sanction and release funds for the upkeep and maintenance of these priceless sculptures. An amount of 8 crores has been sanctioned for the purpose and it has been decided to make two sets of bronze casting of each of the sculptures, of which one will be housed at Visva Bharati and the second will be sent to National Gallery of Modern Art, New Delhi. Two sets will be made, so that a replica of the original art can be recreated or preserved and used for display or reference during exigency.
The Vice Chancellor of Visva Bharati, Dr Swapan Kumar Dutta says "precious time has already been lost in preserving these world-famous sculptures. Now, one has to study the project and decide on the methodology of conservation because we want the future generation to familiarize with the works of this great sculptor."
Many professional artists and sculptors feel this decision should have been taken at least 30 or 40 years ago. The sculptures have been lying in the open, under the sky for such a long time that all of them have been affected. Deep cracks have been formed and chunks of concrete are comingoff from the sculptures, due to weathering. Ramkinkar had used cement and laterite for sculpting due to paucity of funds.
Visva Bharati University authoritites had been appealing to the Union government forfunds since long. Last year in March, when Arvind Subramaniyam, economic advisor to the Union governmentcame to Santiniketan,things gradually started to take a concrete shape. This was followed by Adwaita Gananayak, director general of National Gallery of Modern Art, New Delhi, who came to Santiniketan with an expert team in July last year. The team came for a second visit this year to interact with and discuss scientific methods of conserving sculptures.