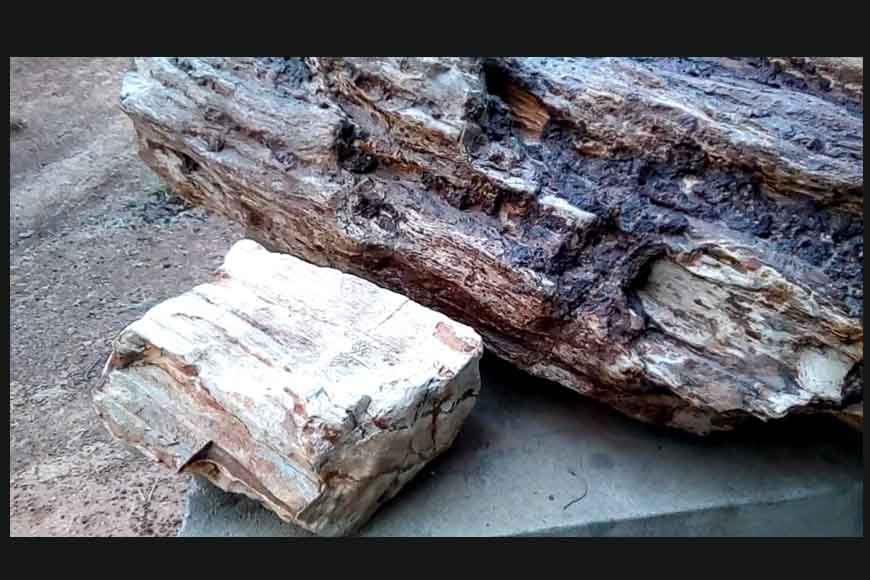 The news of finding a vast fossil forest at Ilambazar in Birbhum has garnered enough interest both among geologists and tourists. State Forest Department is developing 10 hectares around Amkhoi-Jambooni, as a tourist spot where the main attraction would be a fossil park. Previously paleontologists had discovered wood fossils in Aushgramof Burdwan, Sonamukhi of Bankura, Garbeta of Midnapore and on the banks of Murabala river in Mayurbhanj district of Odisha.But the one at Amkhoi is spread across a large areaand will become the only fossil forest garden of Bengal.
Work on setting up a museum is also in progress. Artists Kingshuk Sarkar and Reshmi Bagchi have been roped in for landscaping the fossils. Construction of basic amenities for visitors is underway and it is expected to be completed by this year end. A cafeteria and sales centre will be operated by local Adivasi women. The upkeep of the park will be entrusted to 10 self-help groups. Ilambazarserves as a gateway to Birbhum district. It is rich in natural vegetation and is flanked by forests including Aduria and Chaupahari. Tiny villages dot the outskirts of the forestland. Amkhoi is one such village. The fossil forest was discovered here by chance when locals were excavating a pond. They informed the forest department officials. Geologists from Santiniketan came and they were astounded to find the treasure-trove! Thefossil forests provided geologists with a unique 'window to the past.'
Wood fossil is woods preserved by natural process in the earth's crust millions of years back. Fossils are usually found in sedimentary rocks. The petrified woods of Amkhoihave been found in two different laterite beds. The fossilization is very extensive, and it is even possible to count the growth rings and observe microscopic details of the trees' cellular structure. The angiosperm wood fossils displayed here are definite proof of presence of a vast dry deciduous forest with a few evergreen elements which prevailed 15 to 20 million years ago. This kind of fossil is found in the Western Ghatsand the deep jungles of Myanmar and Malaysia.This is a pioneering effort by the West Bengal Forest Department to preserve the priceless fossils and woods and also sensitize and educate people about the natural heritage of the state.