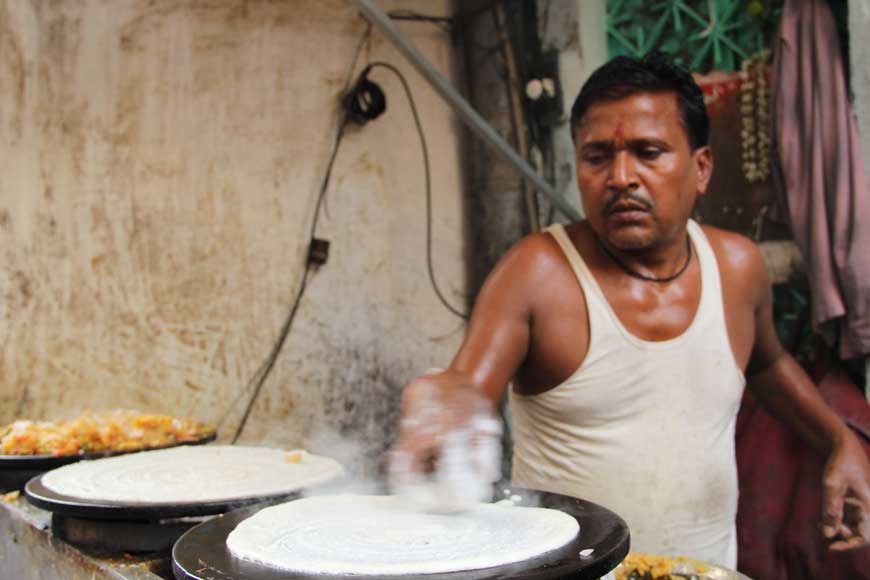 Plain, Cheese, Rava!! Yes, we are talking about dosa! Apart from offering large and irresistible varieties of dosa, there is a joint in the middle of hurly burly Burrabazar, that offers the best of South Indian cuisine, despite not being the Mini South India of Kolkata. Sumptuous dishes like idli-vada, sambhar vada, fried idli and much more, are offered regularly to locals and office-goers.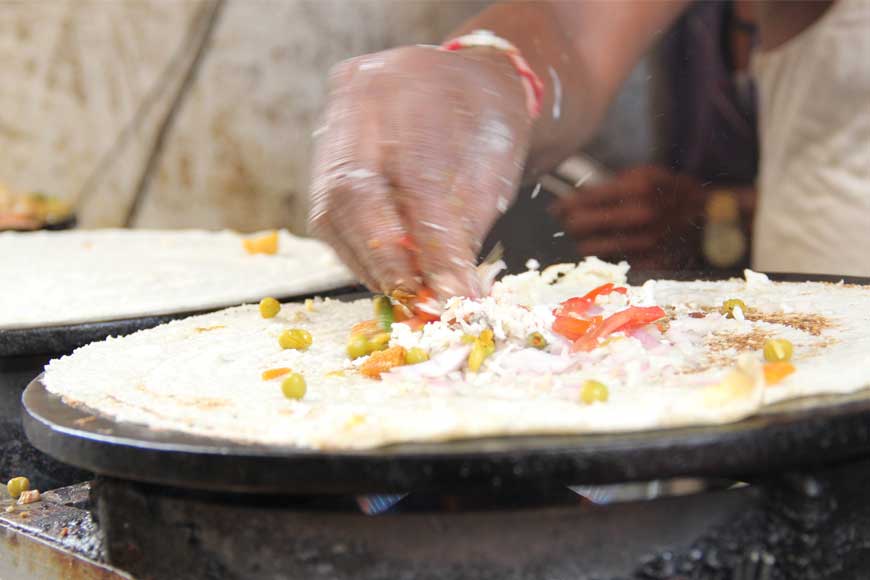 Cheese dosa being prepared
Ratan's road-side dosa joint, is a non- discreet stall, opposite to Bagri Market. This narrow alley has a number of small food joints, with equally swelling crowds. Outside this small joint, one finds long queues in the middle of a weekday. That's the popularity of this shop! Ratan's preparations are authentic and that typical South-Indian taste will linger in your mouth always.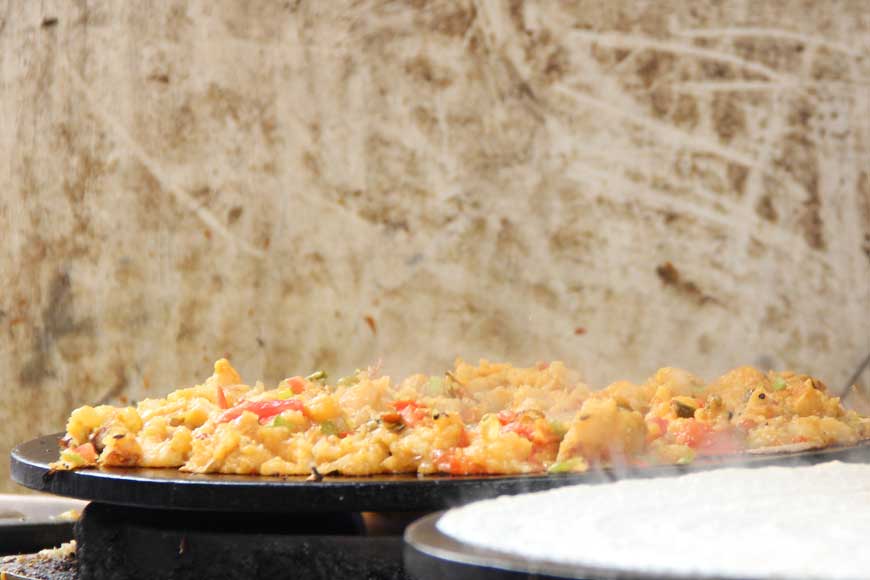 Delicacies on the tawa
It wasn't even lunch time when we saw a big gathering infront of his shop. 'One plain idli-vada...one plate masala dosa…' this was all that could be heard even from a distance. The man behind the kitchen hardly has time to look up and talk, as he deftly uses the batter to make various South Indian delicacies on different tawas. The idlis are soft, the cheese dosa melts in your mouth. The masala dosa is extremely well-made and delectable. Each item is served with a steaming hot and tangy chutney, which makes every dish all the more mouth- watering. The variety of food available caters to the requirements of the customers at its best. Be it breakfast or lunch time, this is the perfect place which will cater to your cravings. Each food item is also highly pocket - friendly. This dosa-wala is said to make a sale of Rs 20,000 per day! Surprised, aren't you?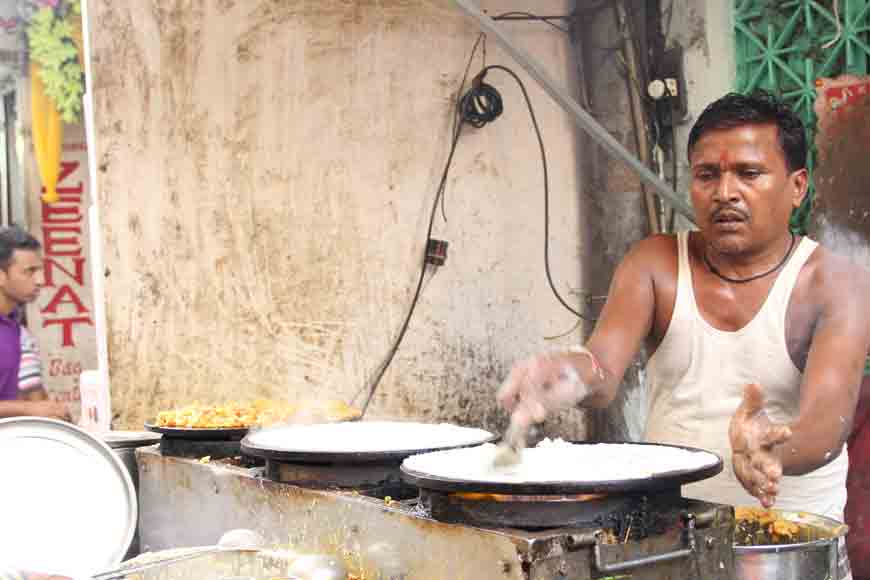 Ratan, the man behind the delicacies
"I am originally from Kerala but I am currently based in Kolkata on job. My office is nearby and whenever I get time, this is the place I rush to. Ratan cooks everything with great care. I love their masala dosa. The food reminds me of home," said K.V Dipak, a regular customer of Ratan's stall. Interestingly, Ratan's roadside food stall with limited resources beats the quality of many branded, exclusive South-Indian restaurants around the city. Once you get the taste of Ratan's creation, you will surely keep coming back for more!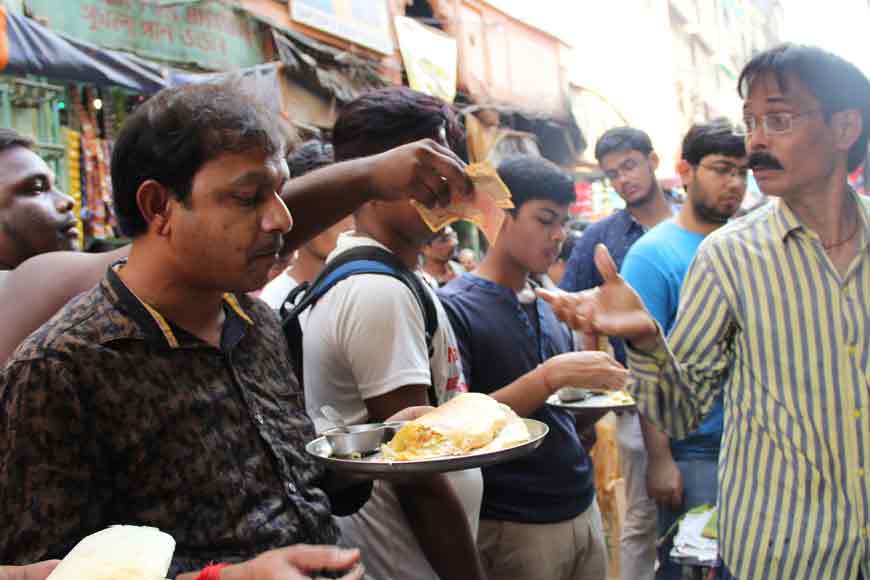 The crowd near the dosa joint