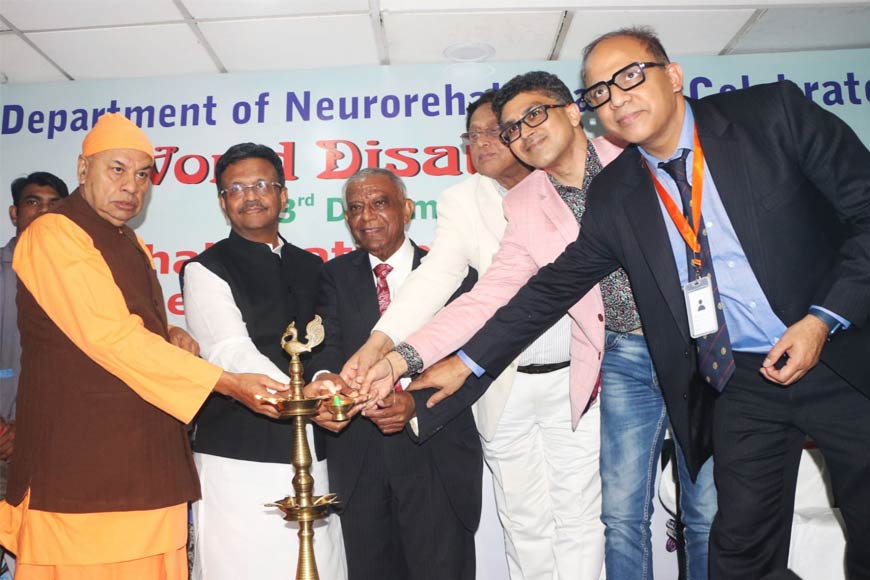 A person's functional recovery and restoration in society are incomplete without rehabilitation." This was the keynote set by the Institute of Neurosciences Kolkata (I-NK) last week as the Department of Neuro-Rehabilitation, an integral part of I-NK, conducted its annual continuing medical education (CME) seminar on December 3 and 4.
CME is a component of school that keeps professionals in the medical industry updated while also exposing them to new and expanding sectors of the profession. The chosen topic for the two-day seminar was 'Rehabilitation in Parkinson's' Disease'.
Present on the occasion were Kolkata Mayor Firhad Hakim, Health Secretary Narayan Swaroop Nigam, West Bengal University of Health Sciences Vice Chancellor Dr Suhrita Paul, Narendrapur Ramakrishna Mission Ashrama Secretary Swami Sarvalokananda, and several other eminent personalities.
Parkinson's Disease is a neuro-degenerative disorder that leads to slow movement, tremors, rigidity, and imbalance in sufferers' muscles. Cognitive impairment, mental health issues, sleep disturbances, discomfort, and sensory disruptions are some of its additional side effects. It is initially managed by conventional medications and surgical treatment. However, rehabilitation is a key component of Parkinson's Disease care that preserves a patient's mobility and functionality.
A public-private partnership between the West Bengal government, the Kolkata Municipal Corporation, and the Neurosciences Foundation of Bengal gave birth to I-NK, which began operations on April 15, 2009. Following medical and surgical procedures, the I-NK Neuro-Rehabilitation Department works to maximise a person's social interaction and sense of well-being.

Not to be categorised as a particular type of intervention, rehabilitation focuses on the patient's overall well-being, social skills, and personality. It applies to all patients with functional deficiencies and is not just a process for people who may recover partially or entirely. Along with conventional interventions, the department also emphasises on interventions based on technological advancements such as body weight support and functional electrical stimulation. In response to patient feedback and requests, the department has expanded its services to include home-based rehabilitation to maintain continuity of care.
'Patient-centred realistic goal-oriented therapy' is the team's main priority. The department offers rehabilitation services to people with a range of neurological conditions. An interdisciplinary team working under the direction of Dr Suparna Ganguly, Director of the Department of Neuro-Rehabilitation, delivers the treatments.
The team includes physiotherapists, occupational therapists, swallowing speech-language pathologists, prosthetists, orthotists, rehabilitation nurses, rehabilitation health assistants, psychologists, and rehabilitation social workers who have received their training from CMC Vellore, Manipal University, SVNIRTAR Orissa, SRMU Chennai, NIOH Kolkata, and AIPMR Mumbai.