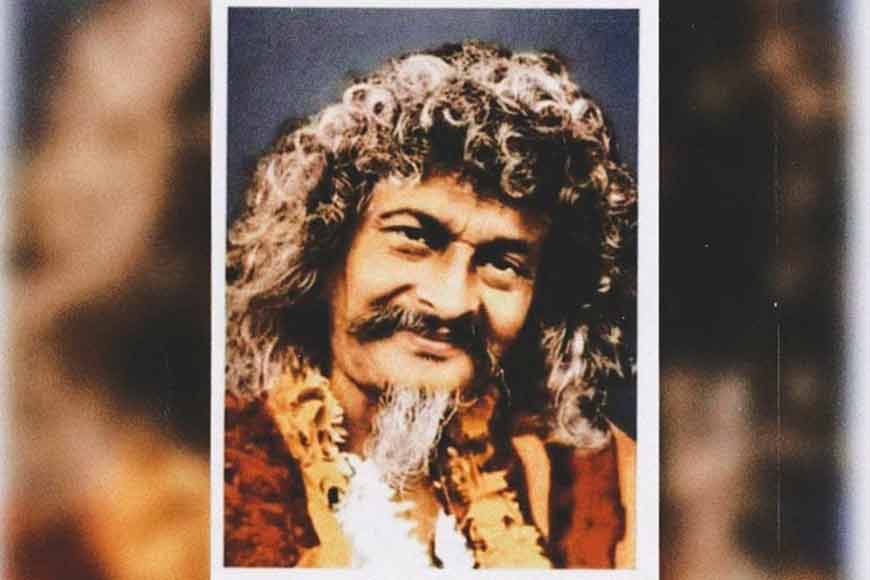 When it comes to authorship, folk songs can be hard to pin down. Many of our most popular folk songs have been around for what could be centuries, with their original creators remaining forever unknown. Such as the song 'Bare bare ar asa hobe na (You won't keep coming back)', which many of us know of, without knowing who gave birth to it.
The answer is Bhaba Pagla. Bhabendra Mohan Saha, if you like. The mystic musician who lived and died in the 20th century, and whose bright eyes, bushy hair, and light beard hid a deeply philosophical spirit and brilliantly simple poetry. About himself, he wrote:
'পূর্ববঙ্গের ঢাকার গর্ভে গর্বিত গ্রাম আমতা
সেই গাঁয়ে জনম মোর, পিতা গজেন্দ্র, গয়া মাতা
বাঁচন মরণ এই দুই কূল, সমাজ অমর ধাম
সেই সমাজের অধিকারী মুই, ভবা পাগলা মোর নাম'
('In Dhaka, East Bengal is the proud village of Amta
Where I was born to my father Gajendra and mother Gaya
Life and death, the two ends, society the eternal home
Bhaba Pagla is my name, society is where I roam')
Sadly, that same society in both Bengals has all but forgotten Bhaba's songs. What is worse is that the ones that do remain in public memory have been irrecoverably distorted. For a poet-composer who created most of his songs on the move, documentation and conservation have proved practically impossible. So although various research studies peg the number of songs created by Bhaba Pagla at nearly 10,000, all but a handful are now lost.
All his life, Bhaba believed in the tenet that at heart, all humans are the same irrespective of caste and creed. His songs were full of the loneliness born of melancholy, and the melodies of sadness. And yet, they contained the magical ability to effortlessly link the Ganga and Padma through music.

Bhaba's later years were somewhat bizarre. Having managed to cure a man named Nandalal Das of a severe illness, Bhaba began to be seen as a deity. So much so that the Harbola temple came up in his honour. However, his devotees seem to have done little to preserve what Bhaba had actually devoted his life to - his music.
In the book 'Banglar Baul O Baul Gaan', Prof Upendranath Bhattacharya published two of Bhaba's songs. In 'Haramonir Saptam Khondo', Muhammad Mansuruddin wrote, "Bhaba Pagla was a renowned Baul composer. He was a resident of Amta village under Saturia police station (now a sub-district). Post 1947, he left Bangladesh for India. His songs became popular and were sung in various parts of Bangladesh and India. He composed primarily Shyama Sangeet, devotional songs, songs of the body and mind. In India, he lived in Kalna in Bardhaman district and died in 1984."
It has been said that Bhaba also wrote a song about Bangabandhu Sheikh Mujibur Rahman, describing the rivers of Bangladesh, and appealing to its citizens to rise up in protest against external enemies. A paean to the Padma, Meghna, Jamuna, and Brahmaputra, the songs says:
'(আজি) পদ্মার জল লাল
যমুনার জল কালো
ব্রহ্মপুত্র অতীব ভীষণ, মেঘনা নদী অতি বিশাল'
'The Padma is red (today)
The Jamuna is dark
Brahmaputra is terrible, Meghna far above its mark'
The two songs mentioned in 'Banglar Baul O Baul Gaan' are:
১। এমন মানব জনম আর পাবে না
বারে বারে আর আসা হবে না।।
তুমি যাহা করে গেলে আসিয়া হেথায়
চিত্রগুপ্ত লিখিল খাতায়
হিসাব করিবে সেই বিধাতায়
তাঁর কাছে ফাকি-জুকি কিছুই চলে না।।
সাবধানে চলো মন হও হুঁশিয়ার
তোমার বেলা যে বয়ে যায় আসে অন্ধকার।।
জুড়িয়া রয়েছে হৃদয় আকাশ
ভবা কহে চোখ মেলে চেয়ে দেখো না।।
Approximate translation: This life you won't have again/ You won't keep coming back/ Whatever you do here/ The omniscient is keeping track/ Be careful, o my mind/ Your day is ending, darkness isn't far behind…
২। ওরে মানুষ, দেখবি যদি ভগবান।
ছেড়ে দে তোর হিংসাবৃত্তি
ঐ তো বিঘ্ন অতি প্রধান।।
ছেড়ে দে তোর ভিন্ন ভেদ
দেখ না শাস্ত্র দেখ না বেদ।।
বাইবেল কোরান নয় রে প্রভেদ
শোন রে হিন্দু শোন মুসলমান
ভিন্ন নয় রে আল্লা-হরি
শোন রে ফকির ব্রহ্মচারী ।।
দেখতে তাঁরে হয় না দেরি
সঁপে দে তোর হৃদয় প্রাণ
কিবা মসজিদ কিবা মন্দির
সাতটি ফোঁটা যেমন বন্দি।।
বাইরে আয় রে দেখ রে সন্ধি
উড়ছে নিশান বিশ্বখান
ভবা পাগলা কইবে কত
সবাইর পদে হয় সে নত।।
দেখ না ভেবে শত শত
আসা যাওয়া একই সমান।
Approximate translation: 'If you want to see God, overcome violence/ Religious divisions make no sense/ Allah and Hari are the same word/ The same flag flies across the world/ Coming and going, it's all the same…'
Source: 'Bangladesher Loksangiter Srenibinyas', Samiul Islam, Bangla Academy, and 'Banglar Baul O Baul Gaan'