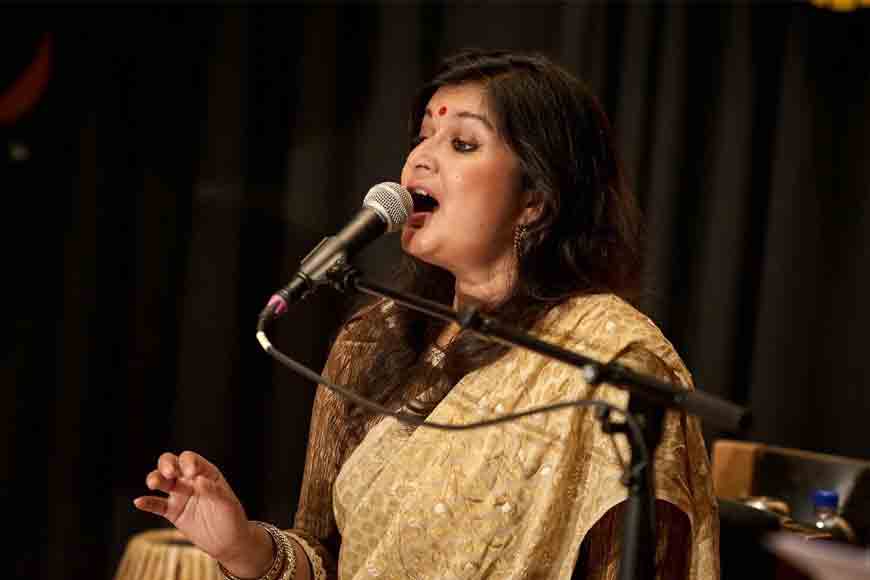 • After how many years will you be performing in Kolkata?
Every year since 2011, I am coming to Kolkata. I had a big show last year in Jadavpur University. But this time the show is different and very exciting, as I shall be performing with a range of with artists from both Bengals --- East and West.
• How does it feel like to be in Kolkata, now that you stay in UK and perform all over the world?
For me, Kolkata is all about Homecoming. I love Kolkata, though I have been brought up in Santiniketan. I am the happiest person, when I am in this city. It was an amazing feeling this year as I saw my pictures on billboards on Kolkata streets with my rock guru, James, who has been a famous star in Bangladesh and loved all over the world for his Bangladesh Rock Songs. I have been a great fan of his for years and seeing my picture and name as a performer alongside my rock guru, is sort of a dream come true for me.
• What kind of songs do you plan to sing tomorrow?
Tomorrow being Valentine's Day, I wish to sing Love Songs primarily, including Rabindrasangeet from Prem Porjaye and Lokgaan or folk songs. I am also singing a love song this time that is written and composed by me.
• Which city will you choose between Kolkata, Dhaka and London if you are asked to perform?
Anytime Dhaka is my choice, but Kolkata as well is my favourite city. This year I found the city looking more vibrant than ever before with the plethora of lights brightening up the surroundings. It sort of looks nice and I find the new Kolkata more interesting. However, the city has retained its warmth as before.
• Are you excited to sing before an audience in a city that is called the cultural capital of India?
Yes, though I sing at shows all over the world, Kolkata always appeals to me because of its audience who participate with me at every step. It is a huge reward for a singer, when the audience starts singing along with you. Very humbling too. I also find these days, the younger generation taking keen interest in Rabindrasangeet. They know the songs, they know each and every word and when I find the young crowd singing Rabindrasangeet with me, I realise the Rabindra-era will survive in Kolkata and it is making a comeback for sure.
• How has the city audience changed over the years? For good or bad?
I do not find much change, but many elderly people come to my shows these days, other than the young crowd. So that's very encouraging.
• Any future plans to come back to Kolkata again?
I will come to Kolkata every year for sure. Am also doing playback for a couple of Tollywood's Bengali movies this year.