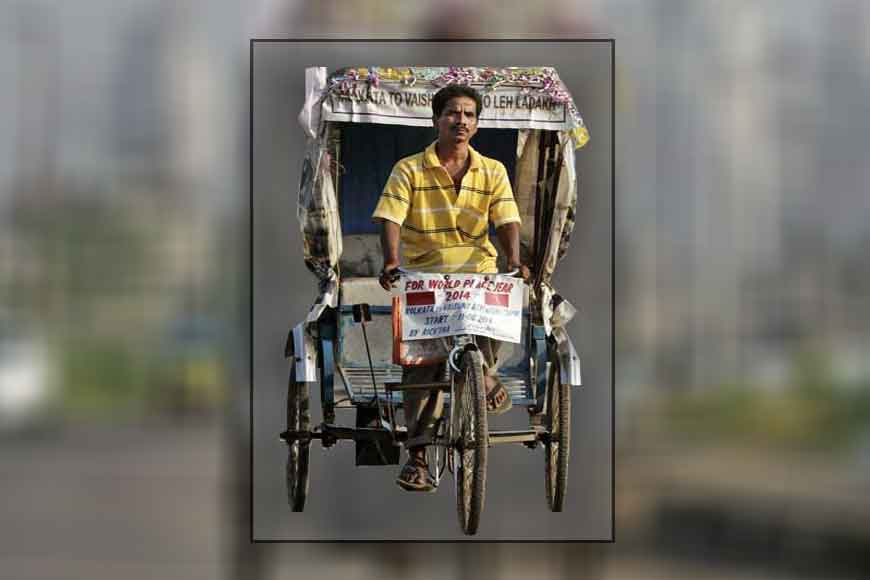 "Imagine there are no countries
It isn't hard to do
Nothing to kill or die for
And no religion, too

Imagine all the people
Living life in peace

You may say that I'm a dreamer
But I'm not the only one….."
hese lines by John Lennon might seem to give us a utopian idea of peace in present turbulent times. But amidst all the destruction and war-mongering across the world, there still exists those who want to talk about peace. Satyen Das, a rickshaw puller, whose daily route is to take passengers from Gitanjali to Ramgarh on the fringes of Kolkata, is all geared up to be dreamer of peace and travel 2077 kilometres to reach Pakistan as a messenger of peace. His only message to people is: "Let us fight with all our blood and soul in a playground with a bat and ball. Let us not resort to guns along the borders and lead to further destruction."
Travelling to faraway land son a rickshaw is not an alien concept for Satyen. He had been to Ladakh before with his rickshaw. After the Pulwama attack, his new destination is now Pakistan. Satyen presently lives in Garia and belongs to a low-income simple family. His thought process however does not reflect mediocrity. Unlike many of us, he does not consider Pakistan to be an enemy country. He is aware of the fact that many of our soldiers have lost their lives in Pulwama attack and the relationship between Pakistan and India has almost reached rock bottom.
According to him, terrorism has no religion. Terrorists are the real enemies of humanity. Satyen believes there are many ordinary people like him in Pakistan too who are not in support of the war as war could be detrimental to human life. This is the primary reason Satyen wants to travel all the way to Pakistan to reach out to people and establish the need for peace. Satyen is a born fighter. He had to fight with poverty all his life. But he is still perturbed by the unrest between the two neighbouring countries.
Satyen had gone for India tour with his rickshaw in 1993. He has also been to Puri with his wife and children. He travelled to Kashmir and Vaishno Devi with a primary agenda of spreading peace. He has a negligible income but what keeps him going? A club in his locality has been his constant support. Satyen admits the fact that without Sudip Sengupta, Partho De and other members of Agrani Club, his journey for peace would not have been possible.
Agradut Sangha, Junior Mohunbagan Club, Mukto Sangha of Champahati, Kalikapur Theatre organization, 'Unmesh' have also extended hands of support considering his noble effort to promote peace and unity. Satyen begins his journey to Lahore in pursuit of spreading peace which is of utmost importance in present times.