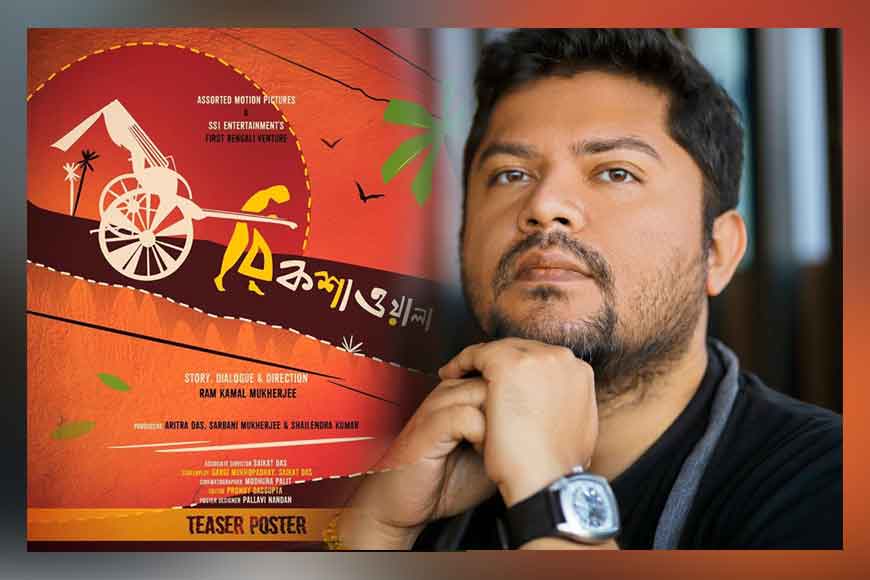 A hand pulled-rickshaw is an iconic symbol of Old Kolkata, a colonial legacy left by the British Raj. Once, it was almost like a palanquin of the middle class of Kolkata used for short trips. It is a relic of the past which has somehow still managed to stay in Kolkata. Director Ram Kamal Mukherjee, after the success of his film Cakewalk, is all set to make his first Bengali short film 'Rickshawala' which will narrate the enchanting story about the rickshaw pullers of Kolkata. In a candid interview to GetBengal, he shares his thoughts behind the film.
• What is the plot of your first Bengali project 'Rickshawala?'
I used to stay in Central Kolkata 20 years ago and have witnessed the trauma of these rickhaw pullers over the years. Though I live in Mumbai now, I have not lost touch with the city. Today, due to the advent of battery operated cars, auto rickshaws and other cabs, the traditional hand-pulled rickshaws have reached a miniscule number. We do not need hand-pulled rickshaws for short trips anymore because of the wide variety of other commutes available. It is from here, that the idea of the short film was born. I always wanted to do a film in Bengali which talks about the roots of the city, which gave the city an image, both in India and globally. Hand pulled rickshaw is the only thing that is still prevalent only in Kolkata. It has become a representative symbol of the spirit and ethos of the city. We have seen hand-pulled rickshaws in Bimal Roy's Do Bigha Zameen and Roland Joffé's City of Joy. These are the two films majorly where actors playing rickshawallas set in the backdrop of Kolkata. My next project has rickshawalas as its primary focus.
• What are the other relevant issues that come up in your film?
Mostly, people from Bihar are seen as the rickshawpullers in Kolkata. My film thus would talk about the Biharis as a part of Kolkata's culture and how the city has accepted them as a part of their eco-system and the communication system. There is a story and a human connect behind it. There are many other Bengali characters which surround my film 'Rickshawala' which makes the story.
• But does this film primarily talk about the plight of hand pulled rickshawalas in daily life?
This is not a documentary on them. But yes, you will get a feel of the problems that they generally face in their lives. But that is not the highlight of the film.
• Where do you intend to shoot the film?
The shooting will be restricted to North Kolkata primarily from Kumartuli to Bowbazar as that is the only place where hand-pulled rickshaws are seen these days. Very small fractions of South Kolkata have rickshaws these days. We have started with the recce as of now. We are walking around the lanes and bylanes of Kolkata and figuring out the places to shoot so that it looks authentic.
• How have you gone about the casting process?
I initially thought that I would work with fresh faces as my film demands so. Because I do not need stars in the film. I need faces which will be able to establish the characters. The face would become more important than the character. I need a fresh face or face which is popular on stage, but not on celluloid. I am doing auditions but the problem that I am facing in Kolkata is either I am getting people to act but they do not have the required body to play the role of a rickshawalla. The combination of a perfect physique and acting skills is what I need for my film. For playing the role of a rickshawpuller, one has to be fit, lean and chiseled. The Bengali actors that I am auditioning are good in terms of performances, but I cannot see them as a rickshawalla. Initially, I had kept the audition restricted to Bengal. But right now, I am opening the audition to every part of the country. For all the other characters like Bengali house-wife, party cadres, parents, we have taken in fresh faces. A lot of new talents from SRFTI are a part of my film.
• What is the most interesting aspect of your film?
This is a passionate subject for me which talks about an integral part of my city. Through my film, I also want to give opportunities to the newcomers who are talented. I am very keen on working with a bunch of fresh faces. Besides, My DOP Madhura Palit has received an international recognition at the Cannes Film Festival this year. It will really be exciting for me to work with a lady cinematographer who is young, talented and has a vision which could do justice to my film. Even when it comes to music, we are working with new people. They have just passed out of college and a young band who are writing interesting songs and composing great music. Pallavi Nandan has done the beautiful poster of the 'Rickshawala'. These kinds of images would commonly be found in Sahaj Path.
• In your last interview with GetBengal, you had told us that working for a Bengali project based in Kolkata seems to be a little difficult because of the work atmosphere. What made you change your mind?
I sincerely hope that the atmosphere will be better this time. If I feel that I will not be able to shoot in Kolkata because of the lack of a friendly atmosphere, then I would probably be accepting my defeat at the very go of it. So, I will keep fighting and coming back to the city and work here. Things are changing for better. I believe that I will be receiving support from certain people this time. I hope people understand my view point and I will be able to understand theirs and we will be able to co-exist peacefully.
• When will the film go to the floors?
The shooting will begin from July. The temperature is in a different zone in Kolkata. I do not want to be inhuman to be my team and actors as the entire shooting is supposed to take place outdoors. I will have to wait until the temperature becomes decent enough. Only then can we start shooting. The film should be out for release sometime by the end of this year.