If you wish to escape to a thick canopy of greens then you must try out the extensive Joypur Forest, at the fringes of Bankura and Hooghly districts. This beautiful stretch will surely be a balm to tired travellers. Very close to Bishnupur, this forest drive can be one of your lifetime experiences. Though not far from Kolkata, its rarely visited by luxury tourists. We always enjoy mystic jungles and Joypur Forest perfectly matched our nomadic thirst.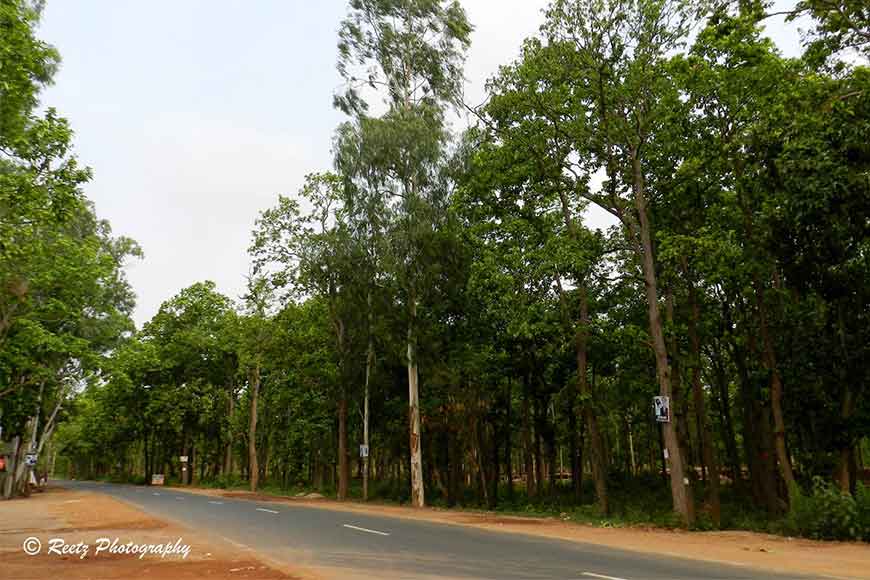 Roadway to the forest
After a dusty drive, it was around 12 noon when we finally reached the forest fringes. Our stay was pre-booked at a private lodge just beside the forest. Marked as elephant and deer corridors by West Bengal Forest Department, the spectacular green tunnel of around 10 kilometers immediately soothed our city weariness. Quickly freshening up, we decided to go for a walk inside the forest.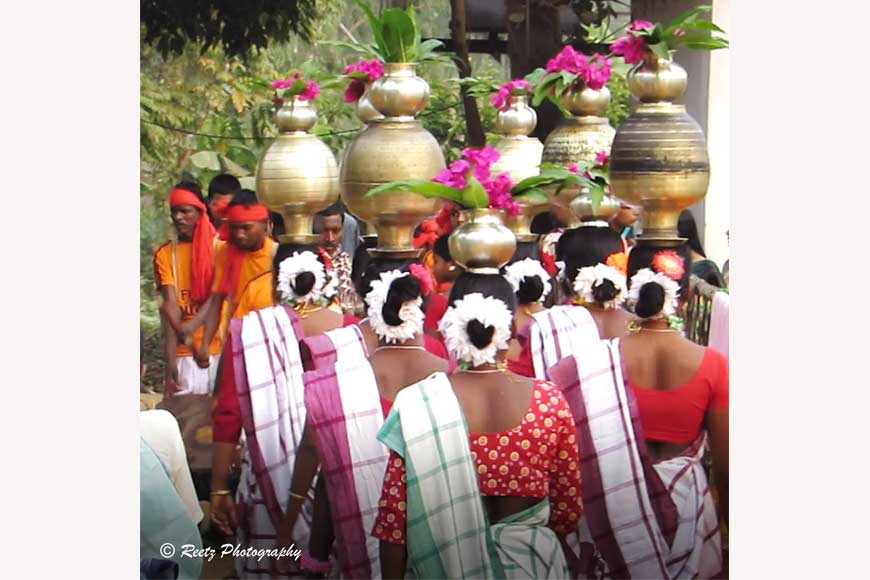 Tribal dance at Joypur
There were visibly two trajectories – a wide motor road for forest jeeps and the other was sort of a by-lane, apparently used by villagers to walk on-foot. We chose the latter and promenaded to the unknowns, marking every step as there were chances of losing our way amidst the greens. The forest was much thicker than we had anticipated. Within hundred meters of our hotel, there was another bifurcation. The right lane was more conspicuous. In a mood to enjoy the surrounding natural foliage, we chose to walk further. The green flush of Teak, Sal and Eucalyptus beckoned us to an eternal bliss.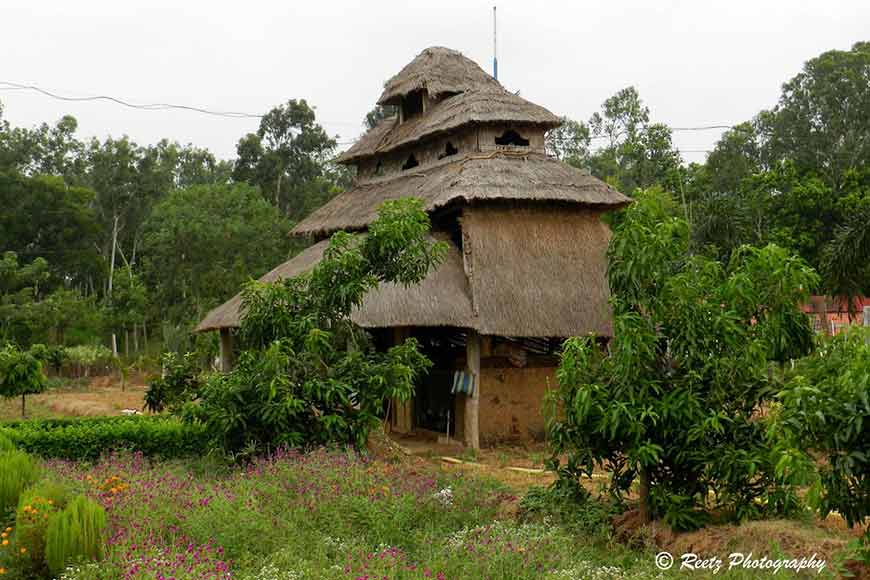 Tribal huts in the forest
As we strolled slowly deeper into the forest, we came across numerous discretely located tribal inhabitations, merrymaking at the onset of monsoon in their naïve style, rumbling at the beating of ethnic musical instruments. With no touch of sophistication, they were enjoying life splendidly, celebrating seasons in their own way.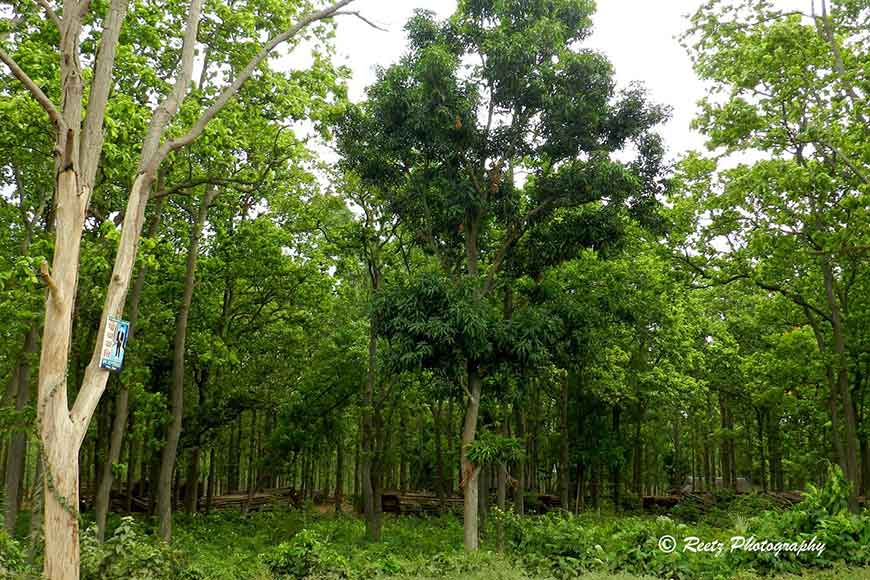 Walking into the deep forest
Mobile phone signals are not possible within the woods. Hand watch needle indicated quarter to five. It was important to reach our lodge before sunset. Restraining our adventurous instincts, we commenced our retreat. Way back, deep inside the forest we saw an ancient watch tower. It did not seem to be in use for long; probably built by the British during Second World War. Due to frequent snakebites, it has now been completely abandoned.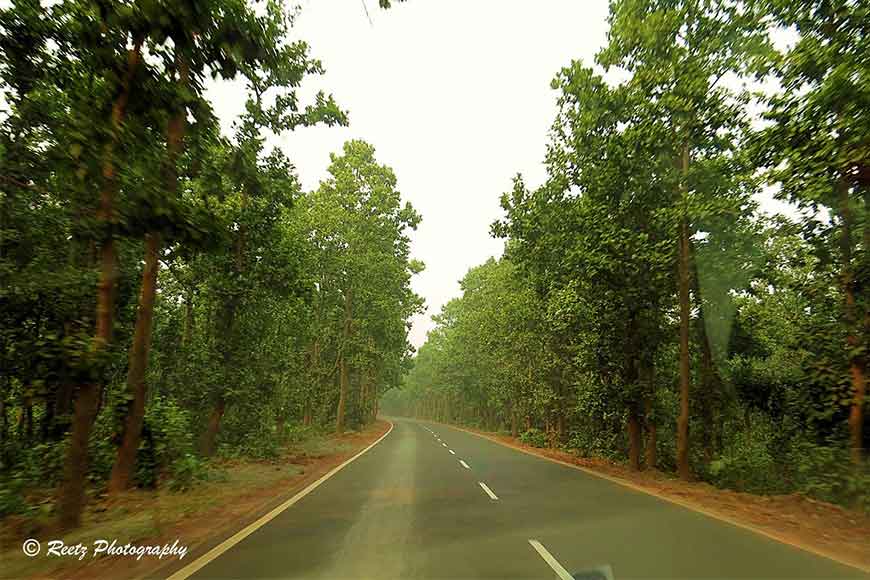 Way to Joypur forest
A serpentine road, red soil and thick woods – that's what best describes Joypur Forest. Honestly, it is not an activity-oriented escape but a place of ultimate detox, truly standing out with a green seclusion.
How to Reach:
Around five-hour drive from Kolkata to Joypur Forest along the State Highway. Take the Ahalya Bai Holkar Road via Kotulpur. Distance is 140 kilometers from Kolkata.
Where to Stay:
A couple of private lodges of budget range available.
What to See:
Joypur forest, Watch tower, Depara Naba Ratna temple, Duttapara temple
Best Time of Visit:
Round the year except monsoons
Story Tag:
Joypur Forest, Bankura, West Bengal Tourism