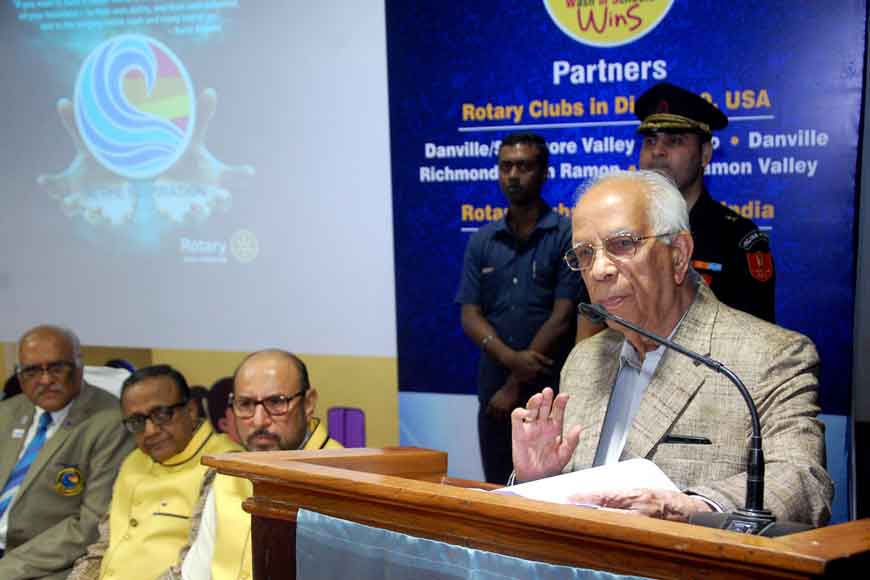 Rotary Sadan was lit up with happy faces, when school heads, teachers and students of 20 village schools of Howrah, Hooghly, Paschim Medinipur, Murshidabad, and other districts of Bengal gathered as participants of a new project that will help them receive new toilets, safe drinking water and handwashing facilities. The project will be implemented over a period of 18 months at a project cost of Rupees One Crore.
The project was launched on Saturday 23rd February 2019 by His Excellency Shri Keshari Nath Tripathi, Hon'ble Governor of West Bengal, in presence of top Rotary leadership both at district and club level, representatives of the participating schools and friends and well-wishers of the Rotary family.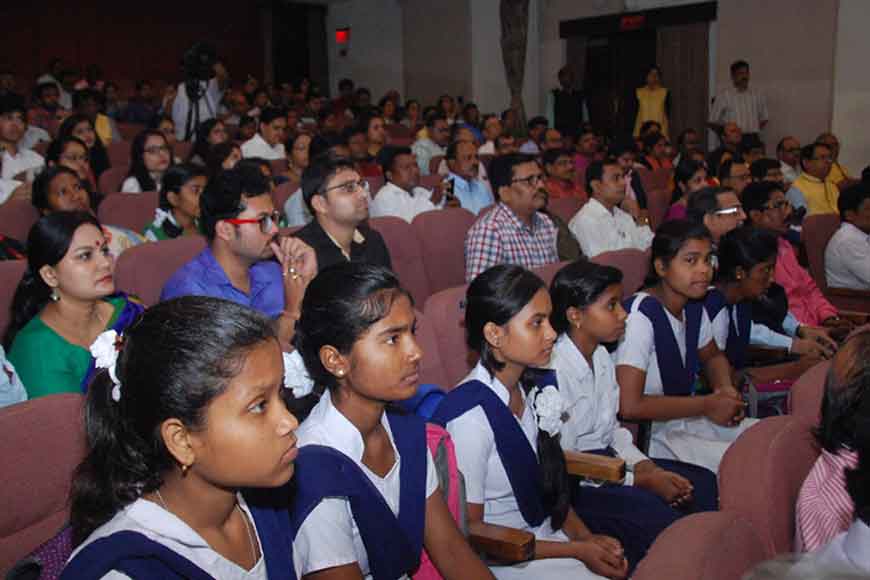 Students of the schools participating in the project
While launching the project, the Governor said that Rotary Club of Belur undertaking such a meaningful project is a very laudable effort. His message to the schools was to maintain the facilities that would be provided to them in order to derive maximum benefits from this project. Since adequate measures for sanitation facilities could not be taken due to the paucity of funds, student retention in these schools was found to be poor, especially for girl children who drop out due to lack of facilities to fulfill their needs.
The number of students to toilet ratios were critically unbalanced. The absence of hand washing facilities before and after mid-day meals also had given rise to water borne diseases like diarrhoea. About 1 million children die in India every year due to diarrhoea. The project would aim at behavioral change by providing training for health and hygiene to students and for capacity building to teachers. The project has a special focus on girl children. Installation of sanitary pad vending machines and imparting menstrual health management education are an integral part of this project.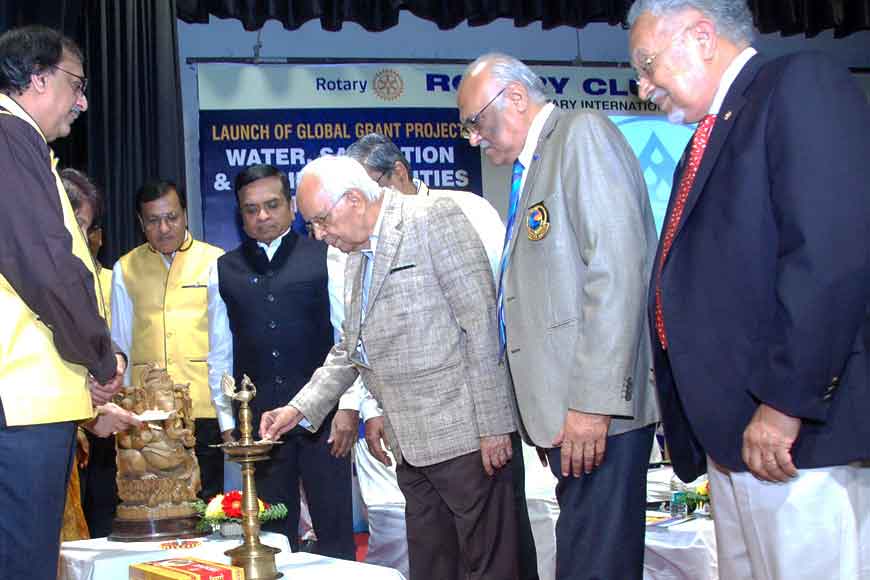 Governor Shri Keshari Nath Tripathi lighting the lamp
The list of schools participating in the project are as follows:
1. Aurobindo Vidyapith, Bhadreshwar (Hooghly Dist)
2. Kalighat High School, Kolkata
3. Kalighat Mahakali Pathsala, Kolkata
4. Bharatpur Alia High School, Bharatpur (Murshidabad)
5. Jaduberia Balika Vidyalay, Uluberia (Howrah Dist)
6. Baniban Girls High School, Uluberia (Howrah Dist)
7. Purba Bharatpur Primary School, Bharatpur (Murshidabad)
8. Belmuri Balika Vidyalaya, Chinsurah (Hoogly)
9. Chakpara Purba Pallisamaj High School, Liluah (Howrah Dist)
10. Chakpara Sarada Devi Girls High School, Liluah (Howrah Dist)
11. Chandannagar Sarada Sadhan Girls High School, Chandannagar(Hoogly)
12. Mohadanga Colony Subhash Vidhya Mandir, Chandannagar (Hoogly)
13. Borai Balika Vidya Mandir, Singur (Hoogly)
14. Talpur Laxmimoni Balika Vidya Mandir, Tarakeshwar (Hoogly)
15. Bantika Girls High School, Pandua (Hoogly)
16. Debra HSV Mandir, Debra (Paschim Medinipur Dist)
17. Debra Adarsha Vidyapith, Debra (Paschim Medinipur Dist)
18. Aror Nityananda Primary School, Aror, Kolaghat
19. Asha bhaban Centre, Uluberia (Howrah Dist)
20. Vivekananda Bidyapith, Dunlop/Baranagar (Kolkata)
Alokeparna Ghosh
Project Consultant