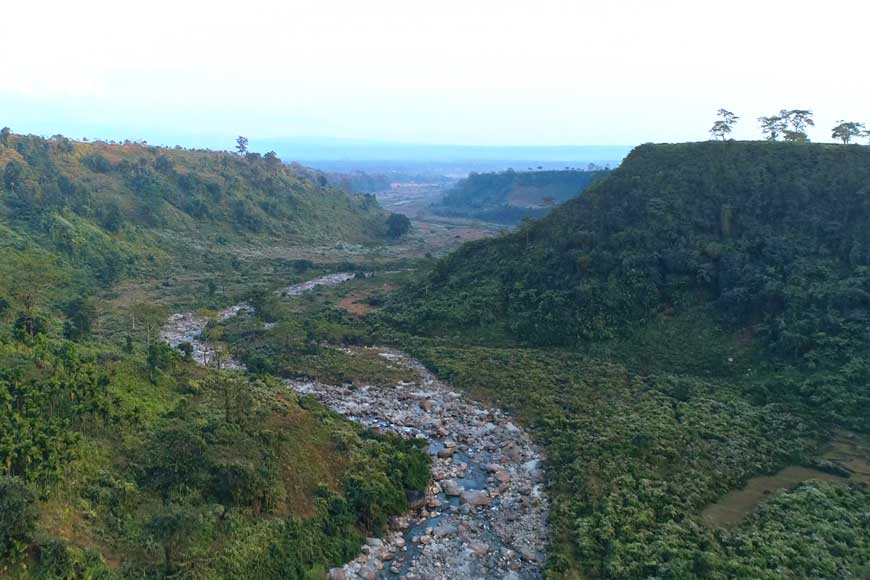 Wherever your sight travels, you get to see only undulating lush, verdant tea estates enclosed by misty blue Sivaliks in the distance, a setting sun in the horizon with chirps of birds or dance of butterflies. This is Samsing, the quiet hamlet at the foothills of the Eastern Himalayas in North Bengal. The gurgling Murti river flows by, meandering over pebbles and boulders, showcasing its beauty. Samsing indeed has a magical charm with an amazing variety of birds and butterflies, presenting the bliss of a mountain solitude. A few days spent in the company of the simple village folk, strolling aimlessly around the village, watching birds and the beautiful wild-flowers, or just sitting by the river, can be an extremely rewarding experience.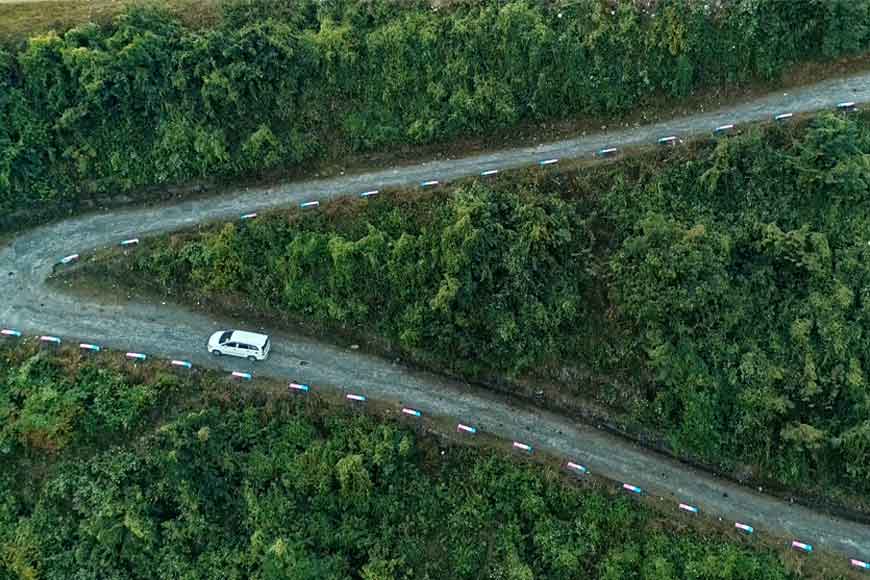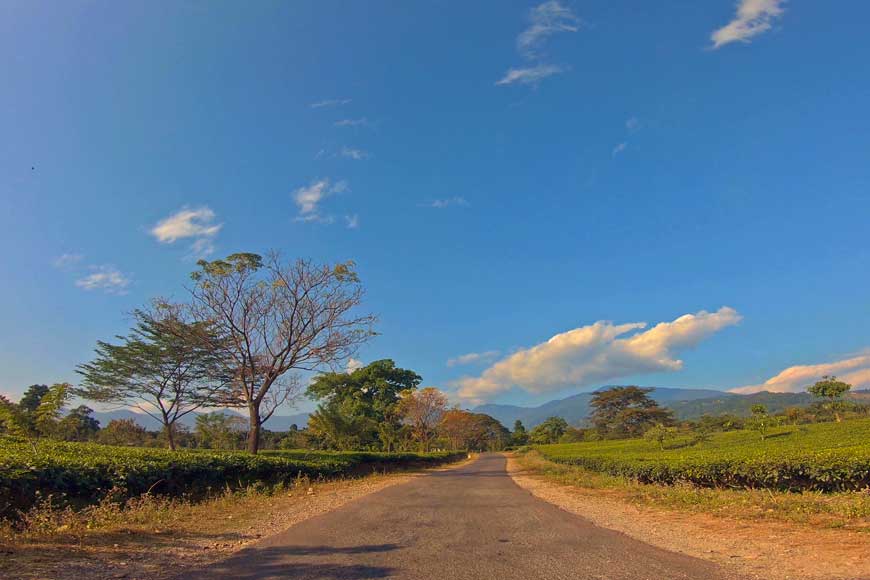 Afternoons are pleasant in this hilly hamlet. You can walk among the tea gardens or just take a stroll down the Murti river. On a clear day, the snow-capped peaks of Bhutan are also visible. The weather is always cool, with mist and fog draping this small village like a fairyland. A fusion of hills, plains, rivers, forest, tea-gardens and villages, Samsing is an all-year destination. Locals primarily belong to Pahari and Madhesia clans. The early settlers of Samsing worked as tea plantation labourers who were from Rangeli, Sikkim and Indo-Nepal Mountain (Madhesia) region, respectively. Their innocent smiles and life full of hardships will inspire you to no end and teach you what life is all about! Do not miss having some hot pizza and snacks at Chakh Le India, the town's pizza hut, awarded as one of the outlets serving best pizzas in the area. Despite being a small village, locals are very keen on education. Samsing is a progressive place and has quite a number of schools, including Samsing Higher Secondary School, Gardenwood Academy and Sai Santi Niketan for educating children of the tea gardens.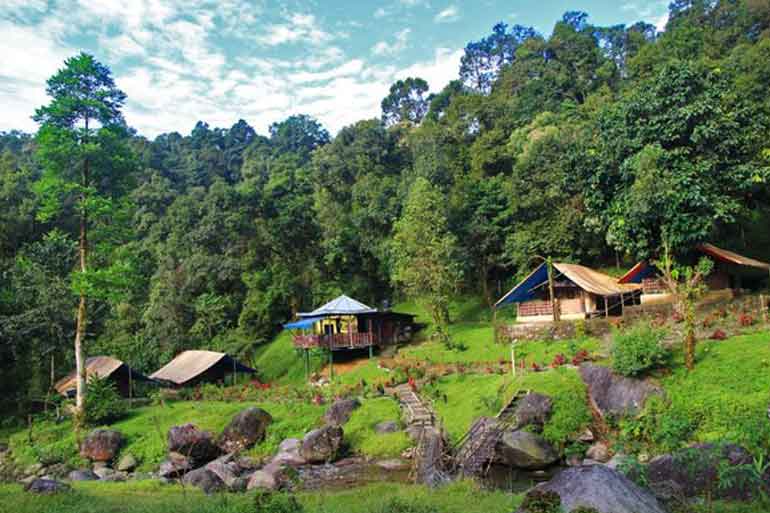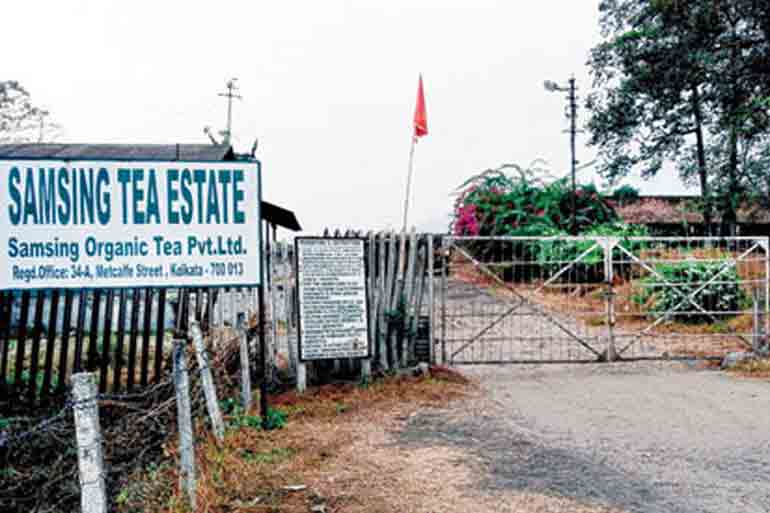 Samsing is also home to a wide variety of butterflies, some belonging to very rare species. And every Spring, the place swarms with butterflies bringing hordes of photographers from various parts of India and the world to click these colourful creatures. Rare butterfly species including Heliophorus epicles, Dark Judy (Abisara fylla), Common Jester, Punchinello (Zemeros flegyas) are found here. So the next time you wish to be in company of birds and butterflies, be at North Bengal's Samsing.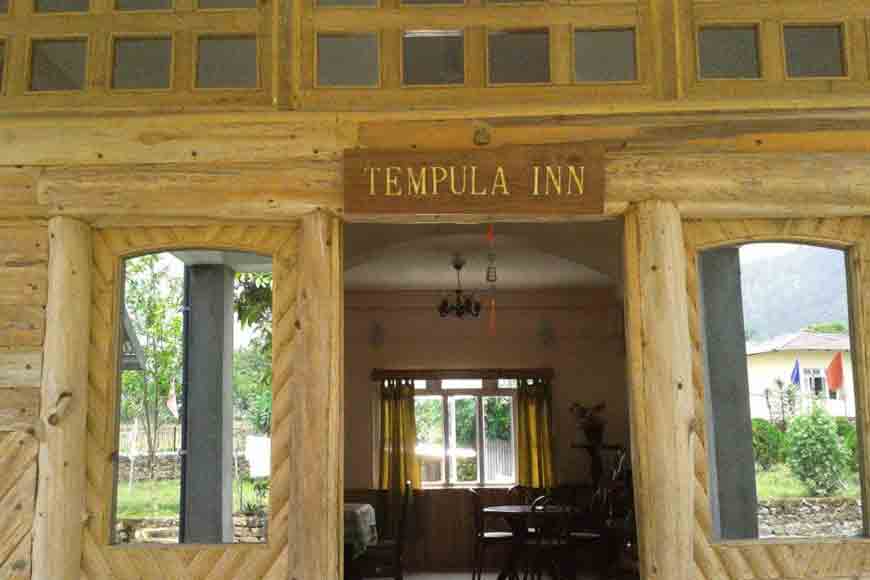 Places to visit nearby:
Samsing is 18 km from the Neora Valley National Park. It has many beautiful picnic spots, including Lali Guras, Rocky Island and nearby Suntaley Khola. Neora Valley National Park is just an hour away from here. You can also drop in at Chalsa, which is just 13 km from Samsing, while Gorumara National Park is only 30 km from Samsing.
Where to stay:
There are several very good homestays in Samsing that provide both stay and all meals. Another wonderful place to stay in Samsing is the West Bengal Forest Development Bungalow on the top of Samsing hills. The Samsing Forest Rest House has a lovely panoramic view of the surroundings.