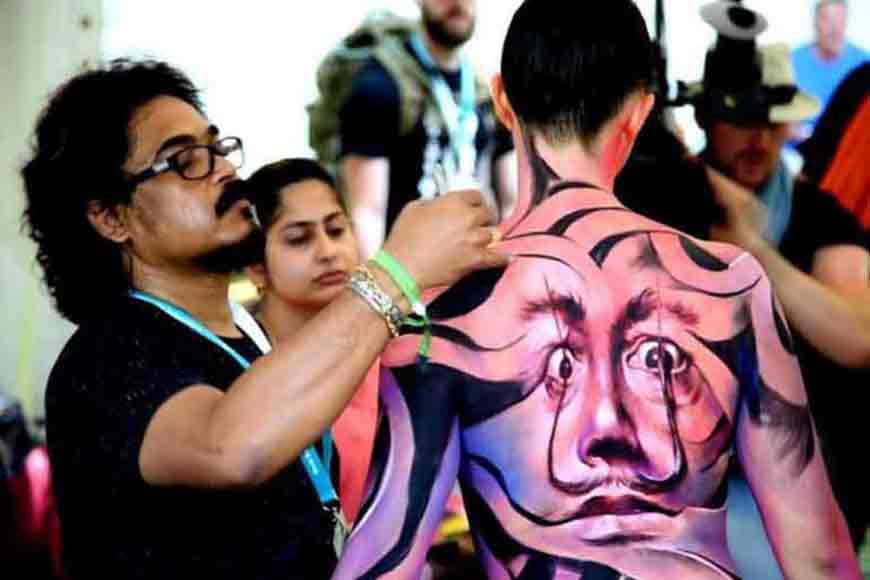 Again, a talented Bengali is crowned on the world stage. This year,SanatanDinda bagged the first prize in the coveted World Bodypainting Festival, two years in succession. In 2015, Dinda missed the first prize by a narrow margin but there was no looking back. In the 20th edition of the festival, held this year, he won the first prize in the 'Brush and Sponge' category. In the final round, Dinda had to go up against 33 contestants from different parts of the world. He chose to depict India's multi-faceted festivals and cultural icons. His paintings brought to life the resplendent colours of Deepavali, Holi, Nabanna, Hara-Parvati sculpture of Khajuraho et al on the model's body.
The art of body painting is still foreign and an unexplored form in India. Sanatan discovered this new medium in 2013 when he went to Austria on a trip. In 2015, he participated in the competition and missed the top position by merely two marks and had to be content with the second position. The very next year, he joined the competition in Netherlands and lifted the trophy, his contender lagging way behind him by 24 marks.
With this year's win, Dinda has consolidated his position in the world of international art and his works are being seriously viewed and appreciated by connoisseurs of art globally. He is being invited from all corners of the world to conduct workshops. How does it feel? Dinda says, I'm now totally obsessed with the new form (body painting). I'm glad that I have been able to show the world that when I use brush and colours on a model's body, I don't merely decorate it with colours, but use it as a canvas to convey messages and confront serious issues visually.