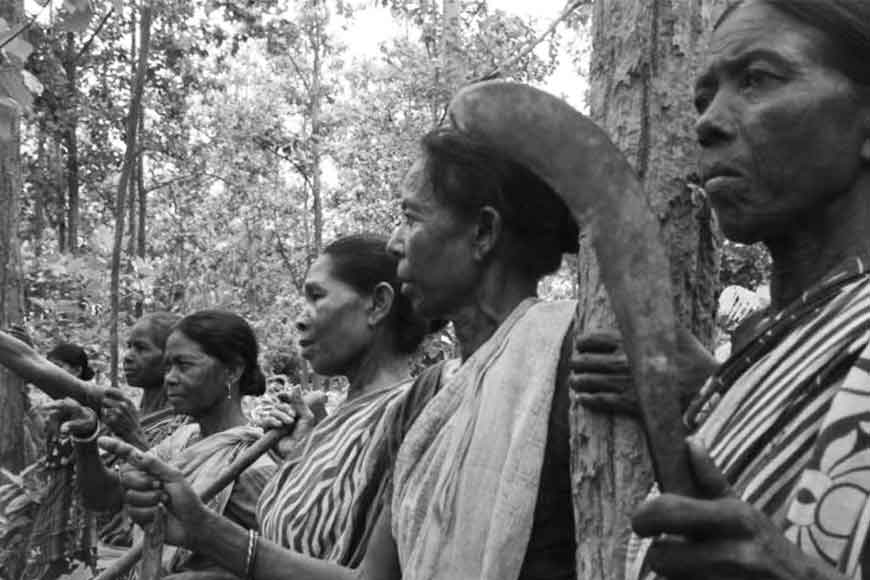 The Santhal tribe of Bengal has a strong cultural association with forests. They are also known to have stood up against the British during the famous Santhal rebellion, as also against forest poachers. They eulogize the forest, count on the forests and could do anything to protect the forests because for them the forests are nothing less than their mother. They worship it. They gather fruits, leaves, herbs, honey and fuel wood needed for their sustenance. The inexplicable bond and sense of belonging they have towards forests is strong.
That feeling again comes up as Santhals of Hakim Sinan village in Bankura district of West Bengal have come up to protect this huge stretch from the hands of those who have been trying to exploit the forests, deforest the lands and illegally poach. For these Adivasi women, forest is like their mother and they were ready to protect the same with sickles and other simple weapons they could make and use against poachers.
The persistent problem that had always disrupted the ecological balance in the area was illegal logging. There have been protests from villagers but nothing worked. Women in the village had also raised the issue when they would come across the timber mafia in the forests but not much changed. Gradually the women organized themselves into collective groups who would leave no stone unturned to stand up for their rights, values and faith. They could not allow the illegal logging to pose a threat to their very existence! The only weapons they could lay hands on were sticks, sickles and the joint strength of a collective goal.
In one of the group meetings, the women announced that they would make it a point to vigil the forest with all their strength every night, the rest of the village was bemused. 'How will these frail women combat the poachers?' was a common question that struck them. But the women were undeterred. They formed groups. Every night, one group would vigil the forests. They also lodged complaints at the Forest Department so that the authorities were kept in the loop.
On one such moonlit night,a group of these guarding women came face to face with poachers. A woman ran back to the village followed by a squabble. The mighty were even ready for bloodshed because of the sake of their mother--- the forest. A poacher thrust a knife on one of the women, Lokkhimuni Soren. Hearing this, many women of the villages who were not part of the vigil group also rushed in and drove away the poachers.
The news of Adivasi women putting up a strong resistance to the gang of influential log poachers inspired everyone. The women also repeatedly came in touch with the Forest Ranger and held official meetings with officers. The poachers were finally arrested. Illegal logging of trees in Hakim Sinan village and its surroundings have almost stopped. But the women still guard the forests that they so love.