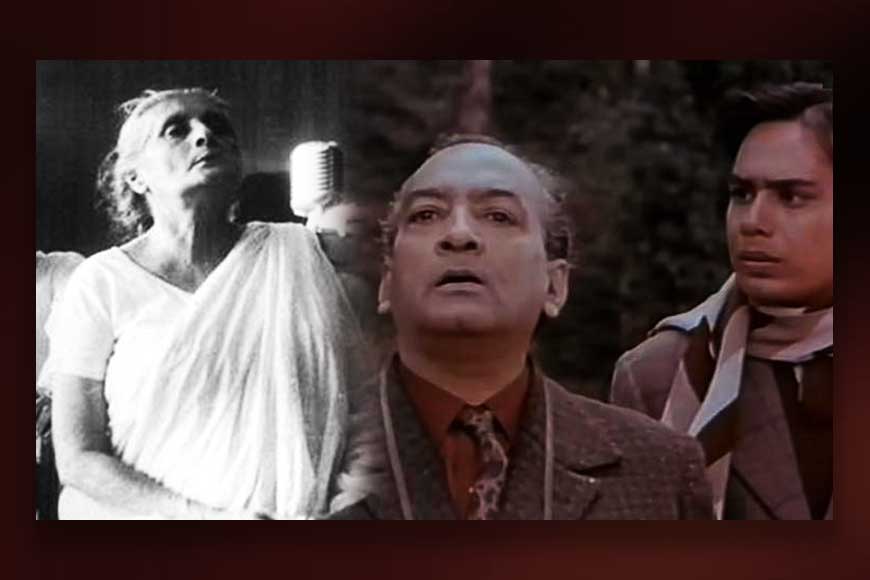 'E porobasheyrobe ke' in Satyajit Ray's masterpiece Kanchenjunga? Picturised on actress Karuna Bandyopadhyay, many of us are not aware that though the movie was not a commercial success, it had a greater impact behind the scenes. For it did bring out a rare talent from the 'andarmahal of thakurbari' and made her share her voice with the rest of the world. That talent was none other than Amiya Tagore.
The day Amiya married into Jorasanko Thakurbari, she virtually disappeared from public eye. Previously, she was a regular at different cultural programmes, often arranged by the eclectic Tagore family. In fact, it was her performance in Rabindranath Tagore's Mayar Khela that brought her close to the Tagore family, where she was later married to.
But since her husband wasn't quite enthusiastic about Amiya performing in public, she had voluntarily given up her passions to become a full-time home-maker. However, due to the unfailing encouragement of her father, she had received training in the classical Bishnupur gharana from eminent singer Gopeshwar Bandyopadhyay. It is said, whenever Rabindranath Tagore himself wanted to listen to Hindi songs, he would call Amiya. She was indeed one of the rare few of the Tagore household, who could sing with elan. Furthermore, her mother-in-law never fell short of urging her to keep singing. Therefore, Amiya's exceptional talent was always nurtured.
While shooting for Kanchenjunga, Satyajit Ray himself wished the particular Rabindra sangeet he was using, should be sung by someone from the Tagore family. He soon reached Amiya's doorstep, with an appeal for her to sing in his film Kanchenjunga. She was to sing the song without any instrument and the sequence was to be shot at the Darjeeling Mall.
Before this, Amiya's cousins, Leela Desai and Maneka Desai, who were successful stars of Bollywood, had asked her multiple times to sing playback for movies. But she never agreed. Yet, when Satyajit Ray came to her doorstep, she could not refuse. So, that's how Ray was successful in roping in the daughter-in-law of the Thakurbari to sing for his film.
Amiya Tagore even gave multiple takes that were required while recording the song. She sang the song in her truly inimitable style as she simultaneously came out from behind the screen of the inner chambers of her household to carve a place for herself behind the scenes of Ray's film. And thus, an iconic scene was created.