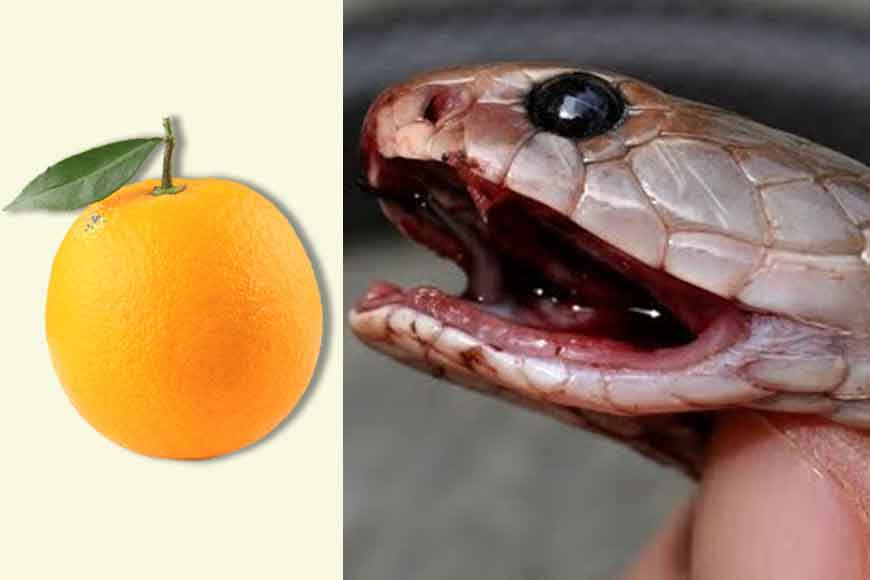 While devouring an orange on a winter afternoon, did it ever occur to you that it has anti-venom properties? Hesperetin is a chemical present in orange, that acts as an effective anti-venom or antidote against snake bite, specially of Chandrabora and Gechobora snakes. The venom present in Chandrabora, Gechobora and Bashporaare of hemotoxin type. As soon as they bite you, every tissue of human body gets destroyed easily and the blood of the victim coagulates. Even the kidney function gets disrupted and the tissues of the injured area severely damaged. Even if a person bitten by these snakes is given Anti-Venom Serum injection, it does not turn out to be effective.
Interestingly, the real remedy lies hidden within an orange. Subhamoy Panda, a Professor from Asansol has come up with a study on anti-venom properties of an orange and has bagged the Best Scientist title from State'sScience and Technology Congress.
After Bengal Chemical of Kolkata closed its gates, the anti-venom serum has to be brought from an organization of Mahabalipuram in Tami Nadu. At times even government hospitals go out of stock as Kolkata or Bengal does not produce this medicine. But Bengal has a high snake bite patients and is home to some of the most venomous snakes of India, including King Cobra.
To meet the rising demand of antidote to snake bites, Subhamoy Panda's discovery will surely help and since it can be produced from oranges that are readily available, so the manufacturing can be much easier. As scientist Subhamoy adds: "Most venomous snakes of Bengal have a similar kind of venom as the common content is Syrine Proti H. The only antidote to it is Hesperetin which has the potential of disabling snake poisoning in the docking method. And this chemical is found in orange."