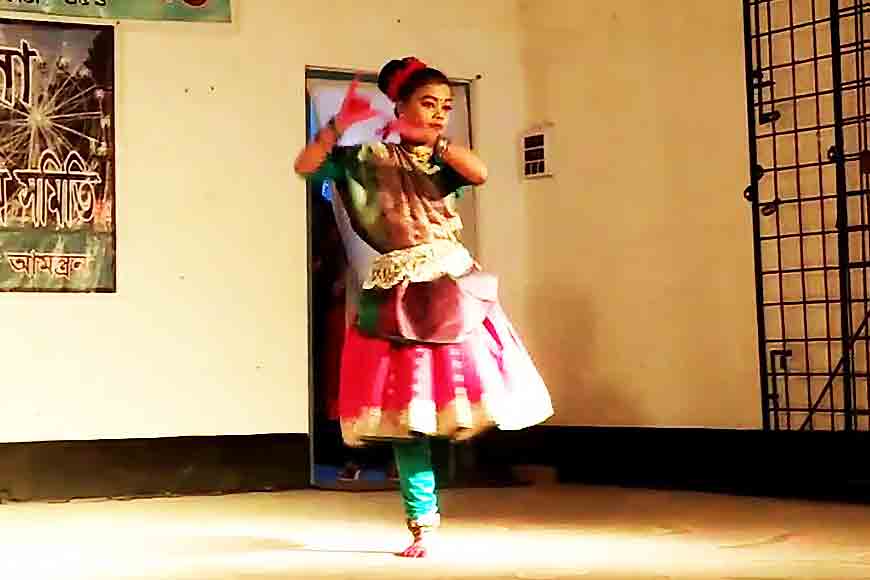 You all must have heard of dancer and actress Sudha Chandran whose life had inspired many in the '80s and '90s. She became a dancing sensation in an artificial limb. But Anjali Roy of Kolkata is no less a heroine herself. On Poila Baisakh, this 16-year-old girl, mesmerised the audience through a dance performance only on one leg.
Anjali was a budding dancer, but at the age of eleven, she lost her left leg to osteosarcoma. Osteosarcoma is a type of cancer that starts in the bones. It is a very aggressive form of cancer that commonly affects teenagers. No doubt fate was cruel to her. Yet her spirits were not to be lost and she put on her ghungroo one year after her surgery. In 2013, she was diagnosed with bone cancer in her left knee and doctors had no other option but suggest amputation to save her life. Doctors of Saroj Gupta Cancer research institute supported her. They showed her Nache Mayuri, the film where Sudha Chandran dances with her prosthetic limb. So, after the amputation, Anjali was back on stage again and was felicitated this year at South Point School.
Her parents are not well off, and her father is a garment factory worker. However, several organisations have come forward and are helping Anjali achieve her dreams to become a well-known dancer despite her disability. And her parents are also trying their best to support her dreams, despite financial constraints. Because his daughter cannot travel for her dance lessons anymore, her father has kept a dance teacher at home. We all salute Anjali for her die-hard spirits.