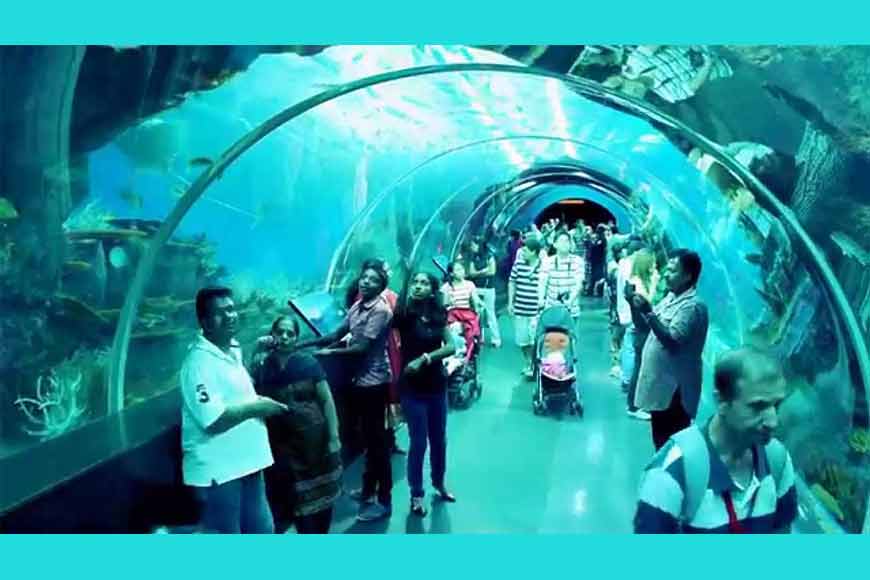 If you have often been mesmerized walking through the underground tunnel, gazing at marine life of Singapore, you will soon get a similar feel at Siliguri. The under-water aquatic life will be displayed in all its moods at Siliguri's Bengal Safari Park. After the marine aquarium of Digha, this innovative aquarium would be second largest in the state and would comprise diversified aquatic animals.
This marine aquarium is being set up as a joint initiative of the State Tourism Department and the State Forest Department. The land for construction of aquarium has been identified within the Safari park. One and a half bighas of land has been allotted for the same. The Safari Park Authority has the liberty to use more land if needed. The tourism authorities have been instructed to create rough draft and estimate the cost of the project of the tunnel aquarium. It will be the only underground aquarium of Bengal.
This initiative is expected to attract more tourists to the Bengal Safari Park. The aquarium tunnel will be approximately one and a half kilometer long. The tunnel work will be done in two stages. About 500 to 600 meters will be completed initially. Various breeds of fish and marine fauna will be released in the aquarium. While passing through the tunnel, people will get to see the fish on both sides and above through the glass enclosure. Various enclosures will be made according to the species of marine life kept. After the first step is over, it will be open to the tourists.
Along with marine life, the bird enclosures are also being developed in the park. Several birds from various countries will be brought to the Bengal Safari Park. However, the underground tunnel of the Bengal Safari Park is expected to bring in more tourists in days to come.