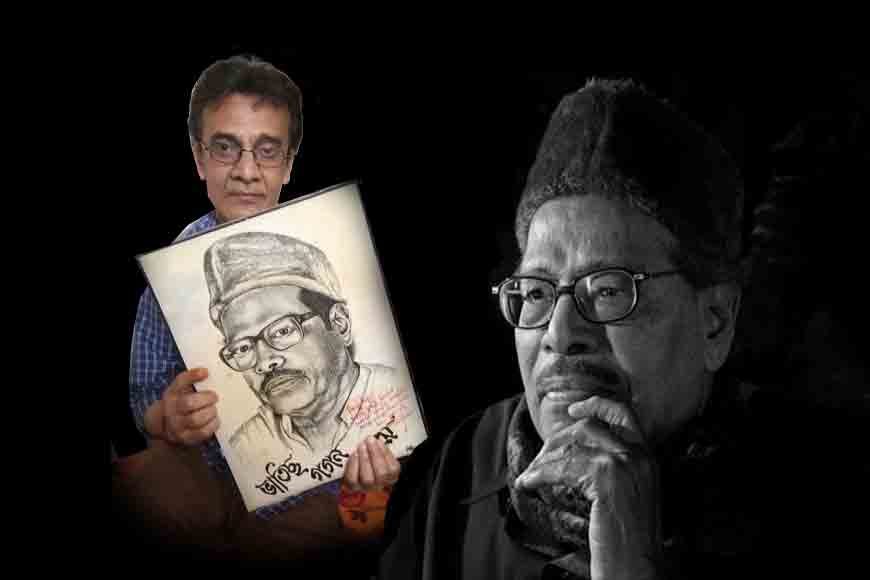 Who doesn't know that Manna Dey was born on 1st May? And like every year, his birthday will be celebrated all over India with his immortal songs. But among his innumerable fan followers, there is one man in Siliguri, who celebrates Manna Dey's birthday almost everyday. Not just 1st May, he tries to organise events, or other activities surrounding Manna Dey almost everyday of the year.
Pintu Goswami was once known as Manna Dey 'kanthi,' one who followed Manna Dey's songs and singing style and almost replicated them at music functions. In Bengal from time to time we come across such kanthis at para functions and other events and they are very popular these days, thanks to the different music competitions held on television. Pintu Goswami was one such singer, who had made quite a name for himself in Siliguri for singing Manna Dey's songs. But in 2016, he met with an accident and was seriously injured. His right side got paralysed. He is now just 53, and has slightly recovered after a long fight with paralysis. He still cannot walk properly. But he has overcome these challenges through his music and Manna Dey's songs, at times he pays homage to his favourite singer through his paintings.
While Manna Dey was alive, Pintu met him four times. In 1983, he even performed before Manna Dey his own songs at Raigunj. Manna Dey was visibly impressed with Pintu's songs. He even wrote to him and gave him an autograph. In 2008 when Manna Dey again came to perform in Siliguri, he gifted him a self-drawn portrait of the singer.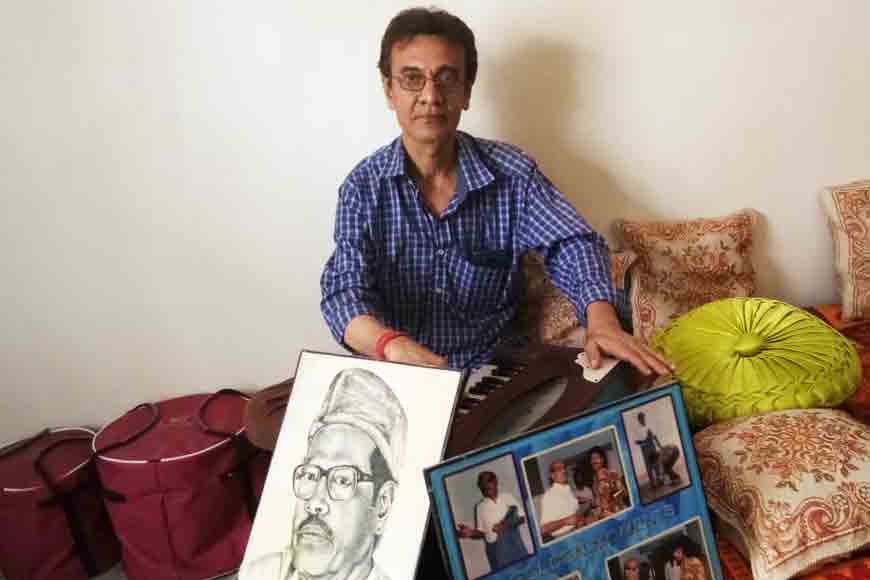 These days, Pintu cannot move much and hence practises at home infront of a huge portrait of Manna Dey. In 2013, after Manna Dey passed away, Pintu had performed 58 songs of Manna Dey non-stop at a Siliguri function. Till date he has sung almost 700 songs of Manna Dey. He didn't even join a job for his love for Manna Dey's songs and has opened a school at his home, where he tutors children who have no money to pay. He teaches them classical songs and those of Manna Dey free of cost. Pintu Goswami points out these days people do not wish to do Riyaaz. But he feels it is very important. In his own words: "Singing needs dedication and mostly it has turned into mere business today."
His first tryst with music was with his mother who lived in Agartala and gave Pintu his first lessons. Later his elder brother Anilbaran Goswami helped with his music lessons. Manna Dey fans in Siliguri are all waiting for 1st May, when Pintu Goswami has organised a day long function at his home as a homage to the singer,who is like his guru.