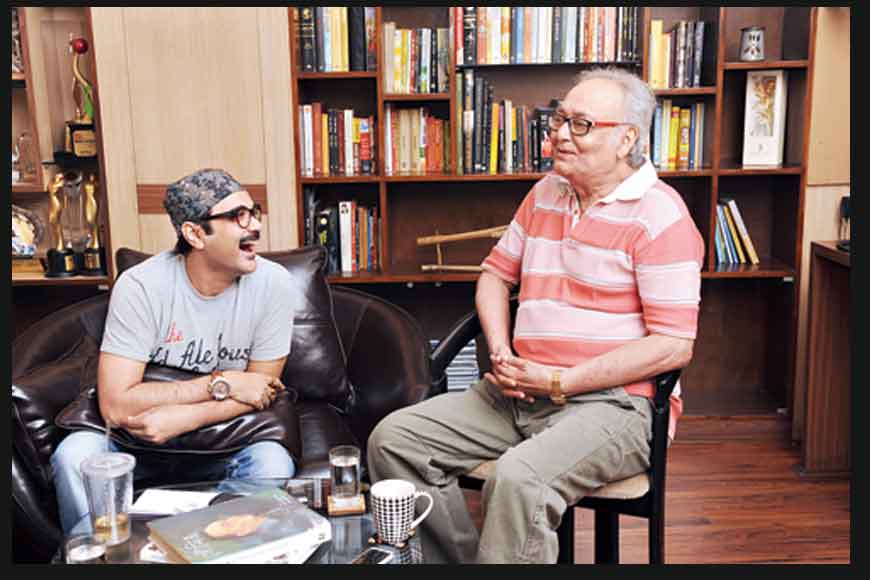 Films have portrayed love, affection and bonding between families in the most beautiful way. Though we find bonding between mother-son or brother-sister,tales of father-sons are rare. There are exceptions though,three cult films of this genre were Charlie Chaplin's masterpiece, The Kid (1921), Vittorio De Sica's Bicycle Thieves (1948) andLife is Beautiful (1987). Closer home, we have Bollywood films like Shor, Patiala House, Shakti, Wake Up Sid, and more recently, Kapur and Sons,which depict the father-son bonding.In Bengali movies, the father figure is usually a grave and distant identity whose emotional bonding with his son is seldom explored or depicted publicly. This area is left to the audience's imagination and interpretation.
However, contemporary script writer /director Atanu Ghosh is all set to explore this angle in his upcoming film, Mayurakshi. The film has veteran actor Soumitra Chatterjee and Tollywood star Prosenjit Chatterjee playing the roles of father and son. The duo has acted in many movies, but they have never been paired in a film where they play the central characters.
This will be Ghosh's sixth film with Soumitra Chatterjee and his first film with Prosenjit. The movie is partially autobiographical and portrays an emotional journey of a father and son. The story and script, both by Ghosh, is close to his heart, reflecting his own interactions with his father during the last phase of his life.
In the film, Sushobhan Babu is an academician, a reputed professor of physics whose students have carried his mantle worldwide and made him proud. At home he is the quintessential 'father' who teaches his son Aryaneel various nuances of life. Vignettes of daily routine, depicts their relationship. Aryaneel's father is a liberal man who doesn't believe in following a trend. He encourages his son to think out of the box, explore, enquire, experiment and learn the lessons of life rather than mugging and cramming his syllabus. He inspires Aryaneel to pursue his hobbies like drawing, taking guitar lessons, photography… and in the process widens his horizon.
Both Soumitra Chatterjee and Prosenjit are upbeat about the film. For Prosenjit, Mayurakshi will be an extension of the relationship he shares with the veteran actor who is his father Biswajit's contemporary. He says, "I am like a son to him. We share a deep bonding and that will get translated on screen. Soumitra, on his part, said, "I love Atanu's films as they are simple yet sensitive. This script, too, is captivating. And I am looking forward to working with Bumba as I feel doing a film together at this juncture of our careers is an important decision."