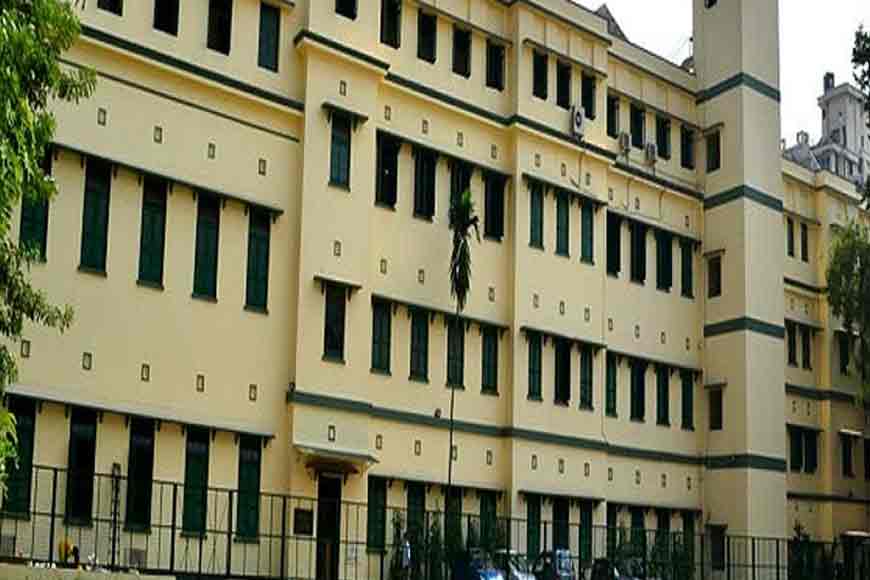 For all Xavierians, food was never scarce during their college days. Not just because this iconic college is on the hip and happening Park Street of Kolkata, surrounded by equally historic food joints, some of which are running from the British era, but because the college has a very well-stocked canteen. For those who feel going to joints next door like Flurys, might burn a hole in their pockets, they can always pay a visit to the St Xavier'sCanteen, housed within the building itself and open almost throughout the day, from 8am in the morning.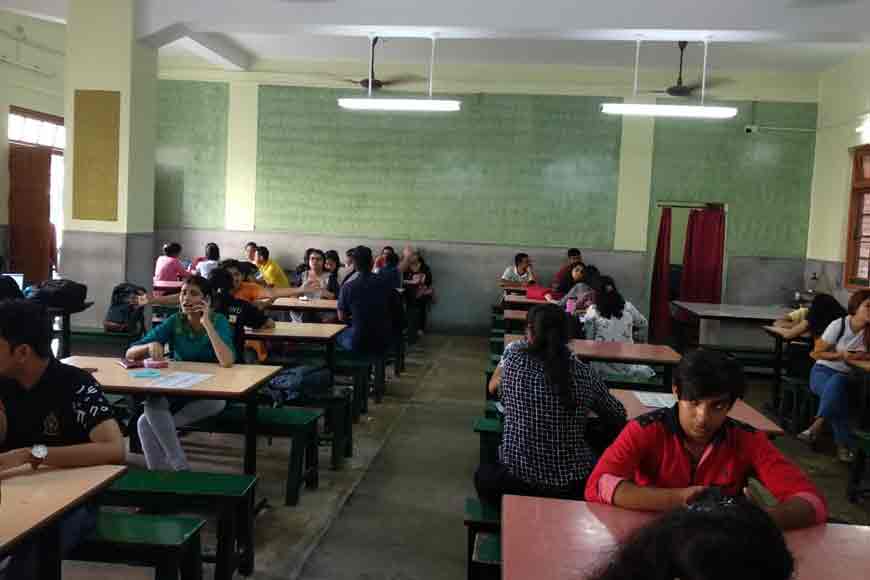 Students sitting in the canteen
Raika Naaz 5th Year, Department of Multimedia
"Our college canteen is perhaps the busiest place in the campus. It is the place where almost every student is expected to pay at least one or two visits a day, even I do and that not just to have a taste of some delicacies, but also to brush him or herself up with the latest information, real or based on some rumor. Thus there is a free and frank discussion of fashion of various boys and girls and teaching habits of different teachers.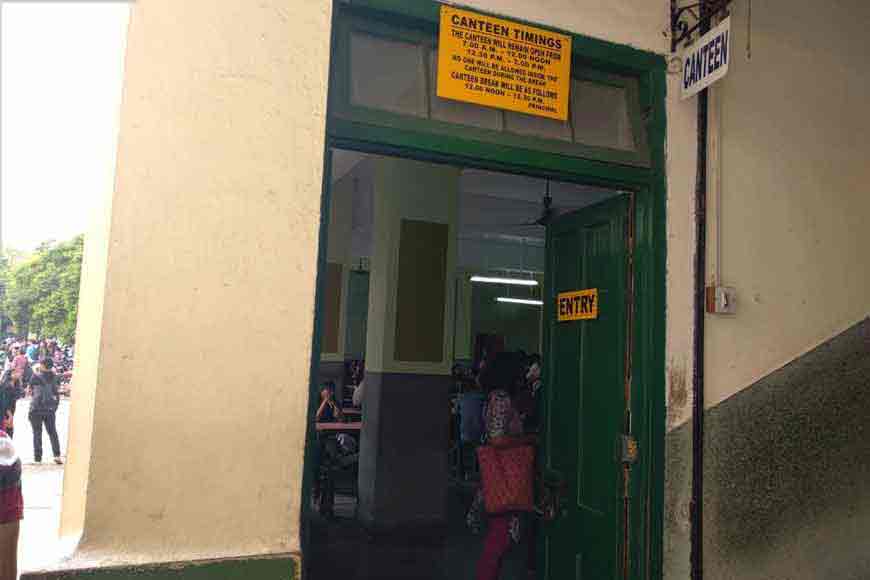 Canteen gate
St Xavier's canteen is always overcrowded. Even school students from the senior section which is adjacent to the college, come in hordes during their recess. One gets a lot of choices for food and drinks like puri-sabzi, chicken patties, sandwich, cakes, rolls, tea, coffee, ice tea and many more and waiwai being pretty much demand. This canteen has been running for ages and has been renovated a couple of times. The new addition is a giant screen, where students crowd during matches or tournaments. Students come and sit and study as well. Why only students, even professors are fond of visiting the canteen, if not for anything else but for a cup of tea maybe!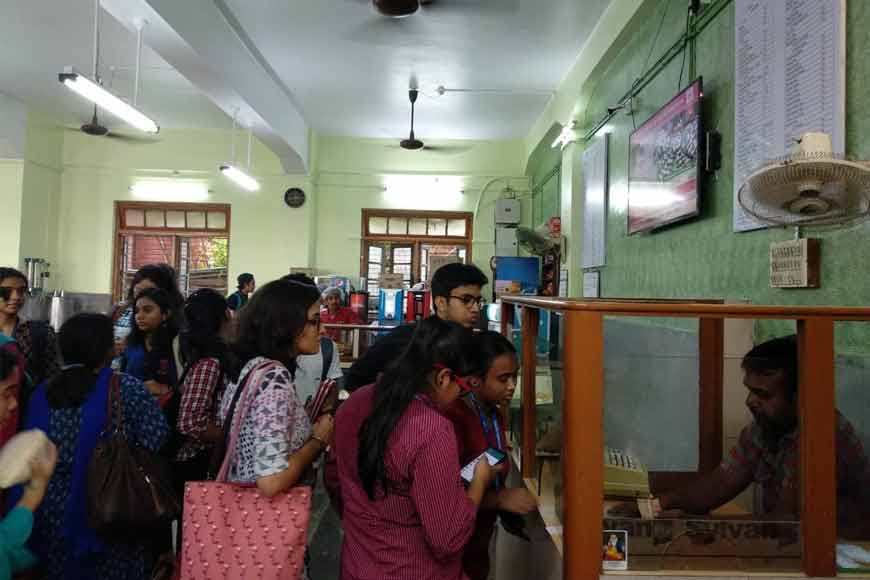 Queue for billing before taking food
Apart from the canteen, there's another famous square of Xavier's, that's the GREEN BENCHES. This is just beneath the Jubilee Building (Department of Multimedia), a place with green painted benches and tables. A good place for the students to come, sit and chill.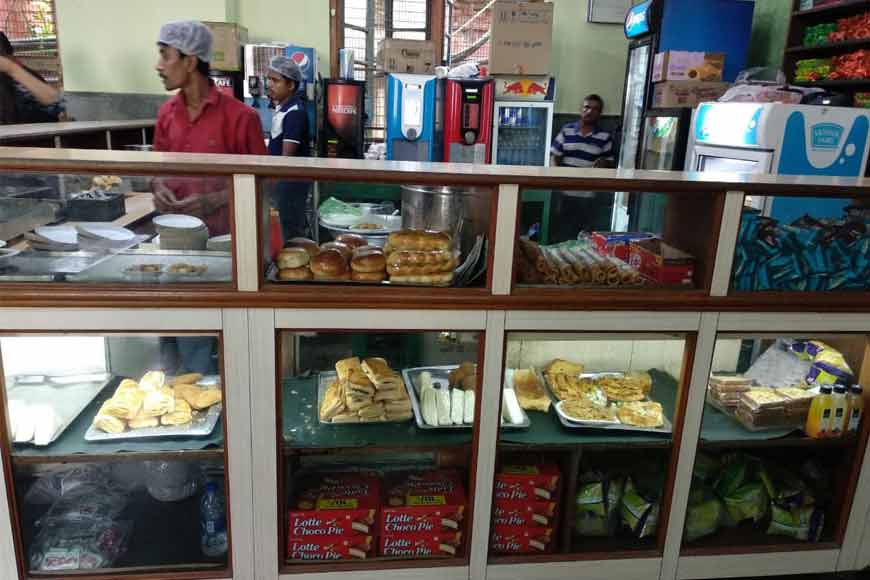 Food Counter
Pallavi Majumdar, Sociology Department. Batch of 2018
"From 9:50 in the morning to 4 in the evening, the canteen is what kept me alive for 3 years of my college. Iced tea and coffee and counter kakus were the best part of my college life.
But the worst thing is that the canteen I left behind is not the one you'll ever be able to witness.
Leaving the canteen behind was more difficult than leaving the college."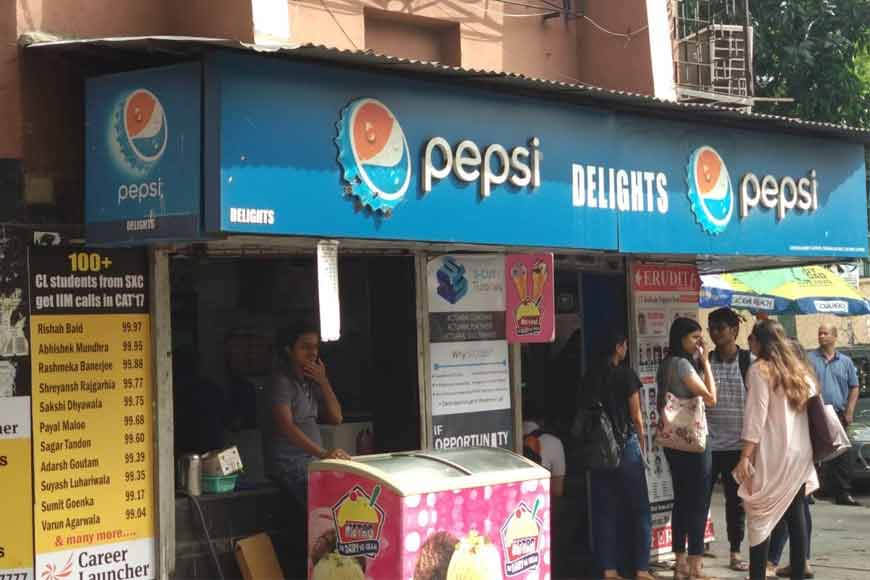 Delights
As we walk out of the back gate to Short Street, we would find a few eateries out of which Delights, a vegetarian joint and Yumm-ee, a fast food center are the adda joints known among students and staff too. Delights has been there since a very long time and Yumm-ee too. A plethora of junk food is available. These places have been serving students down generations with love. Near Yumm-ee, one can mainly hear screams of chicken rolls, chicken chowmein, whereas if you want to get some good idlidosa, vada pav, visit Delights.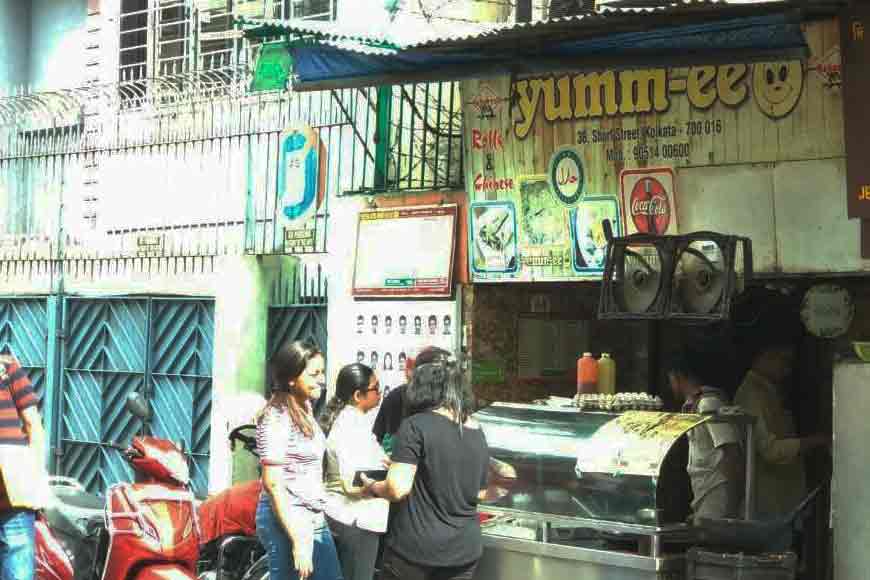 Yumm-ee
Tea, coffee cold drink counter in the canteen