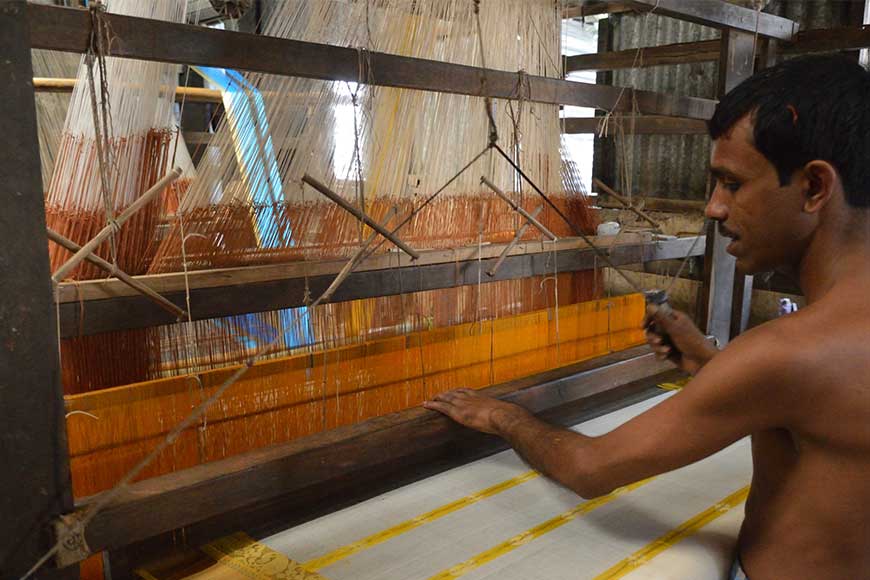 Handloom textiles and crafts are an integral part of our country's cultural heritage. Nowhere in the world can so many diverse weaving techniques be found together in one country. But the Covid-19 pandemic has resulted in a sudden disruption of businesses across the globe and the handloom sector has been severely affected. Weaving is a source of livelihood for millions of families and COVID-19 has resulted in sudden disruption to artisans' livelihoods.
Phulia, Shantipur, Dhanekhali Begumpur, Bishnupur, Malda and Murshidabad in West Bengal are places where intricate dreams are woven with handlooms by master weavers. Under normal circumstances, these craftsmen don't get the time to take a breather before the festive months. 'Mahajans' (money lenders/ wholesellers) troop in hordes with bulging money bags, knocking at the doors of the weavers to order in bulk for exporting abroad or to other states, boutiques and big showrooms and shopping malls all over the country. But now, due to the Covid-19 pandemic and sporadic lockdowns in the country, sales of handloom products have hit rock bottom. The existing worldwide financial doom has further aggravated the situation of the weavers who are already fearing starvation due to lack of work.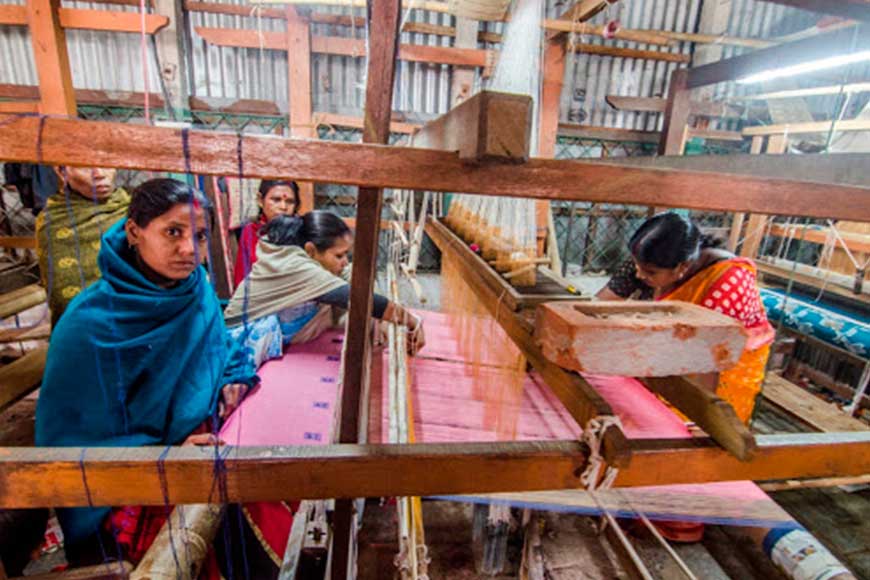 The weavers of Bengal
Amid such bleak scenario, Tantuja, the umbrella organization of West Bengal State Handloom Weavers Co Operative Society Ltd., has decided to put thrust on on-line sales. Usually Tantuja organizes special exhibitions to display latest handloom trends before the festive seasons. It also participates in fairs held in different parts of the country round the year to penetrate in the market and explore every nook and corner and boost business.
This aggressive marketing strategy has paid off very well in the past. But now with all these outlets stalled, online sales is the next best alternative and exploring this channel has yielded great results and sales are picking up steadily. Paresh Paul, a weaver from Shantipur in Nadia district says, his area of specialization is tussar dhotis but the price of tussar thread has increased manifold during lockdown. He has to supply his finished products in bulk to the wholesaler who then sells them to retailers. The entire process takes time and the weaver usually gets his payments much later. The lockdown phase further created dent in the business as demand hit rock bottom. Paul, and many like him, were fearing abject poverty staring at them but the state government extended a helping hand to these craftsmen and placed orders for weaving disaster management sarees. The weavers are getting paid on time. They are happy because they are able to work and sustain their livelihoods even amid such unnatural situation.
The officials of Tantuja are also content to be of help and shoulder the responsibility of the weavers during such acute crisis. Baluchari sarees worth Rs 35, 56000 was procured directly from weavers at Bishnupur. Now the organization is gearing up to set up a similar camp at Shantipur and Phulia in Nadia district and buy sarees directly from the manufacturers. This move has lifted the spirits of the craftsmen who were seeing doomsday closing in can now see a ray of hope, thanks to the state government's initiative.