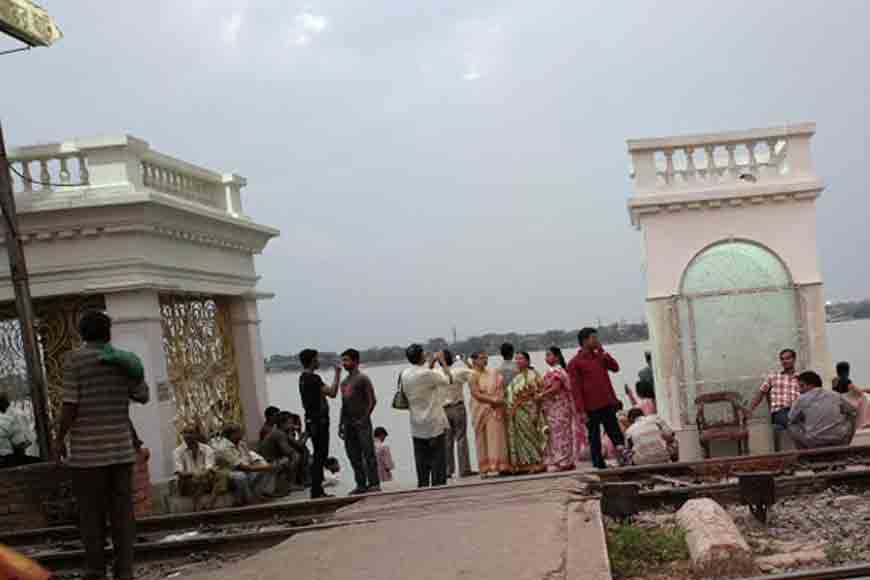 There are many ghats in Kolkata along the bank of river Ganges. One of them is Maayer Ghat at Baghbazar. I went to Maayer Ghat many times. This ghat was named after holy mother Sarada Devi. Ma Sarada used to come here to take bath in Ganga many years before.
Even today a trip to the ghat shows people bathing and taking dips in the Ganga. There are many boats and steamers plying in the distance on the river. A beautiful temple has also been erected at the ghat, where there is an idol of the holy mother. In the evening, Ganga arati takes place here.
There is a trainline and a station beside the ghat. I also saw a train there and had a walk in the platform. People can do meditation here in peace. The wind blows softly in the evening. Many people sit on the stairs of the ghat in the evening and it is pure bliss. There are many trees at the ghat, including a big old Banyan tree. People take bottles and jars and dip them in the river to collect Ganga water. Some people, faraway in the river, do fishing. There is a small room at the ghat where people can also do pooja paath. I like to go to Maayer Ghat often for the tranquillity it shares.