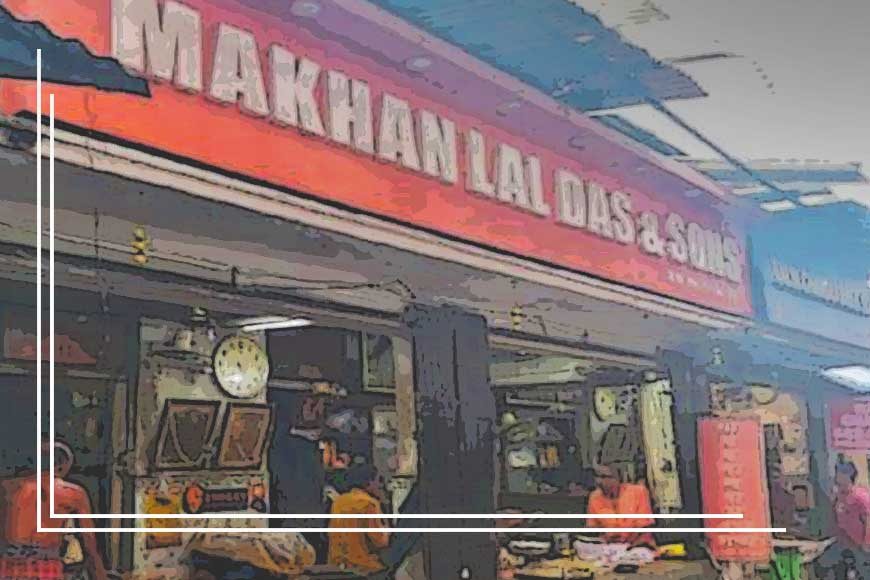 In around 1820's, an ambitious Moira (sweetmeat maker) named Ramchandra Das from Debrajhat village in Burdwan-Khandagoshi arrived in Calcutta, then a melting pot of adventurers, businessmen, bootleggers and people from all walks of life to try his luck in this burgeoning city on the banks of the Hooghly. He was an accomplished sweetmeat maker and was confident that with his skills he would be able to win the heart of the urban elite and make them eat out of his hand!
Ramchandra Das started with his home-made Sandesh and started selling them at Pathuriaghata market. Sandesh as we know is made of chhena (cottage cheese) which was introduced in India by the Portuguese who landed here in the 16th century. They curdled milk and produced different kinds of cheese of which three varieties became popular in Bengal. Once the sweetmeat makers of Bengal adapted to making sweets with chhena and paneer, Burdwan, Bishnupur, Murshidabad, Dhaka and Nator became the hotspots of all connoisseurs of traditional Bengali mishti.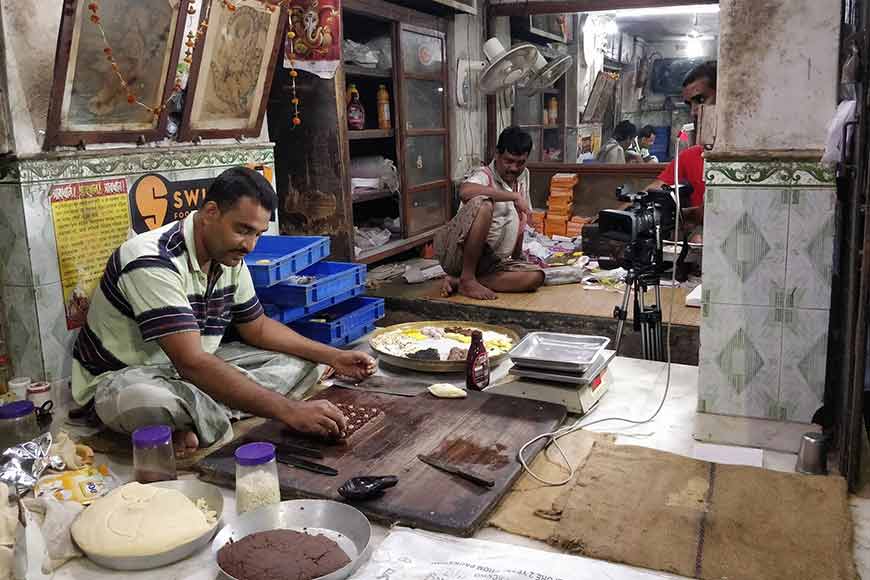 In the making
Sandesh, as we are aware, is made of cottage cheese but in ancient times, both Brahmins and Vaishnavites considered chhena an impure form of milk and hence unfit for offering to the Gods. But we do find Sandesh mentioned in medieval Bengali literature, including in Krittibas' Ramayana and lyrics of Chaitanya. In Bengal, the present form of Sandesh from cottage cheese was made popular by three confectioners, Bhola Moira (1775-1851), Bhim Chandra Nag (1809-1885) and Girish Chandra Dey.

Times have changed but the shop once established by Ramchandra Das is still going strong, two centuries after it was established. The present owners, belonging to his 6th generation, have kept the legacy alive. In fact, Makhan Lal Das & Sons is one of the oldest sweet shops in Kolkata. People who hail from North Kolkata are familiar with the overcrowded market called Notun Bazar beside Rabindra Sarani tram route. The postal address of the shop is 313, Rabindra Sarani, Company Bagan, Balaka Notun Bazar, and Jorabagan Kolkata 700006. The most convenient way to reach the spot is get off the Metro at Girish Park and then walk towards Notun Bazar. Once you step in at Notun Bazar, you have to navigate some narrow lanes. Feel free to ask for directions from the locals and they will be only too glad to oblige and direct you to your dream destination, Makhan Lal Das & Sons.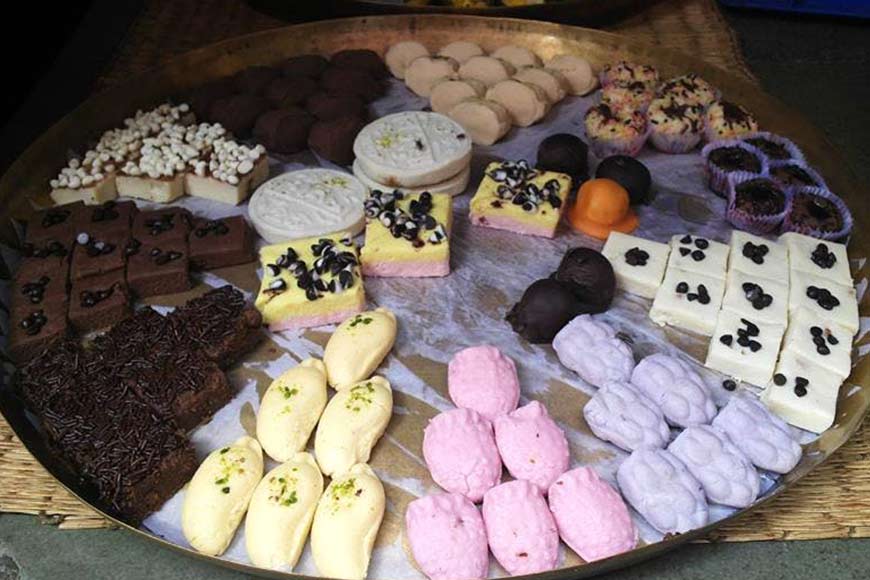 Sweet delicacies
The shop is very unalluring, somewhat down-market according to contemporary tastes. It's just a long counter in the lane. There are no show cases displaying different varieties of Sandesh. But there's a catch. The owners do not prepare Sandesh in bulk. In fact, approximately 10 or 15 pieces of each variety of Sandesh are displayed on large metal or wooden barkosh (traditional plates). Once the order comes, they prepare the Sandesh right in front of you and hand it over.
What makes this place so special is that it's part of Kolkata's legacy and history. The owners are dead against changing the shop's basic look and they are still sticking to the age-old traditional process of sweet-making. They use wooden dice for making Sandesh. Automation has still not been implemented here and this decision has been consciously taken by the owners. The shop sells only Sandesh. From jol-bhora to kancha-golla, the shop offers a vast variety of Sandesh to choose from. The fare keeps changing depending on the season. While winters are dominated by various gur-er sandesh, fruity varieties are in demand during summers. The shop has also introduced fusion Sandesh including chocolate mishti, butterscotch-er jol bhora and more. And here's another catch – in this shop you get Sandesh for Rs 3 as well! Sounds incredible, right? But it's true.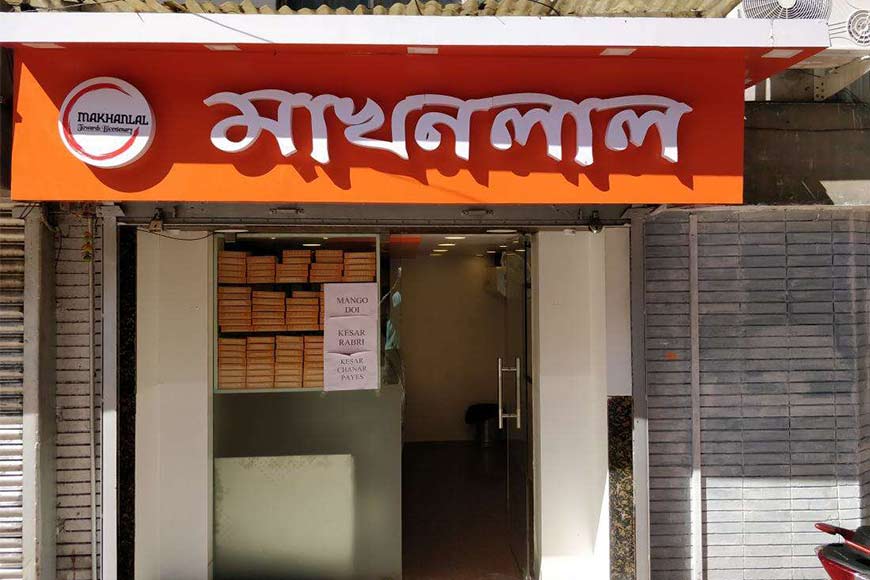 An outlet at Southern Avenue
Recently, the shop opened a new outlet at Ballygunge and they have tied up with food delivery apps to cater to foodies who stay far from their shop at Notun Bazar. So all ye Sandesh lovers staying far and near, brace yourself for some delectable sweet adventure. Your destination? A virtual visit to Makhan Lal Das & Sons in these pandemic times.