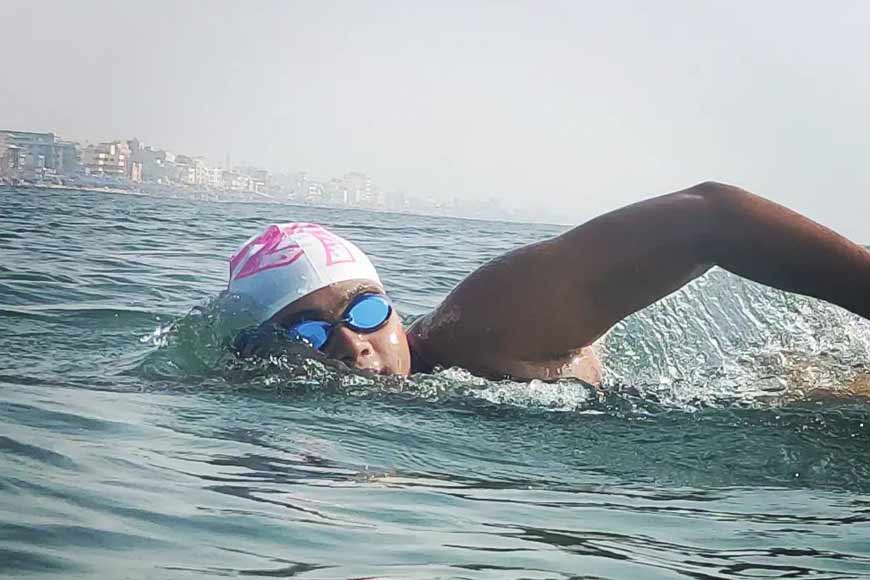 Sayani Das became the first female swimmer from India and Asia to cross the Molokai Channel in the Hawaiian Islands. On Friday morning, April 29, Das completed her expedition. This long-distance swimmer has already crossed the English Channel, Rottnest Channel in Australia and Catalina Channel in the US. With her latest victory, she has added another feather to her crown.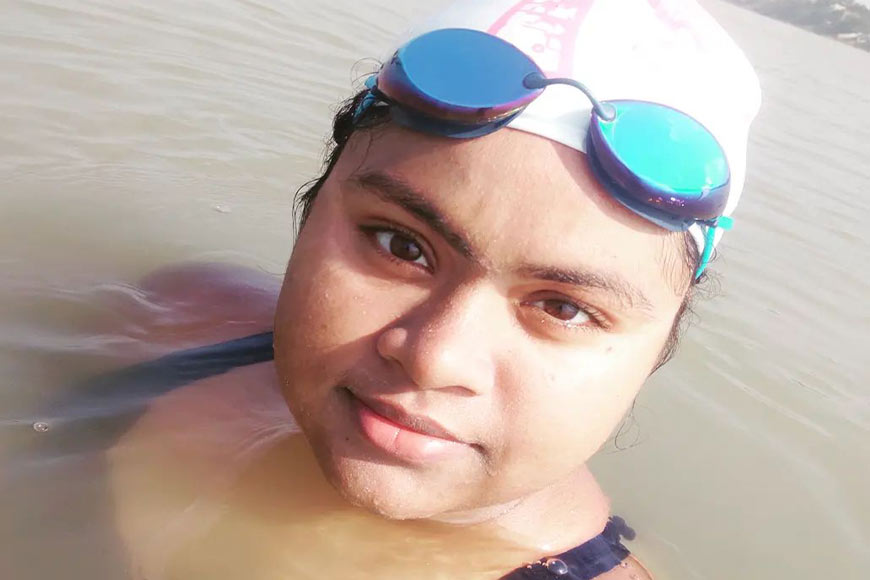 With her Molokai Channel odyssey, Das has ensured her place in the book of records as the first female swimmer in India and Asia to complete this grueling feat. Her supporters from her hometown Kalna in East Burdwan district are jubilant at her achievement and awaiting her arrival to celebrate her victory. Das, a resident of Baruipara in Kalna was initiated into swimming by her father, Radheshyam Das, when she was a mere kid. While training her, Das, headmaster of a primary school in Kalna, discovered she was a natural swimmer who took to water like a duck and was a quick learner. Realizing her potential, he admitted her to the local club for coaching under professional instructors. Since then, her rigorous training began in the local swimming club under the watchful eyes of her trainers. When she was barely nine years old, she participated in her first major swimming competition, which was swimming a 10-kilometer stretch in the Ganga. The competition was flagged off and it was time for high tide in the Ganga and the drift increased gradually making it extremely difficult for the young girl to swim. In fact, people still remember how the security boats that accompanied the swimmers, urged her to give up and get back onto the boat. But the little girl, her head barely visible in water, bobbing up and down under the waves, was determined to complete the stretch and she did so, although she was the last one to reach the shore. This was a turning point for Das, who was now determined to take up long distance swimming.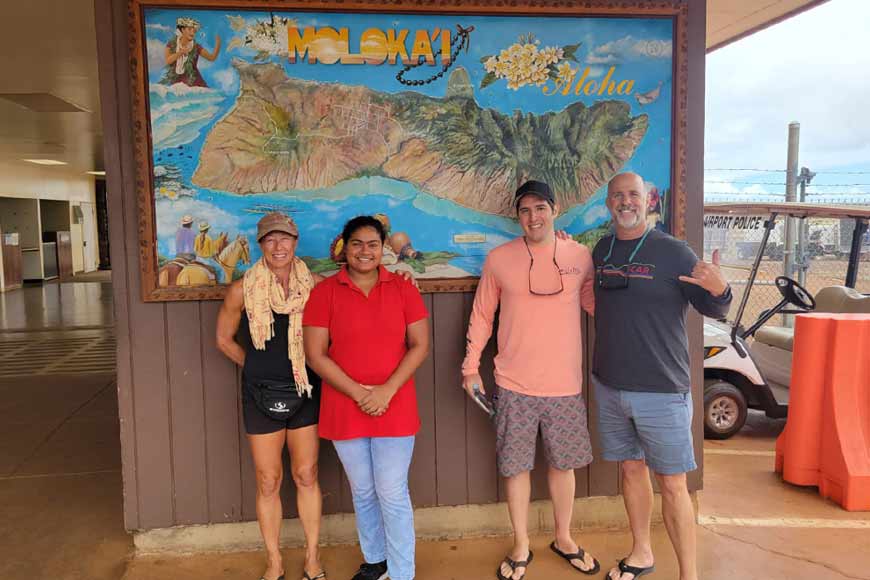 Das has been a regular in the national swimming meets and has been representing Bengal in the national championships in both junior and sub-junior category. She idolizes former swimming champion Bula Chowdhury and draws inspiration from the latter. It was Chowdhury's steely determination and composure in the face of challenges in water that galvanized her to emulate her. Das aims to cross all six channels.
In 2017, when Das was 18 years old, she crossed the English Channel. The shortest distance for an English Channel crossing is 21 miles. And once current and drift factors are taken into account, some swimmers swim as far as 26 miles. Tackling the bitterly cold temperatures is another most physically and mentally difficult feats in the world. And to top it all, the excruciating pain in the shoulders and back when swimming non-stop for 12+ hours is something that goes beyond pain.
In 2018, Das participated in the 19.7 km open water Rottnest Channel Swim, highly regarded worldwide and one of Western Australia's iconic events that begins at Cottesloe Beach and culminates at Rottnest Island.

In 2019, Das swam across the Catalina Channel in the US. Stretching between Santa Catalina Island and Los Angeles in California, the Catalina Channel is 21 miles long and is comparable to the English Channel in terms of distance and turbulent water conditions. In 2020, she had trained for months and prepared to swim across Molokai Channel, located 44 km from Hawaii Islands. Molokai Channel, also known as the Kaiwi Channel, is around 43 kilometers long and it reaches a depth of 2,300 feet at a few places. Swimmers begin their journey from the west coast of Molokai Island and the east coast of Oahu. However, the expedition was called off due to the worldwide pandemic situation. But not one to give up easily, she continued her training. She swam long distance in the choppy waters of Bay of Bengal at Puri and later in the Bhagirathi River as part of her preparation.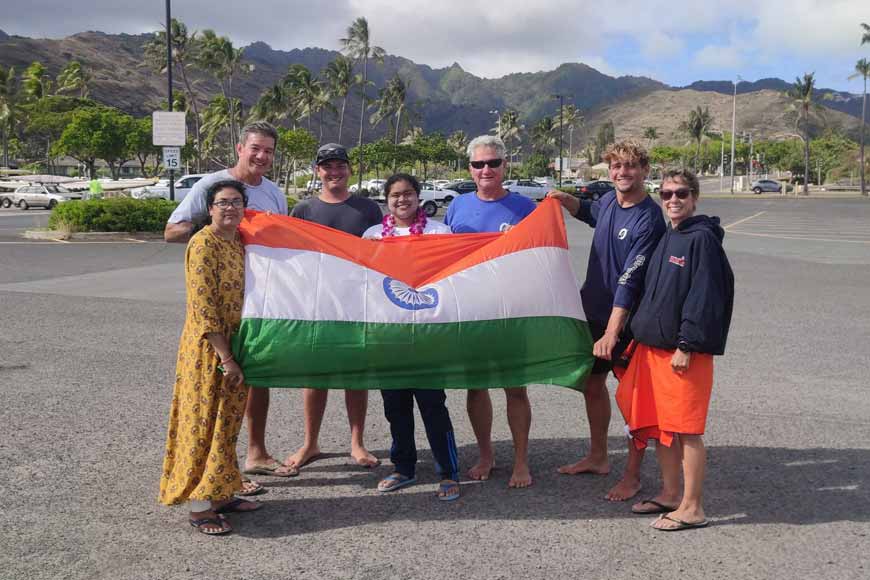 On March 29 this year, Das left for the US with her father. She was scheduled to train for two weeks before taking the plunge in the first or second week of April. However, her plan had to be aborted due to inclement weather conditions. Finally, after 22 days of rigorous training, she dived into the Molokai channel at around 10 am on April 28 and crossed the channel after rigorous swimming for over 19 hours. Molokai channel is her fourth such long swim and it is the longest among the challenges she has overcome. What adds to the challenges of swimmers in the ocean stretch are sharks and venomous box jellyfish that have tiny dart-like tentacles loaded with poison that are enough to paralyze a person or trigger a cardiac arrest. Das' achievement will go down history but she is not one to sit on her laurels and once she returns, she will, in all possibility, begin her training to conquer the next channel.