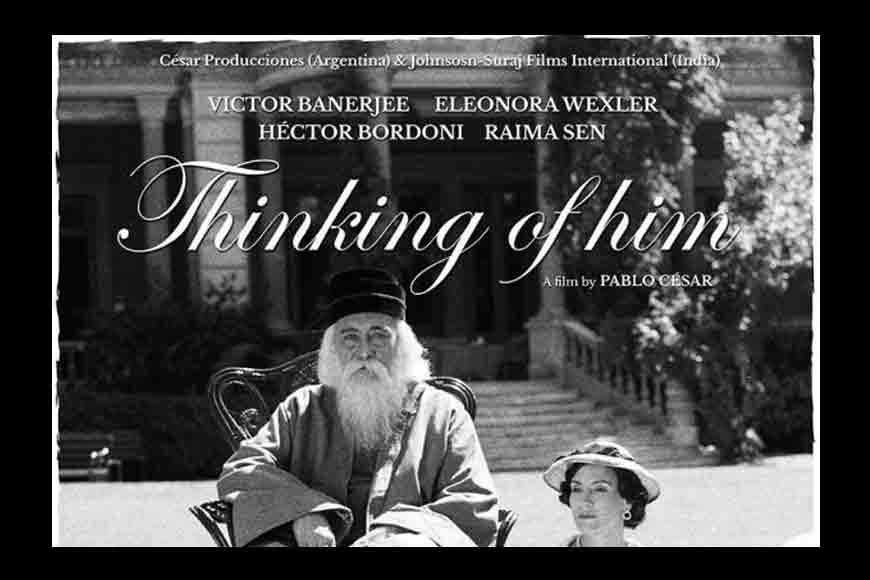 Argentine director Pablo Cesar's new film Thinking of Him, an Indo-Argentine co-production, will be screened on November 28, as the closing film of the International Film Festival of India (IFFI) which begins on November 20 at Goa. The film explores the relationship between iconic Indian poet, Rabindranath Tagore and Argentine feminist writer, literary magazine editor and cultural activist, Victoria Ocampo, when he visited Buenos Aires in 1924.
Victor Banerjee plays Rabindranath Tagore in the film and Eleonora Wexler essays the role of Ocampo. The film also features Raima Sen and Hector Bordoni in major roles.Ocampo was the first woman member of Argentine Academy of Letters. She married Bernando de Estrada (aka Monaco Estrada). The marriage was not a happy one and in 1920, the couple separated (since divorce wasn't possible in Catholic Argentina in those days). Ocampo got into a long–lasting affair with her husband's cousin, Julián Martínez, a diplomat, but she never remarried.
In 1924, when Rabindranath fell ill en route to Peru, he was forced to disembark in Buenos Aires. Ocampo received him and took him to her family estate at San Isidro in the suburbs of Buenos Aires. The poet spent the next two months recuperating in a garden villa overlooking the River Plate in San Isidro. Ocampo, then 34, was enamoured after reading Andre Gide's French translation of Tagore's Gitanjali. For her, Tagore was an idol. She looked after him with the diligence of a devoted admirer. It was during this time that the two authors, it is said, developed a very emotional but platonic relationship and started corresponding and exchanging gifts after they met.
Tagore recovered and wrote as many as 30 poems while in San Isidro. Ocampo's relationship with Tagore was a big talking point at that time, though Bengalis and Indians, to a large extent, refused to speak of it openly. And it is likely to remain so in the near future. Tagore had a huge influence on Ocampo, who was then in her mid-30s and lived to be 88.He was 63 years old in 1924 and it was Ocampo who inspired him to take up the brush and begin painting again. In 1930, Ocampo organisedthe poet's first art exhibition in Paris, where they met in person for the second and last time.
However, until he passed away in 1941, Tagore and Ocampo wrote numerous letters to each other, beginning in 1924, when both were in Buenos Aires, sometimes on the same estate. Their letters depict their early friendship and give glimpses of their mutualattraction, diffidence and a strong longing for emotional fulfillment. Rabindranath christened Victoria 'Bijoya' (the victorious in Bengali) and taught her one Bengali word, 'Bhalobasha' (love). Tagore, in his Indian-English and Ocampo in herFrench/Spanish influenced English, expressed the need for each other, except that they could not define the relationship. Rabindranath confessed to the enormous burden of loneliness he carried within himself.
Director Cesar feels there are ample indications that the relation was based on something more than mutual admiration. She adored his creative intellect and he admired her for being a woman of substance, who had the sensitivity and brains to interpret and comprehend his thought process. "This film is not about what you and I think of Tagore. It is about what Ocampo thought of Tagore and what Argentine people think of him," said Victor Banerjee.
The film will be released in India in 2018, after fulfilling multiple formalities which are pending. The censor board will have to certify the film. Officials from Visva Bharati University will also see the screening before giving the final nod for its release.After all, Tagore is an icon, a legend among the Bengali community, which still maintains that the Nobel laureate never had any affair with Victoria Ocampo—they were good friends, perfectly matching in wavelength.