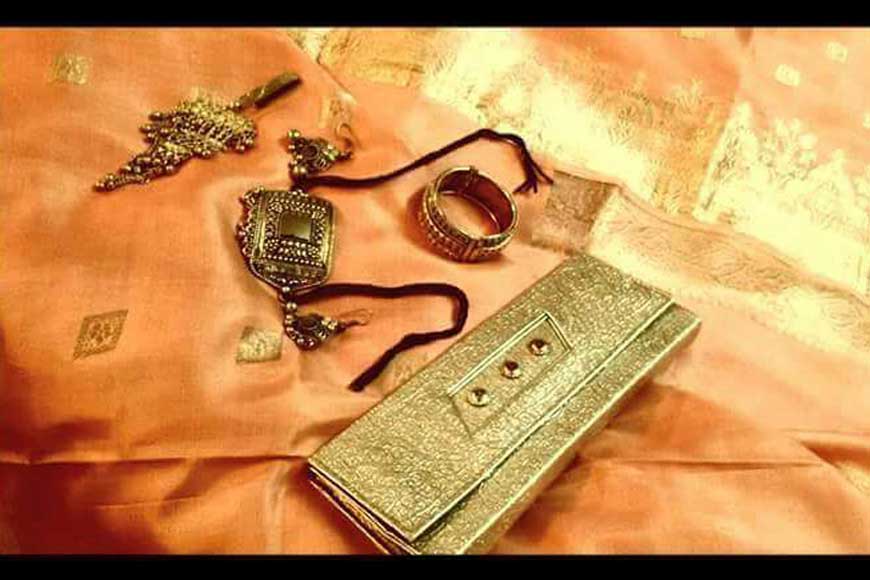 How I loved my peach-pink benarasi saree! Incidentally, it also happened to be my aunt's favourite saree. It had an elaborate silver zari work in uniform floral pattern along the pallu and saree border accompanied with silver diamond motifs all over, giving it the very ethnic yet contemporary look that everybody raved about.
One of its staunchest admirers was none other than my own aunt. I was fifteen then. We had just returned home after welcoming a few of her relatives home for the upcoming Durga puja, not all of whom I knew. Tilu ma (yes, that's what I called her as I could not say Tilumashi when I was a baby) was finalising the sarees and jewellery to wear during the six auspicious days of the Durga puja, right from Panchami to Vijayadashami . I was absolutely enamoured by the peach-pink wedding sari as I stood spell-bound looking at its gorgeous beauty. Tilu ma noticed my ardent gaze and said to me: "Sumi, you have seen all the sarees in my wardrobe. I have kept on adding sarees to my collection, sarees from the best boutiques of Kolkata, sarees across India, even from China, but nothing can beat this one. This saree is reserved for Devi Durga's bodhan rituals. Ever since my marriage, I have worn this saree for welcoming the Goddess. I don't know what draws me to this colour, but all I know is that it mesmerizes me. The diamond motifs embossed in silver all along are indeed true silver and I can make quite some money selling it." As she confessed this, she broke into a magnanimous smile, her pearly-white teeth glistening, making her smile contagious. Her long black silky hair shone with the rays of the sun that fell on her antique king-size bed, the engravings glowing on them. It was the day after Mahalaya(the first day of Navratri) and preparations were on in full swing at the Chowdhury household to welcome the Goddess.
Tilottama Chatterjee, better known as Tilu, entered the household of the Choudhury's at the age of twenty five. She was my mother's younger sister, younger to her by only three years. I realized at the tender age of ten how much my mother adored her! Infact, she had such a magnetic personality that one could not help admiring her not only for her beauty, but for the person that she was. My uncle Dinu uncle first saw her at a cultural program at the Behala club, the club endorsed by my favourite cricketer. She had been invited to recite poems, some of them written by her. During those golden days, Tilu ma had acquired quite a name for herself in that elite sphere. Dinu uncle, a man of letters, and a poet himself, proposed to her within a month of meeting her. As the admiration and attraction was mutual, she was only too glad to give the nod. I sensed this from the bits and pieces of adult conversation and the hush-hush around me, for nobody would discuss love affairs with a ten-year-old. The wedding took place in the winter of 2001.
On her wedding day, Tiluma looked like a queen in her peach-pink Benarasi. My mother had accompanied her to Benarasi Kuthi, the best saree store in Gariahat, Kolkata and purchased it at a price of twenty thousand rupees. This was quite an amount for my grandfather, but he wanted to give the best to his daughter. After all, she was being married to a man who belonged to one of the richest families of Kolkata.
At the age of ten, I had begun to be fashion-conscious under the influence of my friends at school. I could well understand that Tiluma was the cynosure of all eyes. She had been decked by a renowned celebrity make-up artist who was a friend of Dinu uncle and looked picture-perfect in every way. The exquisite jewellery she wore, complete with the matching tiara and veil made her Benarasi stand out amongst all the sarees that my keen eyes inspected that day.
I never grew tired of visiting 'Swapna Mahal', Tiluma's marital home, on vacations. We lived in Durgapur, the steel town that was about 150 kilometres from Kolkata and the only time we could meet my aunt was on vacations. She would set up the guest room in such a manner that I felt I was in a five-star hotel. How I loved exploring the palatial building! The high ceilings, engraved doors, huge portraits of Dinu uncle's forefathers, the wooden windows intrigued me to no end.
This time the visit was all the more special because it was my first visit during Durga Puja. My mom would wake me up at about 8 in the morning and thereafter, we all indulged in chatting, giggling, merry-making with each other. I was particularly drawn towards Tiluma because she loved me a lot and pampered me to no end. "Tilu, you really spoil her. This is the fifth dress you are gifting her." My mother told her once.
"Sumi is like my own daughter. Didi, don't tell me to stop my pampering. You know how much I love young girls." She replied.
Tiluma's child, Soham was three years old. She loved dressing him up too. "Sumi, at the age of three, does any child in Kolkata, even children of filmstars, have such an attractive wardrobe?" She asked me one day.
On the Panchami day, we had an early lunch and were getting dressed for the auspicious occasion of welcoming Durga ma. My mother was wearing a white silk with red border. I wore a saree too, a new blue silk, bought exclusively for this occasion. Till today, I remember vividly how I saw Tiluma entering our room, panting. "Didi, my Benarasi is not in my wardrobe. You remember I was arranging my sarees that day. Where could it have gone?" Her eyes had welled up with tears.
Both my mother and myself rushed to her room. We frantically searched for the saree everywhere, all her cupboards, wardrobes in all the three bedrooms. We spent more than an hour in the combing operation, but it was of no use. All three of us were in tears. Tiluma was absolutely distraught, till Dinu uncle entered the room. "Tilu, what is all this? Get dressed immediately. Is the Benarasi the only saree that you have? Wear the red Benarasi that you bought two days back." Finally, Tiluma had to trade the lost peach-pink Benarasi for a red one. But to speak the truth, she looked irresistibly gorgeous in it too.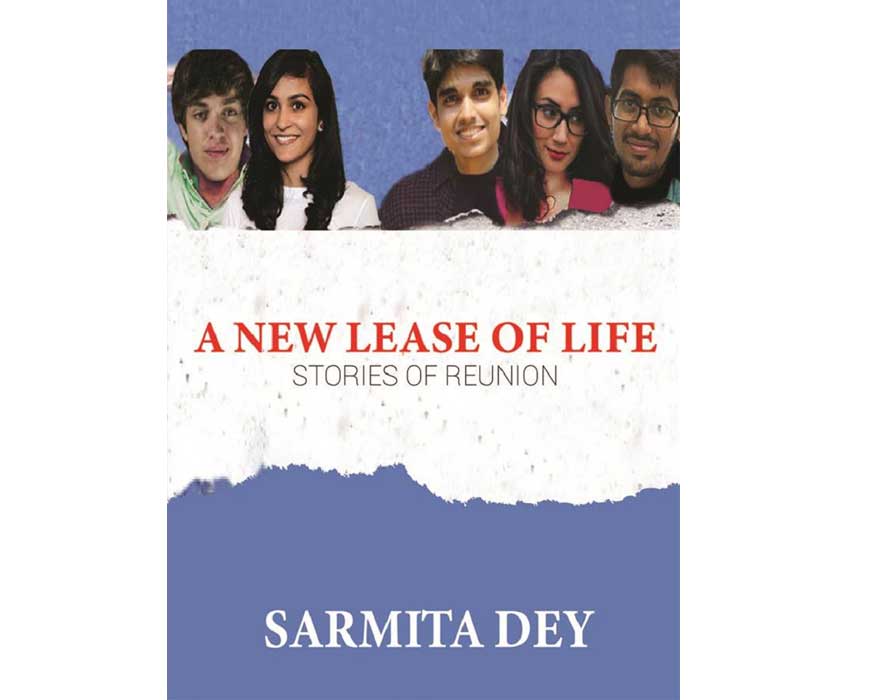 This Puja became memorable for me for another reason. I fell in love with Dinu uncle's nephew, Raja. Dinu uncle had three brothers and all of them lived in Swapna Mahal. Raja, a student of engineering was a handsome guy, he was nineteen. He was enthusiastic in all the Puja activities and was sort of a leader, motivating his team of six to work during the pujas, right from decorating the pandal with the extra zing to participating in the Dhunuchinaach,( the ritualistic dance with the earthen pot blowing smoke during the Bijaya Dashami) just before the immersion of the idol of the Goddess.
I still remember Raja dancing enthusiastically with the clay pot with smoke brewing from it. It was quite a sight! I realized that I had fallen head over heels for him. I remained frozen in my seat as I kept observing him, fascinated with his rhythmic movements, but fearing that an accident might happen, particularly when he held the pot in his mouth. I was mesmerised by his charisma, how he
managed to perform the feat remained an enigma for me those days. As for Raja himself, he was not oblivious of the fact that I was observing him from Day One. His eyes met mine on quite a few occasions; he always smiled sweetly at me which made me fall in love with him all the more. I could not convey the feelings that I had for Raja to anyone, not even to Jhumadi, Dinu uncle's niece, who was about Raja's age.
"Come Sumi, let's dance. I know you can do it...a little bit.." Jhuma di pulled me by my hand that day, as she noticed me glued to my seat during the Dhunuchinaach.
"Jhuma, I am scared. Raja is dancing so wildly." I refused to budge from my seat.
"Then let me tell you a secret, Raja is doing it all for you. He has been eyeing you since the very beginning today. You look so lovely in your red saree." She replied promptly.
Hearing her words, I blushed. I turned around to find Raja looking at my direction, and it was then that my heart melted. Being in mutual love was a wonderful feeling that I experienced within the core of my heart. I simply wanted to cherish these moments.
The next day was MahaAshtami, the fourth day of the Durga puja, and the most significant one. I entered Tiluma's bedroom to find Jhumadi, Tiluma and my mom having a hearty laugh. Jhumadi must have conveyed something to them. I quickly left the room, before they realised that I was there.
Tiluma seemed a bit morose during the Pujas. When we were not busy participating in the Puja rituals, the loss of the saree would come up for discussion. "Didi, do you think any of my maids had an eye on the saree?" she asked my mother one day. I saw a hint of insecurity in her eyes, while we were getting ready to go downstairs for the arati of the Goddess on Saptami. My mother had nodded her head with a sad expression on her face, and said, "I don't know. I really can't figure out anything. All your people are with you since ages, they are so trustworthy."
"I don't know what is happening to me these days, thinking of all the worst possibilities, that too during such an auspicious occasion. Durgama, please forgive me."Tilu ma joined her hands, as if in a prayer, and said.
Meanwhile, the loss of the saree continued to worry me. I had been praying to the Goddess that the saree would appear from somewhere. But no matter how much I prayed, nothing like that happened. Meanwhile, Dashami arrived, to soon I felt. Tiluma, my mom and all the other ladies of the house and neighbourhood looked resplendent in their white saree with red border. The celebrations of the Devi boron would begin in no time. I was absolutely in awe of this ritual, how the Goddess was fed sweets and how the vermilion was smeared all over the Goddess and her four children, as a gesture of saying goodbye to Durgama who would now head back home to her husband with her children.
Suddenly, Soham started pulling my hand saying, "Come didi, I want to show you something." I looked at Soham impatiently, refusing to leave the place. Very soon it would be Tiluma and my mom's chance for the Deviboron. But Soham was persistent and on the verge of crying. I got up reluctantly from my seat. "What is the matter? Where are you taking me?"As I went with Soham inside the house, I couldn't help asking him.
I was in Soham's playroom cum bedroom, toys were strewn all around the room. He beckoned me to pull the toybox from under the bed. What was all this? Couldn't he have done all this later? I was growing all the more impatient with his playfulness, especially during this hour. But then I realized there was more to it when Soham pulled opened the cover of his box. Tiluma's Benarasi saree stared at me from inside the box.
"So this was all your work?" I shouted, my eyes dilated with wonder and bewilderment. I took the saree and ran out of the room with Soham behind me. I did not want to miss Tiluma's Deviboron. Further, I wanted to see the smile back on Tiluma's lips. And smile she did and more, hugging me joyously. " Ma has given me back my saree before going back to her home." My mom almost wept with joy. After Devi boron, they smeared each other with the same sindur, all over their faces. I smiled with the unbridled joy of Tiluma's reunion with her exquisite sari. Raja was there a few steps away, eyeing me. I was so relieved, and happy, I smiled at him. He blushed.
So, Soham was the culprit! Tiluma asked Soham later that evening, "Why did you hide my saree?"
Pat came the kid's reply. "Mumma, I heard Baba ask you why you wear the pink saree every year. So, I hid it in the toy box below my bed."
"Your chamcha son hid my saree," Tiluma told Dinu uncle that evening in jest.
On Lakshmi puja which arrives a few days after Durga Puja, Tiluma wanted me to wear her Benarasi saree since I liked it so much. She even gave me matching jewellery to wear with it. During the auspicious day of the puja, all of us were going downstairs to participate in the puja recitals. Just then, Raja who was coming from the opposite direction almost bumped into me and gave me a meaningful stare. I was well aware of his feelings for me by then, so I was confirmed that our crush was mutual. There was no desire to take the relationship one step forward back then; we were content with occasional smiles and stares.
Much later, when I was in my final year class in engineering, Raja joined the same college as a Faculty. It was then that we started dating secretly. We only let in Tiluma to our secret world of romance. He proposed to me within a year, after I had completed my engineering course.
Last year, when I got married, I received the best gift of my life from Tiluma- the Benarasi saree which was the centre of all drama and nostalgia of my teenage years, which I wore at my wedding. "Sumi, it's your turn now to cherish the saree, I know how much you like it," she said fondly, hugging me tight.