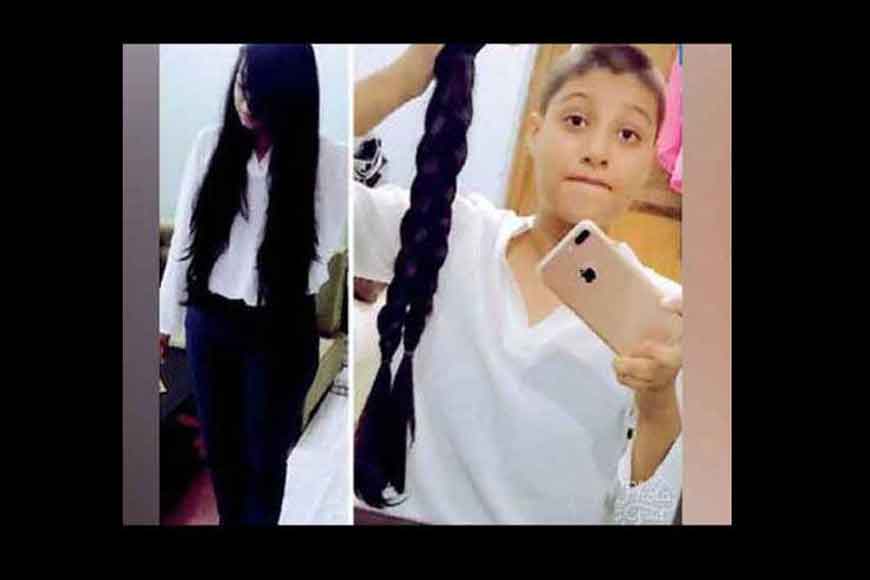 'I was nudged out of complacency when I came to know a cancer patient was suffering from inferiority complex and getting into depression, following hair loss due to chemotherapy. I promised myself I would make her smile again.' 'Jiya Mehta, a 16-year-old student of Kota, Rajasthan, came across a news about a cancer patient in Mumbai, who was suffering from depression after losing her hair due to chemotherapy. Jiyainstantly decided to donate her long hair to a social workers' organisation.
The teenager came to know about this cancer patient from internet and learnt she was getting into deep depression after losing her thick mass of hair following chemotherapy. 'She was suffering from inferiority complex and her predicament touched me. I decided I had to do something to restore her smile and confidence.' Then began her extensive search on the internet to look for avenues to help the lady. She came across Madad (lit: Help).
Madad is a social workers' group that organizes wigs and hair for cancer patients. As soon as Jiya came to know about the organisation, she clipped her 28-inch-long braid and sent it via courier to the organisation in Mumbai.She was the butt of ridicule initially, but when she revealed the cause of her tonsured head, all gravitated towards her, full of praise for her humanitarian gesture. Jiya herself is overwhelmed to receive such warmth from her schoolmates and teachers.