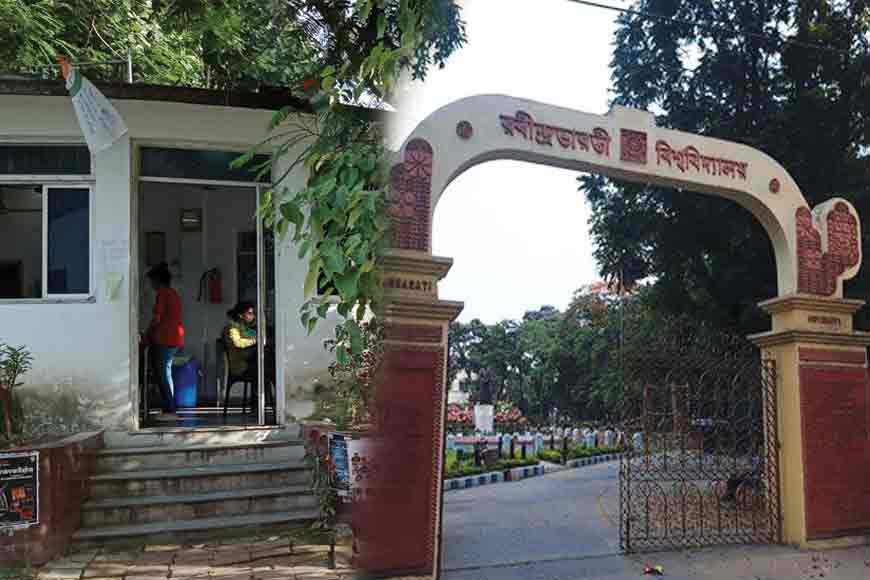 If Rabindra Bharati University's history is entwined with the erstwhile Jorasanko Thakurbari, that has witnessed birth of Bengal renaissance and stalwarts like Rabindranath Tagore and Abanindranath Tagore, its canteen also has the Thakur tag to it. Out of the four canteens on the RBU campus, Thakurdar canteen is the most sought after. Located between the Sangeet Bhavan and Chitra Bhavan, the canteen has a unique structure that looks like a round shaped auditorium, rather than a stand-alone eatery. Structure of the Sangeet Bhavan is similar and it seems they are placed opposite to each other, silently exchanging ideals. Around three decades back Thakurdar canteen started when the Fine Arts Department of RBU was at the Jorasanko Thakurbari campus.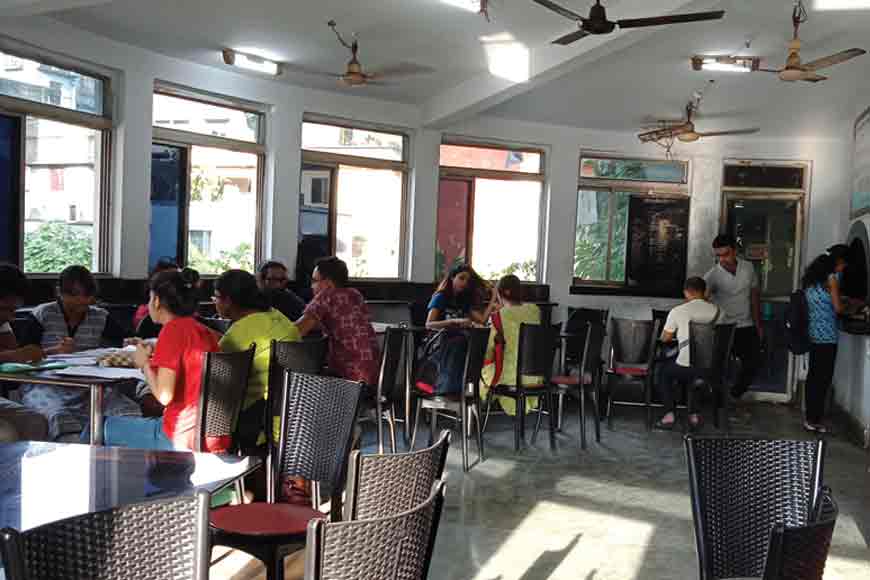 Inside Thakurdar canteen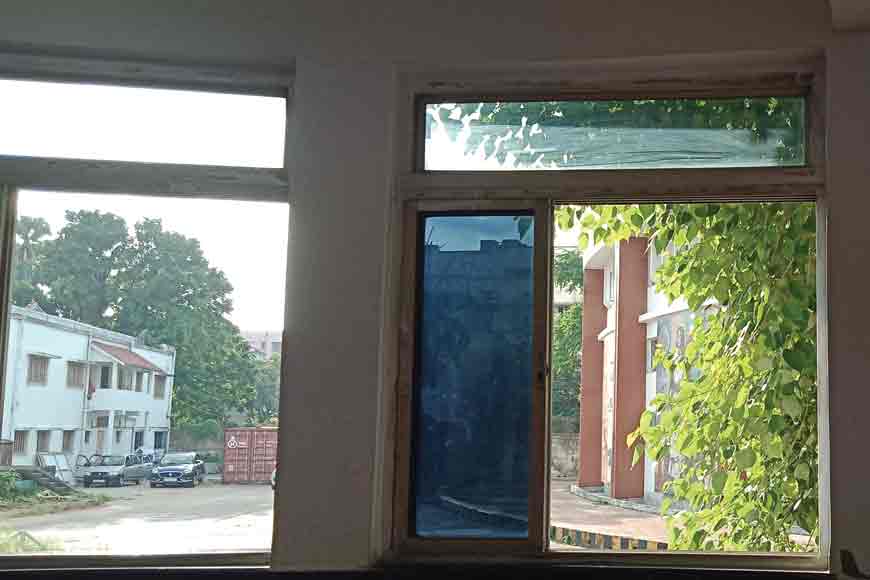 A glimpse of Sangeet Bhavan from the canteen window
After the departmental address changed to B.T. Road, this canteen also shifted to its present locale, where one can enjoy the sounds of music from Sangeet Bhavan, along with astonishing glimpses of stone and hammer giving shape to exquisite sculptures. Thakurdar canteen was founded by late Ranajit Chakraborty. However, our dear Ashokda aka Ashok Samanta, is the real man behind the unending service given to students over decades. His affection is palpable, even when he shares the daily menu with the students. If coffee, tea, biscuits, sandwiches, and chops are the usual fare available, he will not let you go hungry. He will cook up luchi torkari or porota ghughni to fill up our appetites.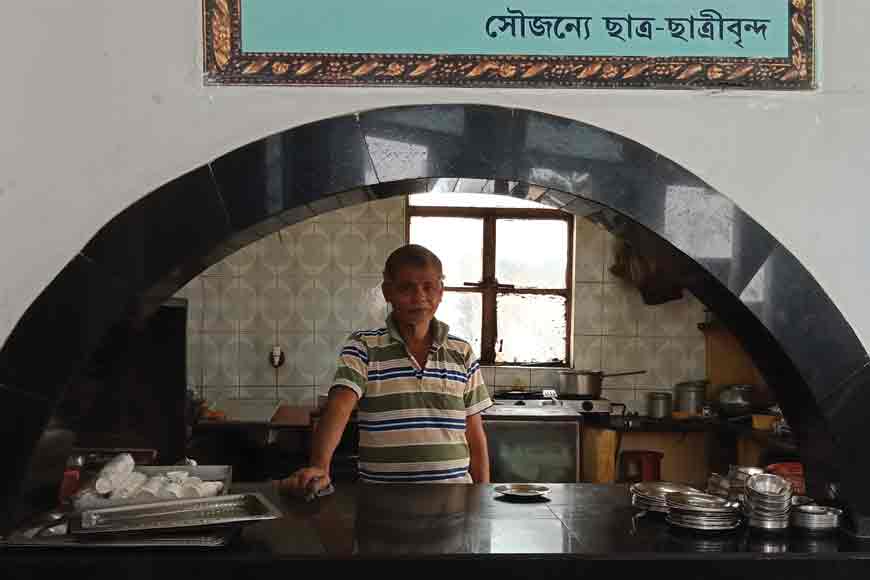 Ashok da, the main person behind running the canteen!
This is also a canteen unlike many others in city colleges, where no loud voice or shouting is allowed. And over the years, none has broken that rule. The canteen tables raise storms on trendy talks and debates on academic excellence. During lunch break, one can listen to a table orchestra by students of vocal or instrumental departments. A westside window of the canteen opens up to a soothing scene of a Kanchan tree, laced with green leaves and laden with flowers. Somehow, this canteen is not just about food and adda, it is also about a dream, that embark on a trail of exquisite art forms.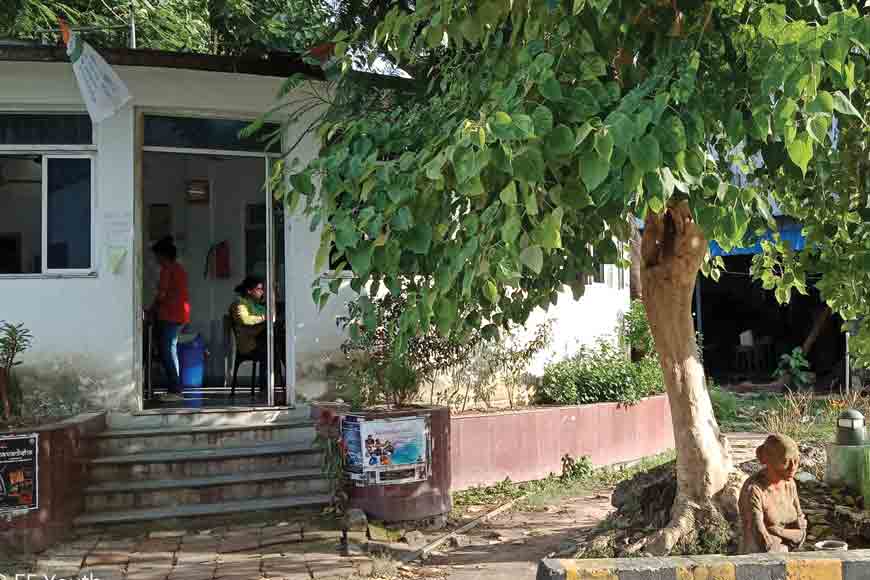 Thakurdar canteen from outside