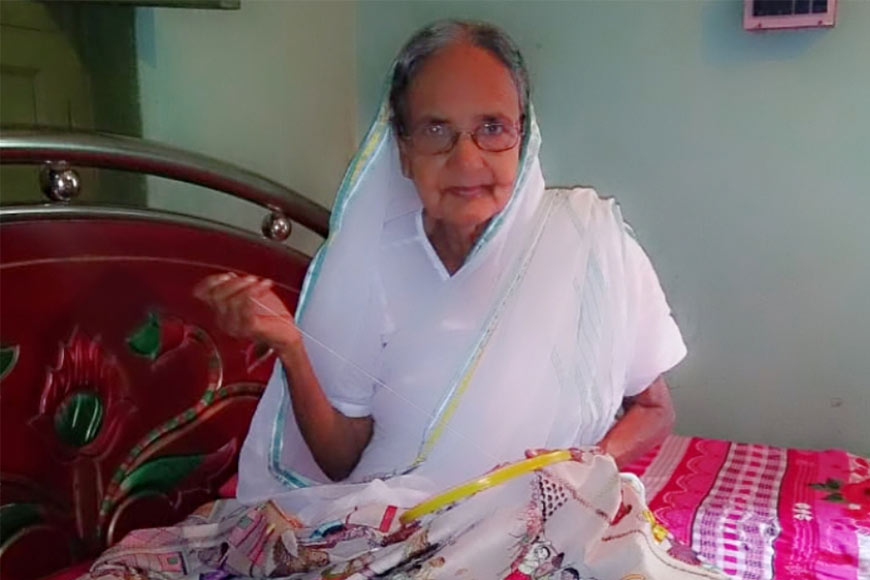 There's a beautiful piece of cloth adorning a wall in the living room of former US President Barack Obama, one that he himself chose to buy over several other works of art. Any Bengali who sees it will recognise it instantly as an example of 'kantha' stitch, a fairly commonplace one at that, using multi-coloured threads. How do we know it's commonplace, at least for Bengal? Because its creator says so. And she lives in Nanoor, in Bengal's Birbhum district.
The area, notorious for its recent bloody history of political clashes and killings, has largely been in the news for all the wrong reasons, making it easy for the outside world to forget that the economically backward Nanoor block, comprising some 22 villages, is home to some of Bengal's most talented artisans, particularly when it comes to 'kantha' embroidery. Nor do many people remember that the history of Nanoor actually goes all the way back to ancient times, and it is generally acknowledged as the birthplace of the 14th-century lyric poet Chandidas, of 'Vaishnava Padavali' fame.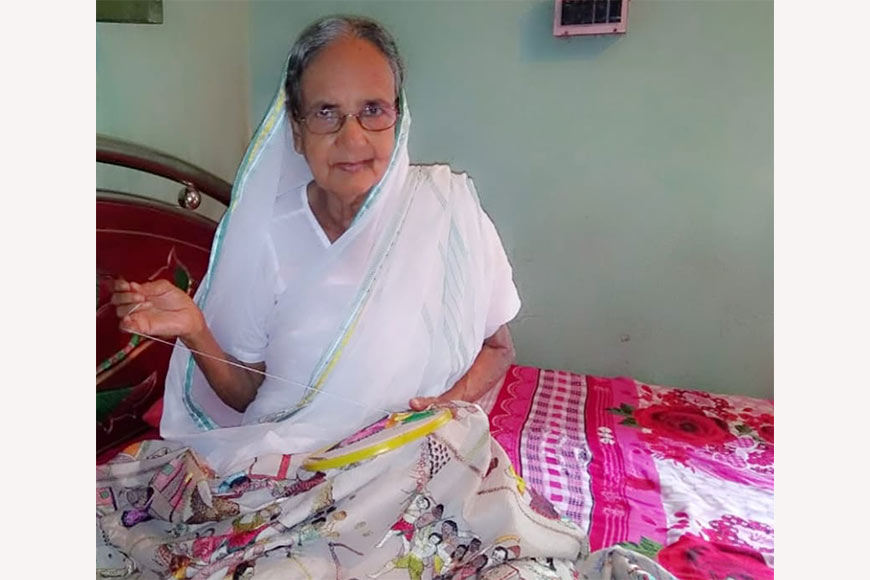 Sabihar Banu
It is in this setting that 77-year-old Sabihar Banu practises her craft, and it is her work that has found its way into the Obama household. Having taken to kantha embroidery as a child, Sabihar is now a veteran of numerous international exhibitions and shows, the proud flag bearer of a quintessentially Bengali art form.
In recent years, Nanoor has drawn the attention of various organisations, which are working in collaboration with the government to turn the region into a crafts zone. At the heart of this initiative is the humble 'kantha' embroidery, traditionally used to create simple quilts, blankets, shawls, or children's bedspreads out of old, soft cotton cloth. Humble origins notwithstanding, 'kantha' embroidery has, over the years, found place in some of the country's topmost clothing stores, courtesy fashion designers who regularly source fabrics and patterns from unnamed rural artistes.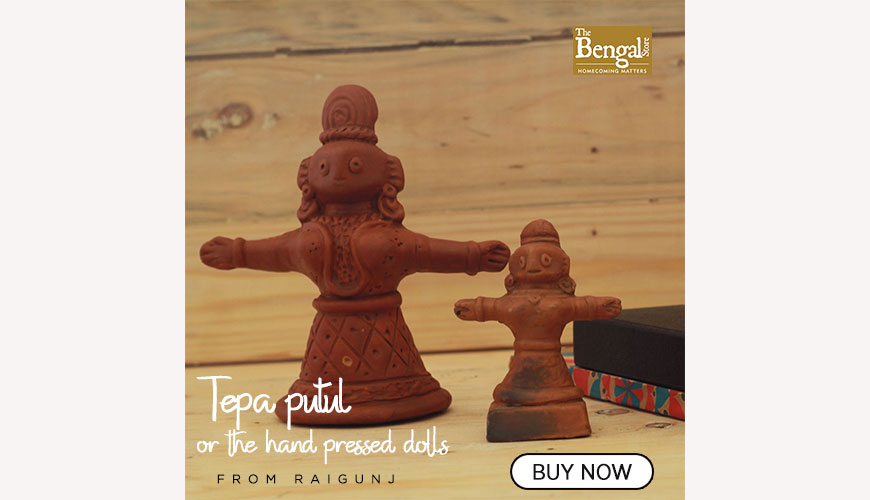 However, those artistes have now begun coming to the fore. At one end of Nanoor block, roughly a two-hour drive from Bolpur, lies Patnil village, which Sabihar Banu and her extended family, comprising her children and grandchildren, call home. A majority of the region's population depends on agriculture for a living, as does Sabihar's family. However, while her sons are busy farming, her daughters occasionally help out with her embroidery when they can spare the time from their domestic duties. Regardless of the help she gets or doesn't get, Sabihar is still perfectly capable of threading a needle herself, never mind her age. All her designs emerge from her imagination, and once she has put the initial patterns in place, she hands the work over to her assistants, mostly local women who have learnt the art from her, and whom she even pays a modest salary.
The area around Bolpur has long been famous for its 'kantha' embroidery, thanks to glowing word-of-mouth reviews from tourists, but the quality of Sabihar Banu's work has attracted the attention of more than one connoisseur. The handmade perfection of each stitch, each strand of thread, is hard to find generally, says experts.
However, such perfection comes at a price. For one thing, it takes Sabihar Banu nearly a year to complete a 'kantha' stitch sari, for example, so you don't just walk into her home and buy whatever is in stock. Chances are, there is nothing in stock, because Sabihar doesn't really cater to the retail market. She says the threads that she uses aren't readily available, and therefore, their availability needs to align with that of the artisans before they can begin work on a tussar or silk sari.
Since the retail market is not an option, most of Sabihar's earnings come from exhibition-cum-sales. Starting with government fairs in Delhi to international expos in all parts of the world, she has reached a point where she is invited to every one of them. Foreign buyers snap up her art at a high price, leaving this elderly woman from a remote Bengal village with a healthy margin of profit. With endearing simplicity, she says, "I've been to so many countries in the world, nd everywhere, I'm amazed that foreigners are so interested in my 'kantha' work."
Inevitably, the ongoing year has severely affected her business, with the lockdown having put a stop to all travel. Working from home has also proved difficult, given the scarcity of raw materials.
However, not everything that Sabihar and her team produce is for sale. Deeply religious herself, she shyly displays a large, square silk cloth, on which she has embroidered several scenes from the 'Ramayan'. She won't sell this, she says, this is just something she created from her memories of the mythological stories she has heard. Why? "I liked doing it. I respect my religion, which makes me respect each and every person's religious beliefs," is her simple answer.
Story Tag:
West Bengal, Craft, Kantha Stitch