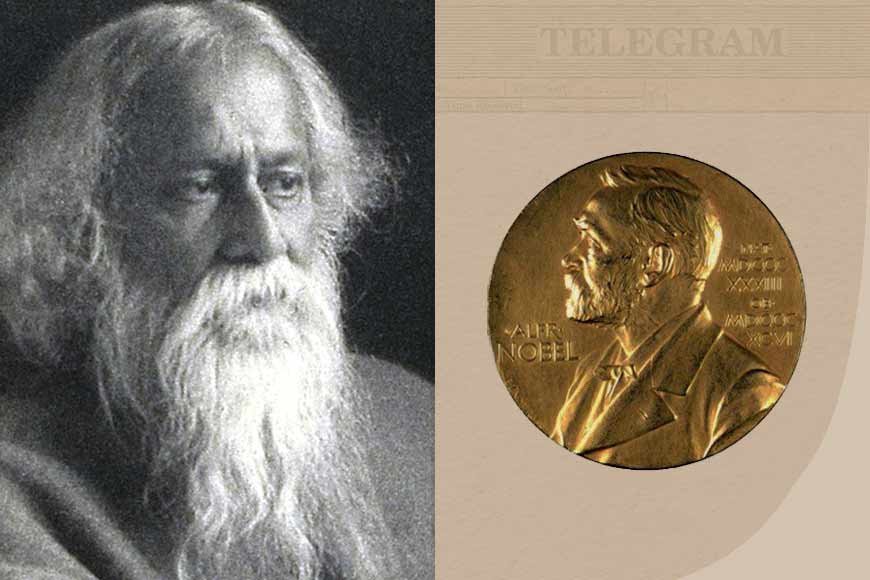 Examining the disappearance of the telegram, the pen and the ink pot or even the gramophone record has had a deep connect with Rabindranath Tagore. But how? Tagore had an intimate and inseparable contact with all of these, particularly telegram that he often used to communicate. A news item appeared some time back, seemingly innocuous but not without any significance – the abolition of the telegram. In this fast-moving world we do not even find the time for sending a facsimile in preference to the email; what is then the import of the demise of the telegram?
'The very first moment I received the message of the great honour conferred on me by the Award of the Nobel Prize

my heart turned towards you with love and gratitude. I felt certain that of all my friends none would be more glad at this news than you. But, all the same, it is a very great trial for me.
Well, a moment's reflection would reveal that a part of history had also been written off along with telegram. Our memory has to be rekindled with words like:
FATHER SERIOUS STOP COME SHARP STOP
JOB OFFERED STOP JOIN IMMEDIATELY STOP
WIFE DELIVERED MALE ISSUE STOP MOTHER- CHILD FINE STOP
In the summer of 1931, Rabindranath Tagore cabled to his son Rathindranath from Santiniketan:
'Daughter-in-law is alright now. It will however not be wise to move her from here immediately. She out to stay here at least until 15 July. Is there is a sudden change in plans, do send a Telegram to Ananga so that he reaches Calcutta.'
Again Later:
'Rathi – I learnt from Andrews' telegram that Neetu's condition has deteriorated. … Amiya cabled today that he is coming – that will be some relief for me.'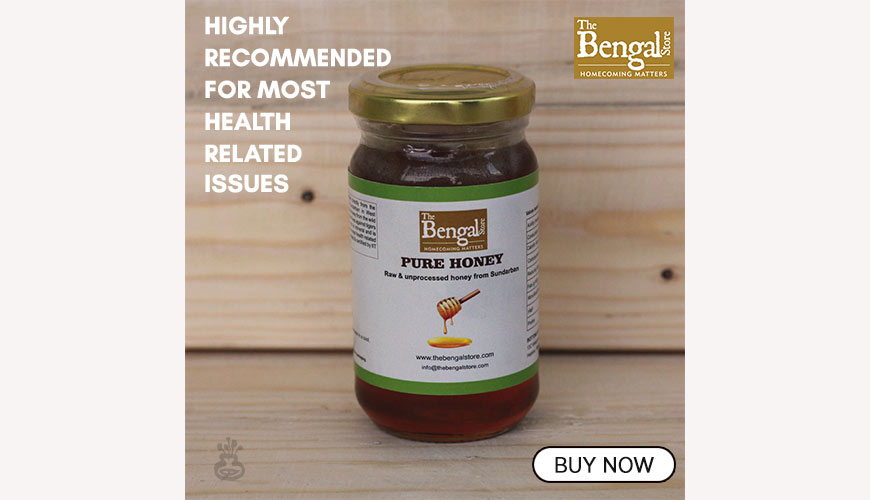 In the 6th Volume of Rabijibani we find that the Swedish Academy was unaware of the poet's address. Perhaps because of that they used the medium of McMillan to officially write from London on 14th November:
RABINDRANATH TAGORE 6DN TAGORE LANE JORASANKO CALCUTTA SWEDISH ACADEMY AWARDED YOU NOBEL PRIZE IN LITERATURE.
PLEASE WIRE ACCEPTATION SWEDISH MINISTER CALCUTTA/ 15 NO 13/ GPO.
On receipt of this, the poet's son-in-law Nagendranath telegraphically informed Gurudev on 16th November
FOLLOWING CABLE RECEIVED MIDNIGHT STOP
SWEDISH ACADEMY AWARDS YOU NOBEL PRIZE IN LITERATURE STOP
PLEASE WIRE ACCEPTATION STOP
SWEDISH MINISTER STOP NAGEN
Upon hearing this news, numerous followers and friends of the poet inundated him with telegraphic messages, the first one of which read:
HANDED IN AT CALCUTTA 14 AT 16:10 RECD HERE AT 16:43 STOP RABINDRANATH TAGORE STOP SANTINIKETAN STOP BOLPUR STOP NOBEL PRIZE CONFERRED IN YOU STOP OUR CONGRATULATIONS STOP MANILAL SATYENDRA CHARU.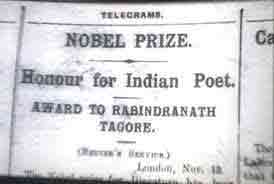 This means the telegram that was sent at 16:10 by Manilal Gangopadhyay, Satyendranath Datta and Charuchandra Bandopadhyay to Rabindranath congratulating him on the award of the Nobel Prize, reached the Bolpur post and Telegraph office at 16:43. In response to the telegram from Rothenstein congratulating the poet on the Nobel Prize, he wired him on 18th November:
'The very first moment I received the message of the great honour conferred on me by the Award of the Nobel Prize my heart turned towards you with love and gratitude. I felt certain that of all my friends none would be more glad at this news than you. But, all the same, it is a very great trial for me. The perfect whirlwind of public excitement it has given rise to is frightful. It is almost as bad as tying a tin can at a dog's tail making it impossible for him to move without creating noise and collecting crowds all along. I am being smothered with telegrams and letters for the last few days and the people who never read a line of my works are loudest in their protestations of joy.'

(Inspired by A random walk in Santiniketan Ashram by Sushanta Dattagupta, and other related publications on Santiniketan)