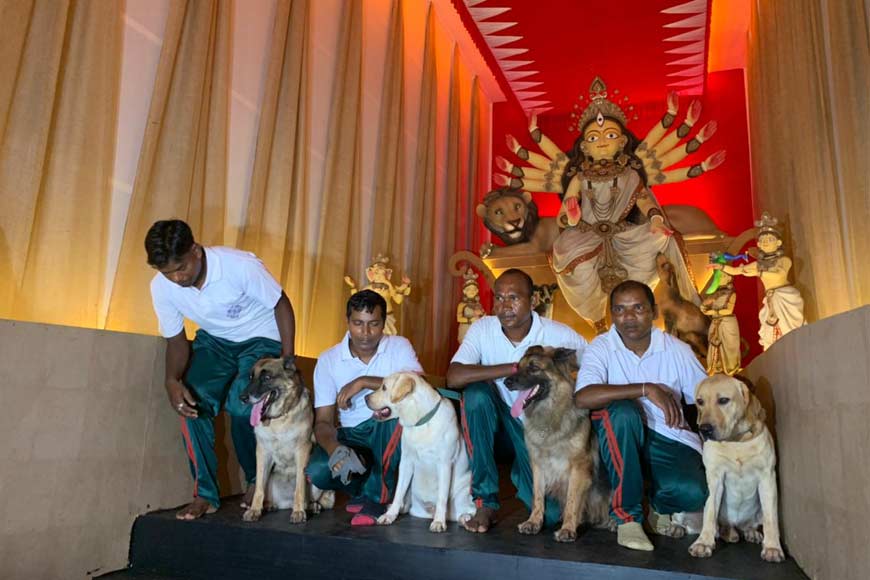 The evening of Mahalaya, September 25, turned out to be a somewhat unique one - for members of the Bidhan Sarani Atlas Club Puja committee, for members of the Kolkata Police Dog Squad, and for all the guests who turned up to watch. The occasion was the inauguration of the Durga Puja organised by the club, but the chief guests were Labradors Molly and Camphor and German Shepherds Liza and Dinky, all from the Dog Squad.
The very special reason for this is that Atlas Club is the first ever 'pet-friendly' Puja in Kolkata. In other words, this is one pandal where pets of all descriptions will be allowed to enter as freely as their humans.
Sayak Raj, the artist credited with the Puja's concept and direction, says the idea for the initiative arose, oddly enough, from a recent incident involving Noida couple Rohan and Himshi Tyagi, who visited Kedarnath temple on May 7 with their Siberian husky, Nawab. A video they posted went viral on social media, showing Nawab bowing and touching a 'Nandi' statue, and seeking blessings from the priests. This soon caused outrage among certain sections on the internet, and the Badrinath-Kedarnath Temple Committee instructed police to take legal action against such 'unwanted' activities.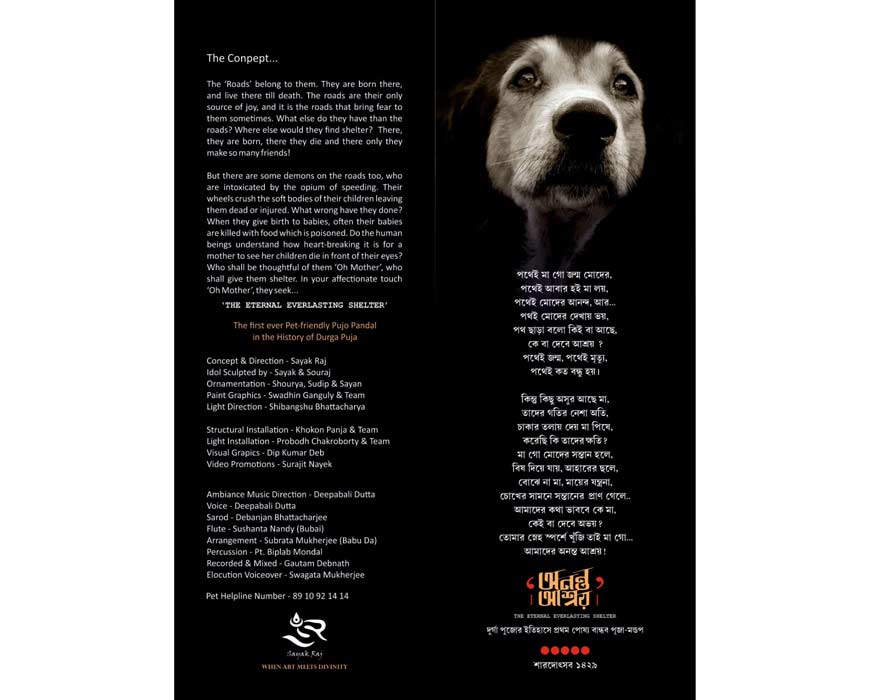 "I found it ironic that the couple were at a shrine dedicated to Pashupati, lord of all animals (another name for Lord Shiva), but are now being penalised for taking a dog with them," says Sayak. "If humans can enter the shrine, why not animals? Does the earth belong to humans alone?"
In Hindu mythology, while the position of dogs is relatively ambiguous, they are definitely associated with a more aggressive form of Shiva known as Kalbhairava. Of course, most Hindus know the story from the Mahabharata of Yudhishthira, the eldest Pandava, trying to enter heaven with a dog which later turns out to be Lord Dharma in disguise.
In yet another irony, however, animals are the 'vahana' (vehicle or carrier) for several Hindu deities, including Durga (lion) and her children Lakshmi (owl), Saraswati (swan), Kartikeya (peacock) and Ganesh (mouse). "We also know that Hanuman (the modern wildlife equivalent is the grey langur) worshipped Lord Rama in the Ramayana," says Sayak.
But the Puja committee is not interested in merely delivering a lesson on mythology. "We want to draw attention to the inhumanity directed against stray animals in particular, even as we treat our own pets with all possible love and care," says Sayak, a former hospitality professional and student of Economics who worked in Australia for several years before returning to India. "Installation art started out as a passion, but it is now a profession," he laughs.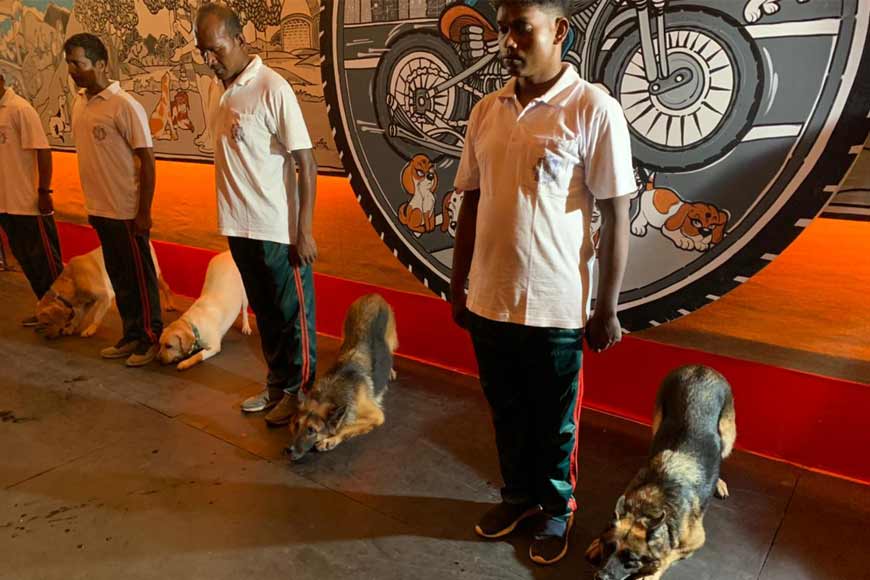 Does the Puja committee not care about a possible backlash from conservatives who might feel that the presence of animals defiles a place of worship? "We are prepared," says Sayak. "I am prepared to defend my designs too - if you look at our pandal, you will see representations of Yudhishthir and the dog; and the deity Dattatreya (considered an avatar of the three gods Brahma, Vishnu, and Shiva in many parts of India), who is always surrounded by four dogs, who he saw as the embodiment of the four Vedas owing to their intelligence. In that context, how can we think of animals as unclean?"

Closer home, Bamakhyapa, the legendary 'mad saint' of Tarapith, was similarly surrounded by dogs at the burning ground where he spent most of his time. Yet another renowned 19th-century saint, Radharaman Charan Das Babaji of Nabadwip, held an elaborate 'shradh' (traditional ceremony for the deceased) in honour of a dog who lived with him, who he called Bhakti Ma. Banished from society by contemporary Brahmins, Radharaman nevertheless remains an object of veneration among thousands of devotees.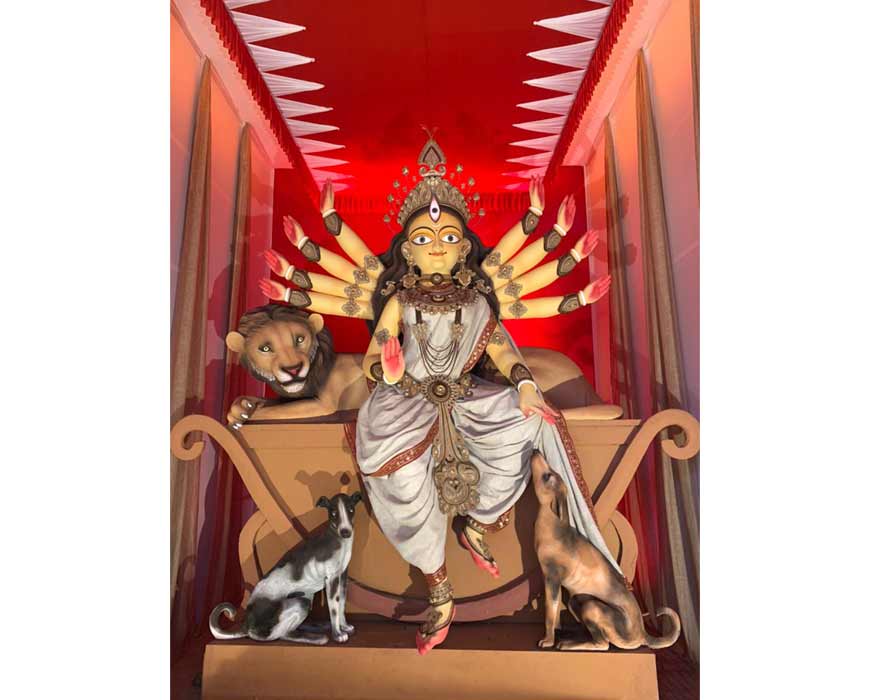 Given this context, the idea of an animal-friendly Puja would appear to be a happy one. For detractors, a reading of ancient Hindu texts would probably be educational. Already, the proposal has been met with anger among some quarters, and in perhaps the greatest irony of them all, an animal rights organisation tried to take the Puja committee to court on grounds of animal cruelty, though the High Court refused to accept the case.
"We decided to invite the Dog Squad since this Puja is for animals," says Sayak, and adds that the committee has tied up with the State Veterinary Council and a few NGOs for animal care professionals to remain on standby should the pets face any problems. The pandal will be open exclusively to pets and pet parents until Tritiya, which is tomorrow, and then thrown open to all animals, including humans.