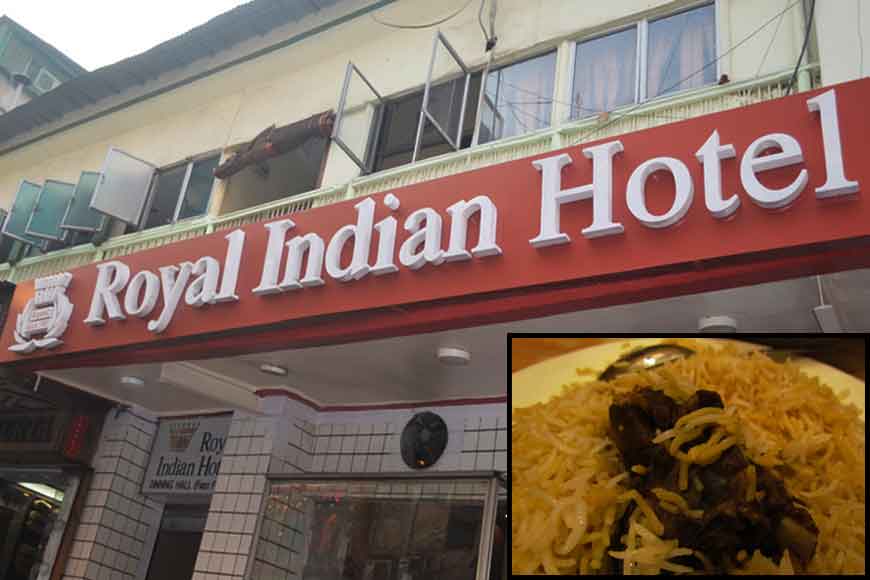 Kolkata's love for biryani is simply inexplicable and uncontrollable. Be it any occasion, a sudden pang of hunger or a major mood swing, a plate of biryani is enough to act as an elixir. There is no dearth of biryani joints in Kolkata but only few of them remain synonymous with quality, authenticity and history. Royal Indian Hotel in Chitpur is one such place in the heart of the city which could thoroughly impress any individual who doesn't compromise with the taste when it comes to Biryani.
Royal Indian Hotel has a fascinating history too, which dates back to 1905, when Lord Curzon divided Bengal. This was the time when Ahmed Hussain, a descendent of Nawab Wazid Ali Shah, a migrant from Lucknow came to Kolkata and opened a small restaurant on the ground floor of a Chitpur Hotel. Hussain had gained considerable culinary experience in the royal kitchen of Awadh. By this time, Wajid Ali Shah, who was also a biriyani lover, had introduced the exotic potato in Biriyani and started off the famous Kolkata Biriyani with Aloo in it. Hussain added this and a few more dishes of Awadh, including spicy yellow Pulao, Khushka, Mutton Chaap and Mutton Qalia. After India's independence, Royal Biryani started featuring authentic Lucknow Biriyani which did not feature potatoes, unlike Kolkata Biryani. In 1971, the growing popularity propelled the owner to arrange a separate seating area on the first floor. However, in 2017, the market pressure and Kolkata's love for potatoes compelled them to add an option of potato in their biryani.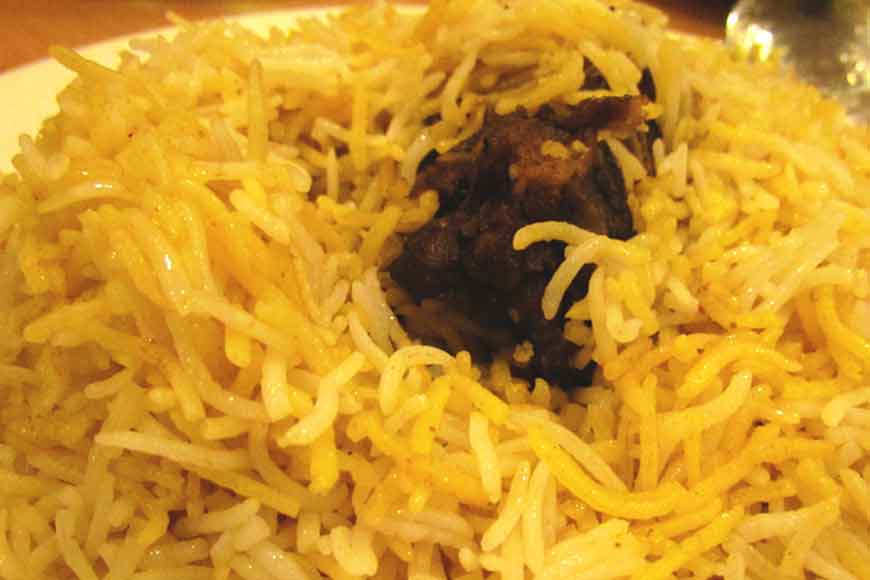 Mutton biriyani
For years, Royal Indian Hotel has been the favourite food-joint for eminent personalities including Satyajit Ray, Uttam Kumar, Khushwant Singh, Raj Kapoor and Ustad Bade Ghulam Ali Khan. The place has always had a loyal clientele owing to the royal essence in every food it creates. Today, it is a two-storied restaurant. The first floor is where you get a real feel of the place. You can also see a part of the kitchen from here. There are separate AC and non-AC sections. If you want to visit there with your family, follow the narrow and steep flight of stairs which takes you to level 2 where there is less of hustle bustle and the seating arrangement is far more comfortable. This place is open every single day from 11am to 10:30pm.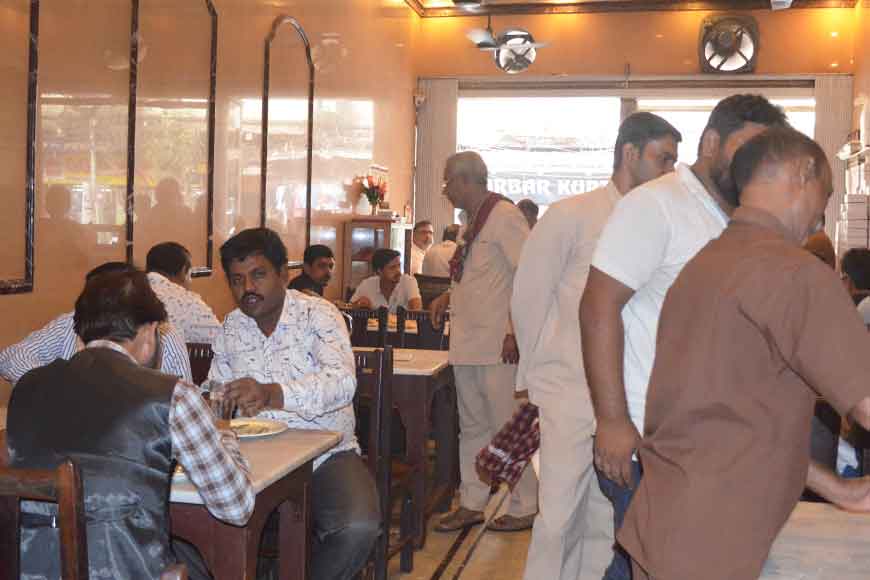 The midday rush at Royal
When it comes to the food, Royal Indian Hotel takes the concept of Mughlai cuisine to an unmatched dimension. Maintaining the true legacy of Rakhabdars of Nawab Wazid Ali Shah, the taste of every dish has a subtle difference when compared to other Kolkata eateries. The taste of the Royal Lucknow Biryani is difficult to be expressed in words. The taste makes words seem superfluous. Royal Biryani has more spices than the usual Kolkata Biryani. Raw meat and koftis are added to the long grains of Basmati and the combination is a paradise for the taste-buds. Much like our beloved Feluda described the Royal Biryani in Satyajit Ray's Napoleoner Chithi, this truly is a 'brain tonic' or food for the soul. The mutton chaap is yet another popular delicacy available here. According to Muhammad Irfan, one of the directors of Royal Indian Hotel, around 300kg of mutton is used every day for making the chaap. The tender meat pieces simply melt in your mouth. The food price also does not create a pocket-pinch.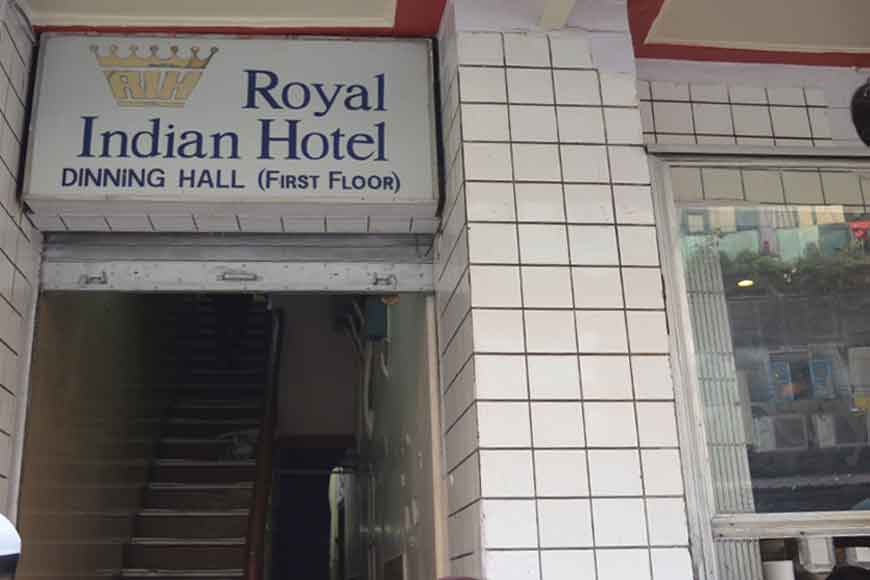 The narrow staircase leading to the dining hall
Chicken Rahmi Tikka, Mutton Burra Kabab Fish, Mutton Burra Tikka Kabab and Kabab and Chicken Rashmi are equally good. A plate of Royal's splendid firni or Shahi tukra after a spicy meal is worth devouring. "The taste of Royal's dishes will simply linger in your mouth. Whenever I think of Mughlai cuisine, there is no other eatery in Kolkata that appeals to me as much as Royal does. Unforgettable is an understatement when it comes to describing the perfect taste of the food here," says Deep Bhattacharya before taking a much-awaited plunge into a plate of delectable Biryani of Royal.