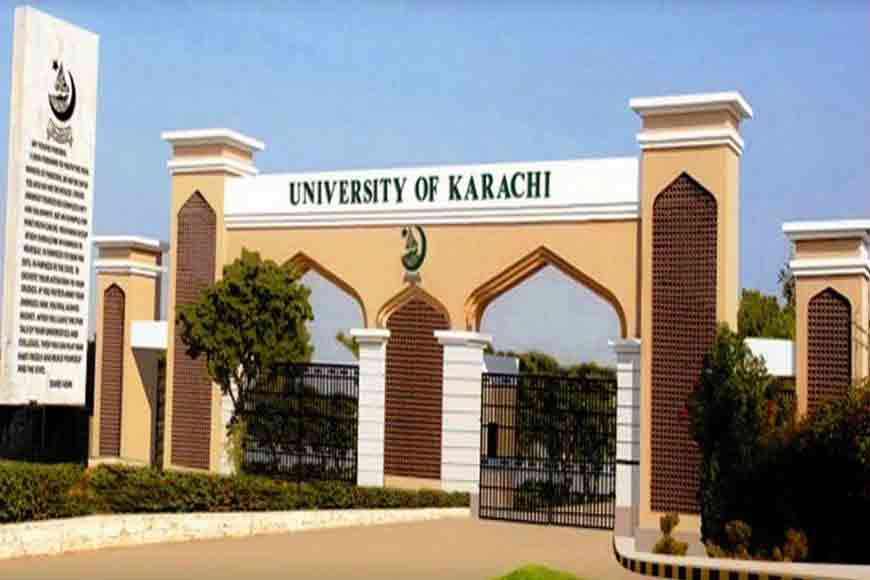 Imagine a hijab clad woman sitting by the lamps in the business capital of Pakistan and reciting Bengali poems of Rabindranath Tagore or of Jibanananda! Or participating in a human rights lecture through poems of Kazi Nazrul Islam and putting up a theatrical representation of Sarat Chandra Chattopadhyay's novel. A country where Urdu is the official language, a country that with all its might had suppressed the Bhasha Andolan of East Pakistan, now Bangladesh, has a thriving Bengali Department!
Karachi is usually called the business capital of Pakistan. Specially at a time when India and Pakistan are at loggerheads as an aftermath of the dastardly Pulwama attack, it is quite surprising that Bengal's mother tongue is practiced, Bengali literature read by students, examinations in Bengali held, degrees received and even research done on famous personalities of Bengal in Karachi's well-known university. The department imparts courses at both graduation and post-graduation levels in Bengali literature and language.
The website of Karachi University mentions it was established in 1953, and the department of Bengali offers a regular program of studies at Bachelors and Masters levels. It says: "The program enables students to develop a meaningful understanding and appreciation of Bengali Literature. Moreover, it gives an insight into the history of Bengali Literature starting from the medieval age right up to the modern age. In addition to this, it acquaints students with the different genres of literature namely poetry, drama and fiction/prose."
Students in Pakistan's Karachi University are regularly exposed to Bankim Chandra Chattopadhyay, Sarat Chandra Chattopadhyay and Manik Bandopadhyay's prose and poetry. Incidentally Karachi has more than 15 lakh Bengali speaking people, whose ancestors came from East Pakistan (now Bangladesh) in search of work and never returned. Though they have hardly got the recognition of citizens and are often denied many rights, yet Karachi neighbourhoods often throw up a typical Bengali fish market, signboards in Bengali and even locals speaking in Bangla.
The Bengali Department has well-known faculty members, including Professor Syed Ali Ahsan, Professor Muhammad Farooq, Professor Syed Ali Ashraf and Mr. A.B.M. Mohiuddin Chaudhry. Many visiting lecturers come from Bangladesh and other parts of the world. The department also hosts seminars at national and international levels from time to time, in which distinguished speakers read out their papers and speak on different aspects of Bengali literature.
Students who graduate from the Bengali Department of Karachi University usually get into the teaching profession at primary as well as higher education level. Furthermore, opportunities of working in Bangladesh's banking sector, including Arif Habib Rupali Bank, and in various government departments are available to them. They may also opt for research or work as translators and interpreters. Far from Bengal, on this International Mother Tongue Day, it is really surprising our language still thrives in one corner of Pakistan.