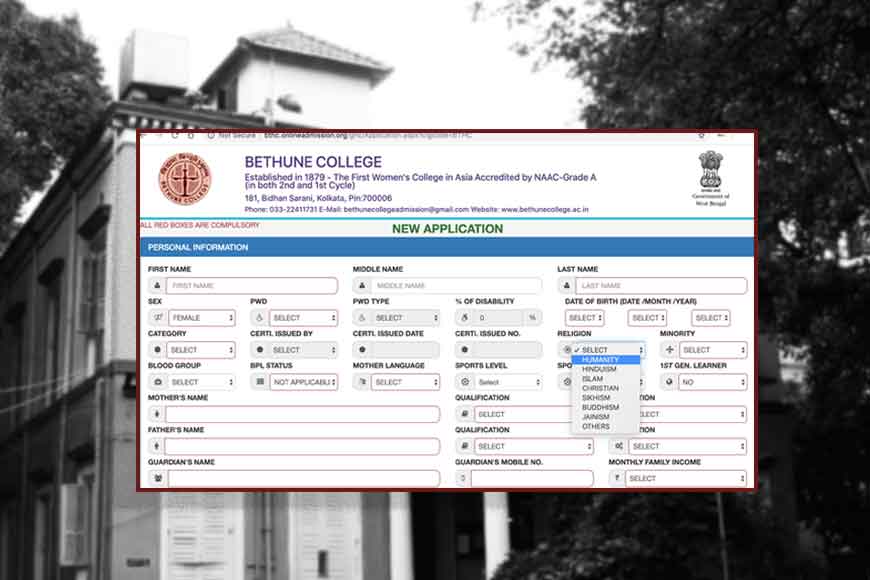 "Anything that helps to unite all and develop pure divine love and universal brotherhood is Dharma. Anything that creates discord and disharmony and foments hatred, is Adharma…." Well that's what Swami Vivekananda said. In today's world of religious fanaticism, Bethune College of Kolkata has set an exemplary milestone – that of including 'Humanity' in the religion section. All these years it so happened that students while filling up forms had to mention their religion, be it Hinduism, Islam, Christianity etc. But Bethune College decided to do away with this trend and bring in 'Humanity' as a new option.
According to Mamata Ray, Principal of Bethune College, "Students who do not want to conform to a particular religion are often reluctant to mention their religion in the admission form. This revolutionary decision was taken keeping in mind the perceptions of atheists or agnostics as the college too believes that humanity is the best religion for mankind." The decision has indeed helped students to mark themselves as true humanists instead of ticking the faith of their parents out of compulsion.
However, this is not the first time Bethune College has created history. Being established in 1879, this is the first women's college of Asia accredited by NAAC-Grade A. Initially, it was established as a girls' school in 1849, and as a college in 1879. It acted as an important landmark of woman empowerment and secular education for women during a time when education was the privilege that was enjoyed only by men. The founder of the college John Elliot Drinkwater Bethune was perturbed by the illiteracy and oppression of Indian women. In those days, women suffered from lack of awareness, depended on men for everything and were highly subjugated. Reformers like Raja Dakshinaranjan Mukherjee, Pandit Madan Mohan Tarkalankar and Ramgopal Ghosh also extended their support in establishing this educational institution because education was the first step towards empowerment.
Over the years, Bethune College has produced a number of achievers in diverse spheres. Moreover, it has always gone in pursuit of knowledge above everything and has provided wings to women enabling them to fly high in life. Eminent personalities like famous freedom fighters Pritilata Waddedar, the first woman Science Graduate of the University of Calcutta, Chameli Basu, distinguished writers Kamini Roy, Sita Devi and Shanta Devi, celebrated actress Shobha Sen, singer Amiya Tagore, all belonged to Bethune College. Again the college has turned a trendsetter in this admission season.