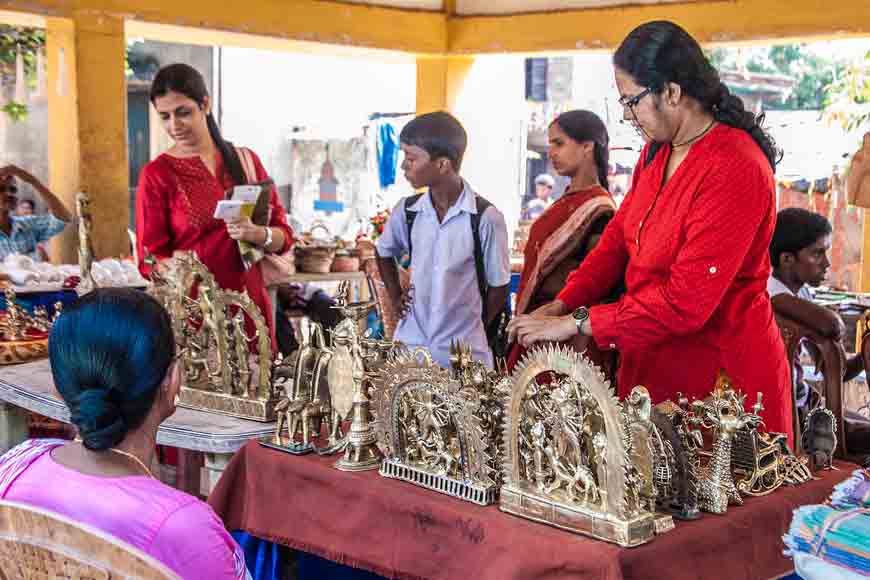 If you a lover of Dokra craft, then do not miss this opportunity! Dokra artists of Bikna in Bankura, will celebrate an annual fair called DokraMela from November 3 to 5, where you stand a chance to get a sneak peek into the lives of artisans and even interact with them. They will also be able to witness the art of making dokra objects and enthusiasts can participate in the three-day workshop to be held at the venue.
A host of cultural programmes will also be held daily in the evenings. Folk artists will display puppetry, Chhau dance and Baul songs at the festival. One of the major attraction,will be a musical collaboration between TitaNzebi who presents music from Gabon/France and artists from Bengal on November 3. The fair will begin at 11 am in the morning and end at around 8 pm daily.
Dokra is an ancient folk-art tradition of India and its roots can be traced back 4500 years ago, to the ancient city of Mohenjodaro, of the Indus Valley civilization. Dokra objects are made through non-ferrous metal casting, using lost-wax casting technique, which is one of the earliest and most advanced methods of metal casting. At present, this art form is found in pockets of West Bengal, Odisha, Jharkhand and Chhatisgarh.
Bikna, a village close to Bankura town,is a hub of dokra art in West Bengal. There are about 200 craftsmen engaged in making these art objects. Their ancestors settled in this region around 150 years ago and since then these families have been carrying out the rich legacy of theirancestors. Their skills and aesthetic sense are inborn and imbibed from their forefathers.
The Department of Micro, Small & Medium Enterprises and Textiles (MSME&T), Government of West Bengal, has developed a rural Craft Hub in Bikna. The West Bengal Khadi & Village Industries Board has also built a community museum and resource centre. The centre has all the basic amenities and guests and visitors can stay there overnight.
Bikna is 15 minutes from Bankura railway station. It is about 4.5 hours drive from Kolkata and the motorable roads are quite smooth. So, with the onset of winter, why not gear up for a short weekend tour with your family.It will be an enriching experience undoubtedly.