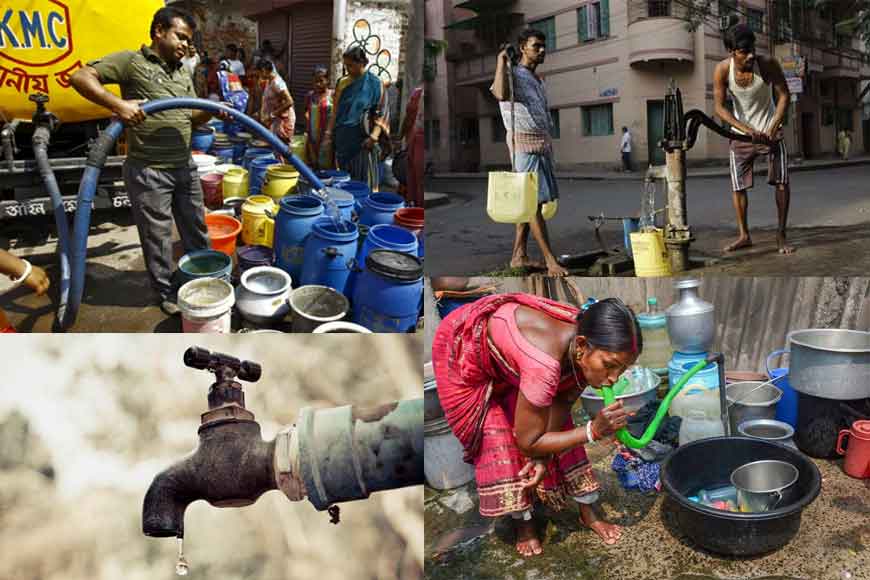 Various parts of South Kolkata are battling with water scarcity already, primarily because of its dependence on groundwater. These days, water supply in the local taps have turned erratic and irregular. Even if there is a low pressure on taps, filling up a bucket takes a long time. Often one gets to see long queues infront of such taps. People of areas like Jadavpur often have to depend on local water bodies for bathing, cooking, washing clothes and utensils resulting to ground water contamination.
In certain areas, the ground water level has really declined due to new highrises and excessive use of ground water through tubewell boring. Taps have been built below the surface because the pressure is too low to lift water up. KMC officials have been urged to build a water reservoir in these wards for storing the water coming from the pumping station of Garden Reach before supplying it to local households. Many in these areas are opting for mineral water because the fresh water supplied is not adequate and the groundwater is of degraded quality and contains high amounts of arsenic and iron.
According to experts, the depletion of water groundwater might lead to further dangerous consequences than just water scarcity. Dr. P K Sikdar, researcher and acting Registrar at the Indian Institute of Social Welfare and Business Management who has been researching the groundwater of West Bengal for more than thirty years now has said that ground water depletion might also lead to land subsidence and sinking of the surface of the earth which might cause buildings to collapse. According to Sikdar, the flow of underground water began to change in late 1970s and 1980s when large extraction began. In the past five decades, groundwater that was almost near the sea level, has dropped drastically by 15 to 16 metres.
A study conducted by Sikdar indicates high level of iron and manganese content can lead to serious ailments. High level of iron might result in hemochromatosis which could be detrimental to the liver, heart and cause diabetes. Arsenic can lead to serious health hazards like inflammatory disorders and cancer. The city needs to wake up and take up necessary measures at the earliest to reduce the pressure on groundwater to keep the problem of water scarcity and far more harrowing consequences at bay.