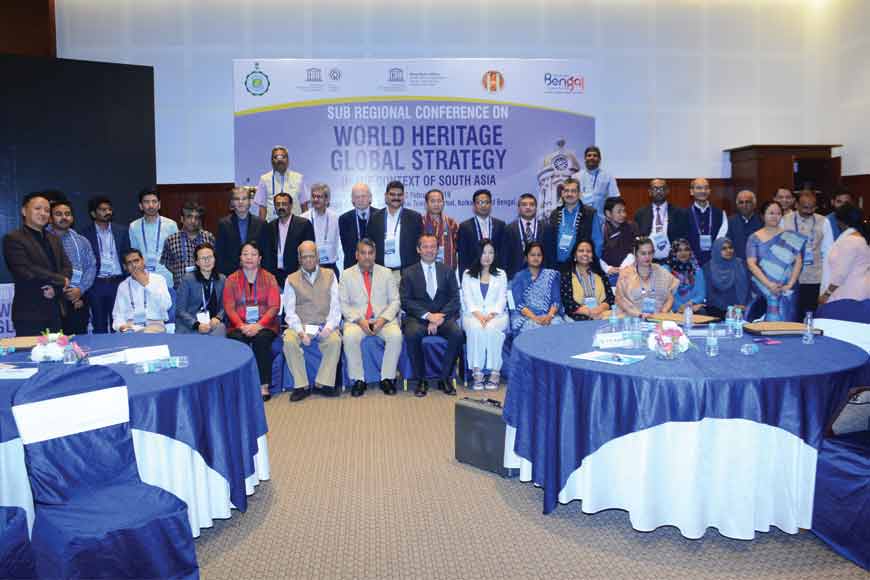 Heritage policy makers and government representatives from different South-Asian countries descended on the City of Joy, for a two-day sub-regional conference in Kolkata. The two-day UNESCO event, 'World Heritage Global Strategy in South Asia' on 21st and 22nd February, was supported by the Department of Tourism, Government of West Bengal and West Bengal Heritage Commission. The objective for such an event was to ensure that the Heritage List submitted by different South-Asian countries be given a thorough consideration and take forward to its logical conclusion. The List had many indications of places that have the potential of getting a Heritage Tag from the world body UNESCO.
The Government of Bengal through its representatives pitched for the coveted tag too. It had already submitted its claim for Bishnupur, Santiniketan and Neora Valley for the heritage tag.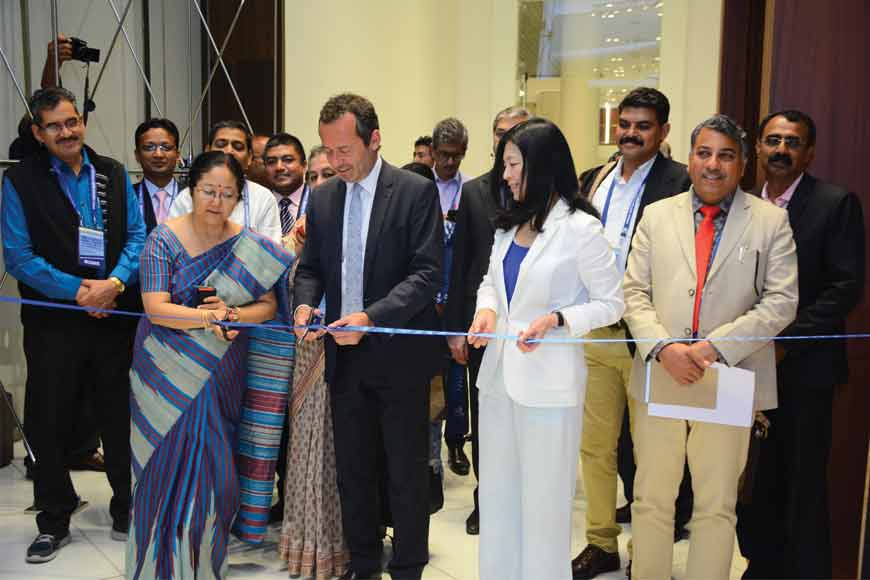 Eric Falt Director and UNESCO Representative
The process followed by UNESCO is long and tedious. The claim to consider Bishnupur was made way back in 1998 and it still under consideration by the world body. While talking about the above three tentative list from Bengal, the Government pitched hard for Durga Puja in the cultural heritage category of UNESCO. Dr. Sanghamitra Basu spoke at length on having fulfilled the UNESCO criteria for tagging Bishnupur as a World Heritage site and urged the UNESCO representatives to take up the issue on an urgent basis. Prof. Debdutta Gupta gave an academic insight into why our "Durga Puja" has all the elements as well as fulfills all the relevant criteria to be considered in the cultural heritage segment. He narrated how over ages, Durga has been an integral part of our daily life and how our social and cultural norms of the society form a major part of our literature, music and art activities. The Head of the UNESCO team greatly appreciated the pitch and advised how to move forward with the formalities.
On a round table meeting with the UNESCO, G.M Kapoor, Head of Intach Art & Material Heritage, Kolkata, raised the issue of Howrah Bridge as an industrial heritage site along with the tea estates of Darjeeling having the potential of getting a cultural landscape heritage tag. Swarnali Chattopadhya of Purono Kolkatar Golpo gave an overview of some of the heritage homes in Bengal and why they can qualify as UNESCO heritage sites.Swarnali Chattapadhyay also emphasised Inclusion of Garhbeta- Gangani r danga ( as a natural heritage site) and said it should also come under Heritage List as it is serves as an outstanding example of landscape representing major stages of Earth's history, including the record of life, significant on-going geological processes in the development of landforms, or significant geomorphic or physiographic features.
One of the most enthralling presentation on Indian Railways was made by Mr. Subrata Nath, Additional Director General, National Museum, New Delhi, Ministry of Culture, Government of India. He spoke on the rich heritage of our Indian Railway system and how it has become India's lifeline converging the diversity of our society. He also elaborated on the various measures the railways had taken to preserve and nurture its heritage over decades.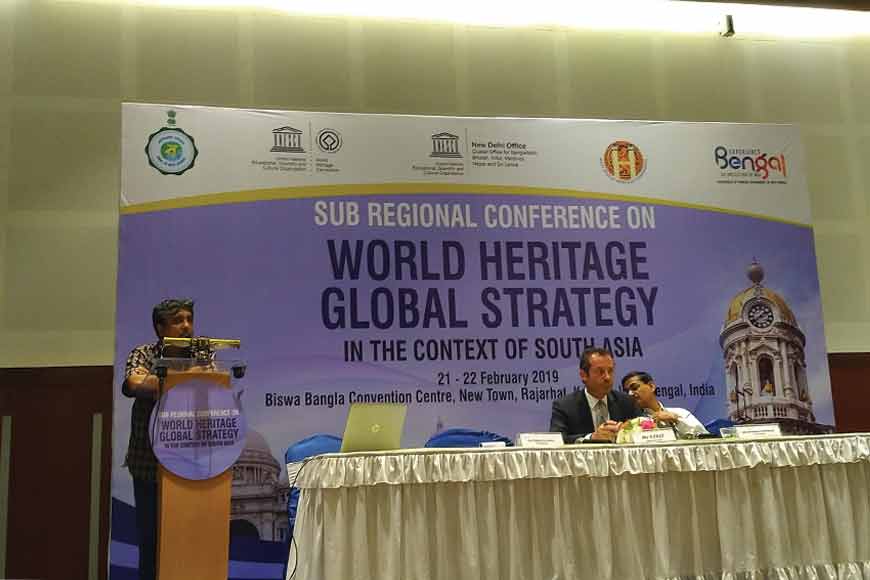 Prof. Debdutta Gupta on Durga Puja
Speakers from Arunachal Pradesh spoke about Apatani village and why it could be categorised under cultural intangible heritage. While representative from Jammu and Kashmir proposed the Mughal Gardens of the state for the proposed heritage tag, Dr Purnima Chauhan, Secretary Culture, Government of Himachal Pradesh, discussed about Tabu Monastery, an ASI monument where nine underground Mandala paintings and Thangka paintings have been discovered. Even the sacred groves of Old Goa came up for the Heritage List.
The UNESCO criteria for Heritage recognition is a long run process and at times take decades to be recognised. Bishnupur from Bengal is on the waiting list for the past 20 years. Moreover, the world body has its own annual quota with respect to the segments, country and region of the world. As Mr. Eric Falt, Director and UNESCO Representative to Bhutan, Maldives and Sri Lanka advised to the country representatives to adhere to the guidelines laid down for qualification. Many from India had their own point of view of the process and requested him to give more emphasis on speedy decision making logistics.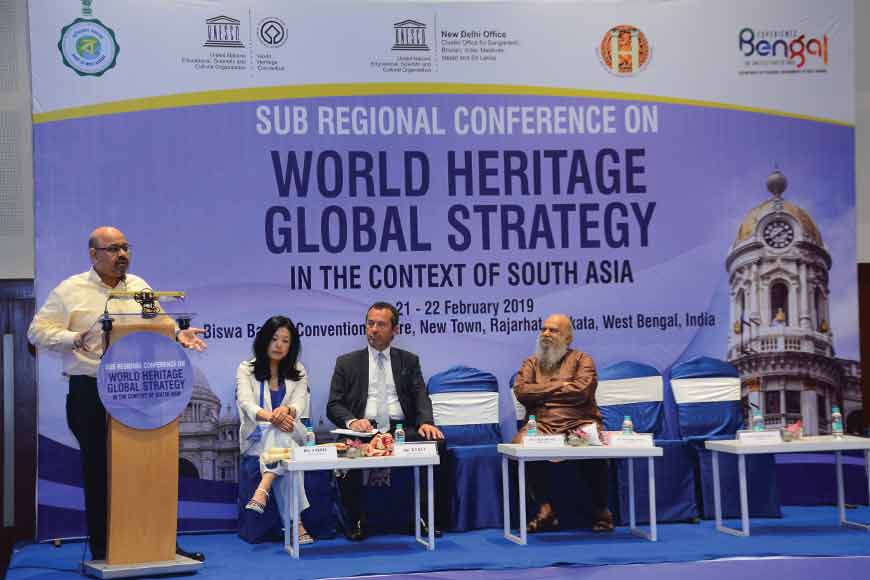 Mr. Atri Bhattacharya, Principal Secretary Home and Hill Affairs and Tourism
The two-day UNESCO meet was inaugurated by Mr. Atri Bhattacharya, Principal Secretary Home and Hill Affairs and Tourism along with Sri. Suvaprasanna, Chairman of the Heritage Commission of West Bengal. It was a very enriching interaction and knowledge exchange platform among various state and national representatives, each claiming their treasures to be recognized by the world body.
Bengal strongly pitched for its own heritage sites and cultural heritage narratives and the representatives from Bengal were hopeful that they could make the right impact on the UNESCO team present at the UNESCO Sub-Regional Conference on World Heritage Global Strategy in the context of South Asia.
Story Tag:
West Bengal Tourism, UNESCO events in Kolkata