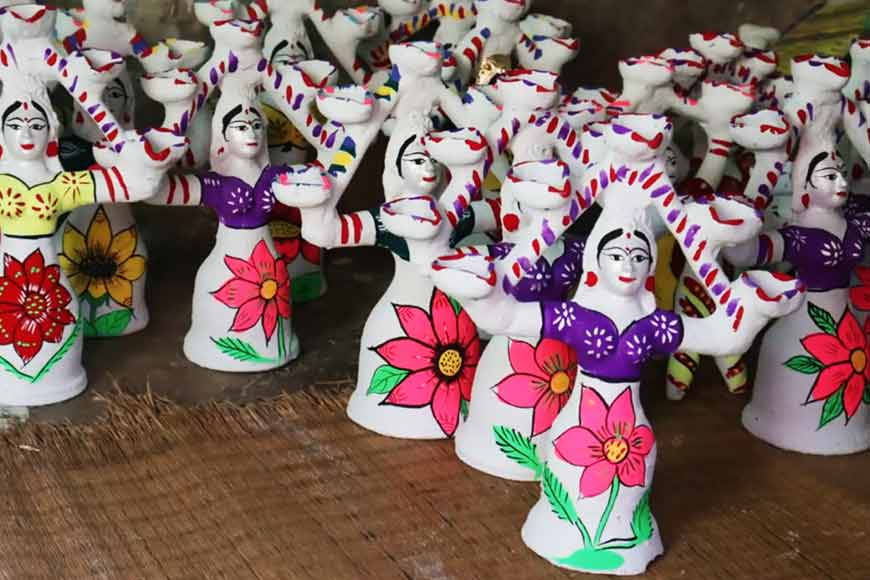 Diwali doll has its origin around the Diwali festival and its purpose is to provide illumination with lamps. Made of terracotta, the lower part of this doll is produced in a round mould and is hollow. Although it has the appearance of a skirt, it serves as a lamp stand. The upper part is given the shape of a female body. Both arms are raised and two lamps are fixed, one on each hand, while a single lamp is fixed on the head: this doll is known as a doll with three lamps. In form and style it shows certain distinct signs of primitiveness. Although this form of folk art was introduced primarily as an accessory for religious ceremonies, the arrangement of several decorated lamps in a row brings out a splendid display of craftsmanship and is truly a wonderful sight.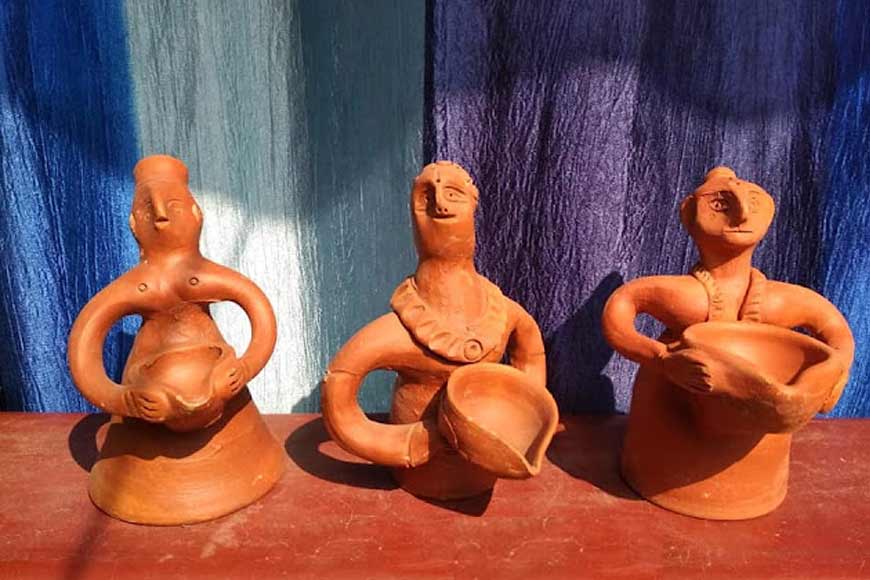 The Diwali Doll has a religious significance as well as it reflects the spirit of Goddess Lakshmi which symbolizes increasing wealth, which is one reason why it is a very popular feature of the Diwali festival. Diwali dolls are available in Purulia and Medinipur, although there is a substantial difference in the form and shape of the dolls produced in these two districts. The shapes of the dolls made in Purulia are very attractive. In addition to dolls with lamps fixed on their raised arms and head, many other types of dolls are also produced in these districts. One particular type of doll shows a female figure with both hands raised to hold a circular tray above her head and innumerable lamps are fixed all over the circular tray in a neat arrangement. Sometimes the Diwali dolls are made with lamps in two tiers. Apart from carrying a circular tray with an arrangement of lamps in her raised arms, the doll is shown to have two semicircular trays bearing lamps on her shoulders which are attached to the circular stand comprising the lower part of the doll.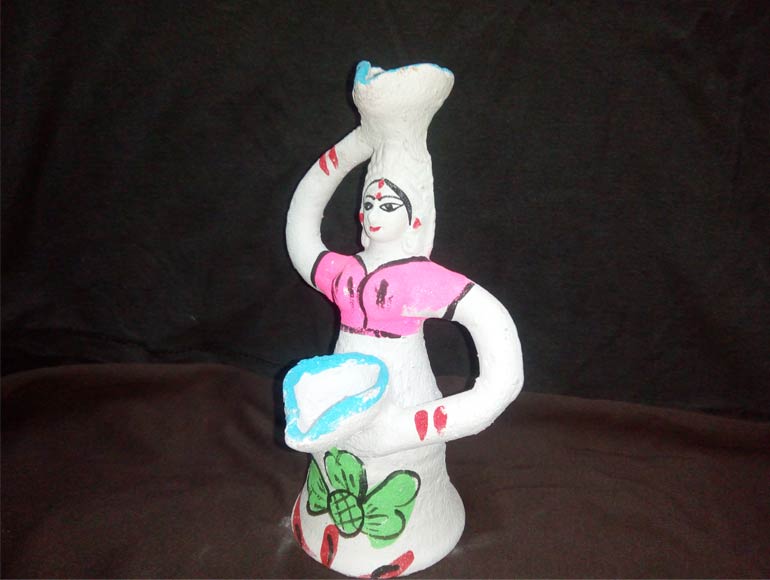 Diwali doll bearing seven lamps are known as Satbahaniya. But dolls with three, five or nine lamps are also quite common and then there are some dolls which show a female figure with just two lamps. One in each hand, while the head is decked with a crown. Diwali dolls are made by the potters of Purulia town and also by potters of Balrampur, Jhalda, Adra and Hatatarh under Bagmundi police station and various other places in Purulia district. As a standard procedure, the lower part of the doll's body or the trunk is made round shaped by casting in a mould and it eventually looks like a skirt.

Next, a moulded face is fixed to the upper part and the two parts are joined together to get the full body of the doll. After this, separate limbs of clay are fixed to serve as arms and a circular tray is attached to the hands and several lamps are placed on the tray. Needless to say the number of lamps increases with the increase in the size of the doll and the size of the circular tray. Sometimes the number of lamps is as high as 13-16. The height of the doll often goes up from 30cm to 1m. After the doll is completed it is burnt in fire and then coated with paint. The dolls made in Purulia are mostly finished with a paint of powdered mica to bring out a silvery colour. But dolls of glossy pink and yellow colours are also seen. Sometimes the doll's body is decorated with red, blue, black, yellow and white colours while the lower part is usually decked with designs of flowers and leaves.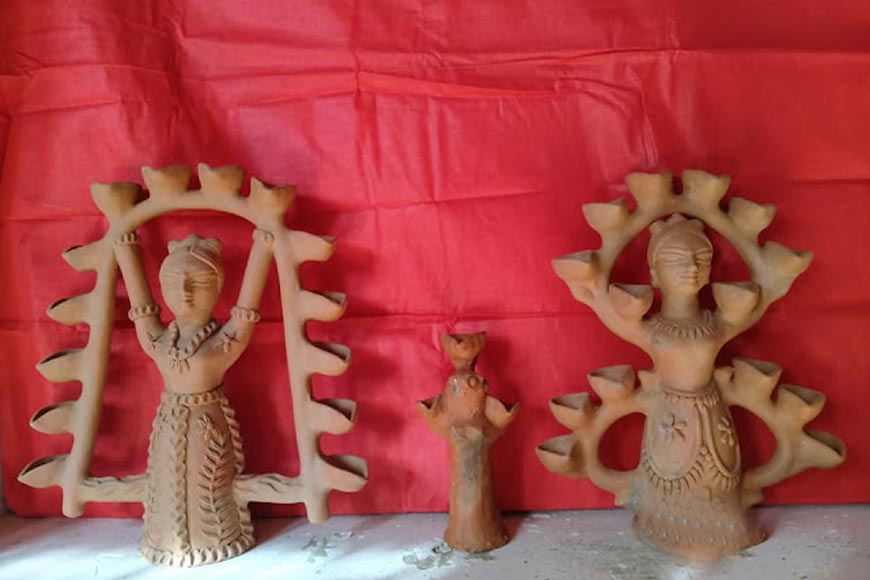 In Medinipur district, Diwali dolls are mostly produced in the potter's villages of Manikpur and Mirza bazar. The dolls made here are primarily of two categories – one is the traditional doll bearing lamps and other is made of terracotta. This is provided with a wick and a small kerosene container. The second variety is known as Fairy Doll and its height varies between 30-50 cm. The rounded lower part of these dolls is produced in mould and chest, face and arms are made separately and joined together to complete the doll.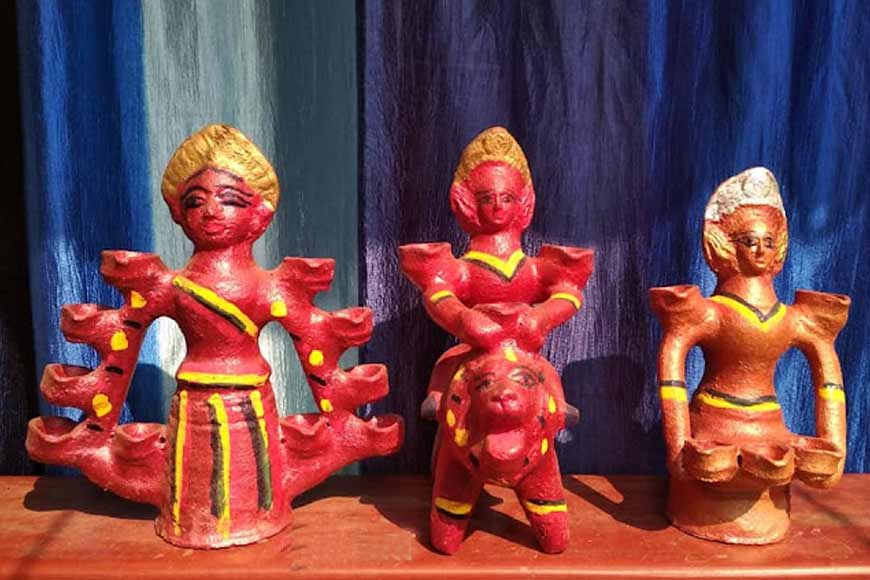 While the doll is soft and damp, it is dried up and burnt before being painted. A coat of chalk is first applied on the body of the doll and then its lower part comprising the skirt is painted in red, pink, green, blue or yellow colours on which many ornamental decorations are drawn portraying a lotus or assorted flower and leaves. Then the doll's clothing is painted in suitable shades and the eyes, face and nose are drawn with care. While Diwali dolls of Purulia are based on themes involving women, men, birds and animals, the dolls in Medinipur are centred primarily around female figures. In addition to which they also cover birds and animals and many Gods and Goddesses. Sometimes the dolls of the female figures are shown to have four or even ten hands.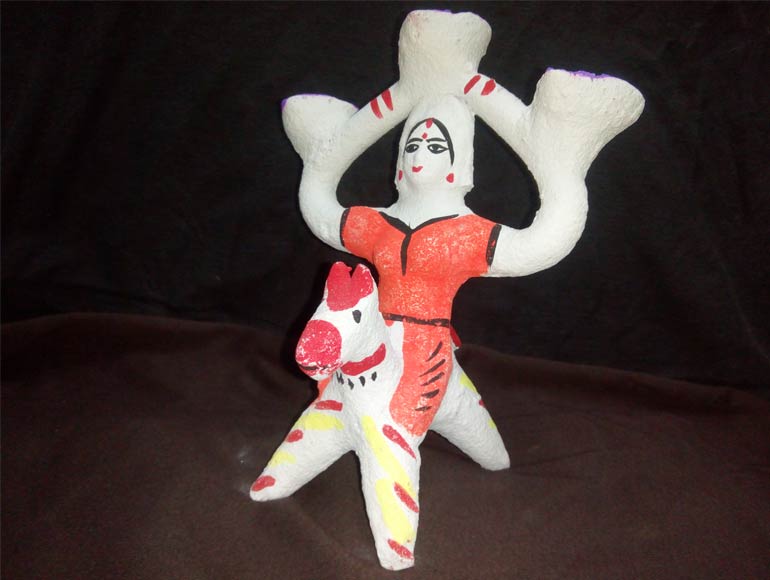 One of the most attractive Diwali doll made here is a reproduction of Ravana. The artisans of Medinipur apply their innovative concepts in producing various types of Diwali dolls. Lest the lamp gets extinguished, they provide small kerosene container to add a special feature to the doll.
(Data from Folk Arts of West Bengal and the Artist Community by Tarapada Santra)