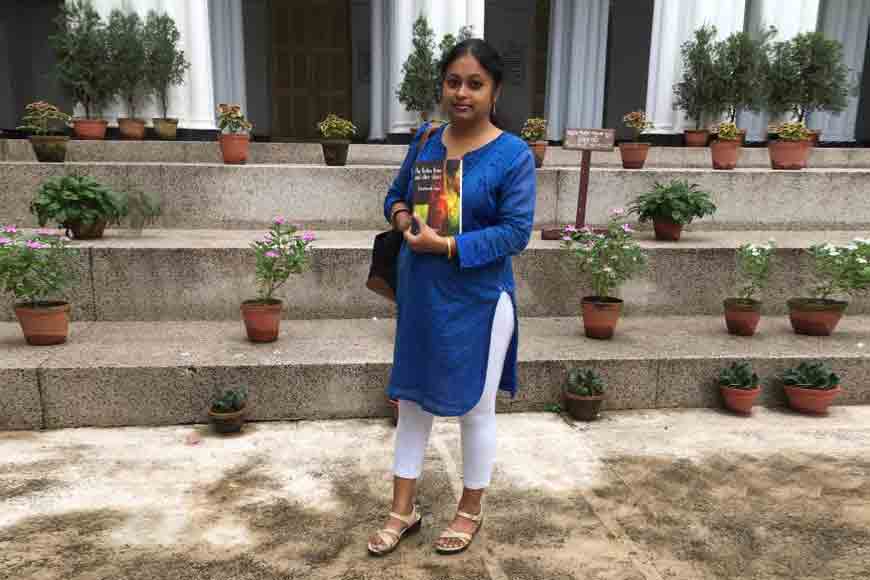 • Why did you choose Rabindranath Tagore? Isn't it difficult to translate his stories and already we have so many translations of his in the market?
I have tried to address this question in the preface to my book 'The Broken Home and Other Stories,' where I have traced some tidbits of my journey as a child fed on a daily dose of poems and songs created by Tagore, introduced to me by my mother. Like most Bengali household of our generation, the bard's creations, celebrations of his birth and death anniversary had left a long-lasting impact on my persona since my formative years. When I started my own literary blog, I started out with translating a few poems and songs of Tagore, some ofwhich were published online, and appreciated in the literary circle. However, it is after my mother's demise that I felt an urge to translate some stories of 'Galpaguchchho,'as a spontaneous outburst of my adrenaline rush, to fulfil my mother's wishes in my own small way.
Thus, my translation of his magnum opus novella 'The Broken Home' happened, which was published serially at Café Dissensus, from New York.
I was initially apprehensive, lest my effort of translating the work of the bard gets drowned in the multitudes of the voices already out there. However, I have always believed my emotional fervor and honest ingenuity would be the backbone of my attempt at translating the bard's literary masterpieces. The stories of the collection are mostly period pieces and carry the charm, richness and poetic essence of a pre-independence Bengal. It was a challenging task to convey those layers in the narratives originally created by Tagore.
• What types of stories are featured in your translated work?
It is a collection of two novellas and six short stories. I have handpicked and chosen all, and women are the unmistakable nucleus of these fictional narratives. Whether it is the deep, brooding world of Charulata and her affectionate bonhomie with brother-in-law Amal in 'Nastanirh: The Broken Home,' or the world of the lonely, feisty Giribala in 'Manbhanjan: The Appeasing,' the surreal world of the mute girl Subha, or the two disparate worlds of Sohinee and Neela, mother and daughter, colliding with each other in 'Laboratory,' there is an unmistakable feminine subjectivity in an overarching patriarchal setting.
The stories I chose are all works of fiction and are enthralling sagas, where women have been scripted in an inimitable, powerful aura. The deep insight of feminism in Tagore through the portrayal of the complex emotional worlds of these woman protagonists is what I wanted to bring to the forefront through the selection of these stories.
• As a translator do you think you did justice to the original story and the original language?
I leave that part to the discerning judgement of my readers and reviewers, and hope their analysis of my translations will convey how much justice I have done to the original Bengali stories of 'Galpaguchchho.'
My job was to trans-create their emotional worlds depicted by Tagore, keeping the original tone, tenure and texture of the original stories.
• Where have your book been featured?
It was featured serially for Café Dissensus, a prestigious online journal from New York, followed by a Kindle Edition.The translation was critically acclaimed and I receivedthe International Reuel Prize in 2016, instituted by The Significant League. Also, during this phase, I was working on translating some other stories of Tagore's Galpaguchchho and the thought of compiling it all in a printed book form was suggested by my erudite author friends Dr. Santosh Bakaya and Dr. AV Koshy. Sudarshan Kcherryof Authorspress, a scholarly and literary press proposed to publish all the stories and the book was formally launched at the Delhi Litexperia.
The Rabindra Bharati Museum of Jorasanko has kept my book.
• How relevant is Tagore in modern-day USA?
To be honest here, there is a huge lack of information regarding the mammoth literary creations of Tagore as I have seen within my limited periphery of literary interactions in USA. This has been quite shocking, considering his works have been talked about and also archived in London and other parts of Europe. His poems and songs have been the elixir of Bengal, though later there have been harsh criticism of his poetry by none other than W.B. Yeatsand Philip Larkin. An article in 'The Guardian' in this connection, written by Ian Jack on May 2011 quoted:
'It's hard to think of any other writer anywhere who has aroused this level of fervor, but Tagore might still be seen as a purely local phenomenon, a curiosity and irrelevance to the world beyond Bengal.'
I personally take this as a complete ignorance of the western world which otherwise claims to know of his other pursuits which they think, are 'more intelligible' among his achievements, his role as an essayist, an educationist founding the Vishwa-Bharati University, a secularist and a nationalist. So,all the more, I felt an urge to translate his avant-garde fiction in English, when I settled in USA.
• How tough it is to establish yourself as an author in the West?
Right now, I think I am taking baby steps in a world of publishing which mostly thrives on connections, much more than just the merit of a writer. In the West, it is a norm to seek a literary agent and publish your books. I have been one of the toppers in the Masters' program in Creative Nonfiction writing from the University of Nebraska, and published my first book, 'Thwarted Escape.'Most houses here in the US I had talked to (also another one in Singapore and also UK) told me to self-publish the book. I listened to my gut feelings and published the book in India and today the book has been noticed in this country as it received Honorary Mention at the Los Angeles Book Festival in April 2017. Prior to that, Chanticleer Reviews and Media LLC in Bellingham, Washington had chosen the book manuscript as a First Place Category Winner at their Journey Awards 2014. This year they have chosen my published book in their list of best books in the memoir/nonfiction/autobiography/inspiration' category. This is a small victory for me in its own way. Having said that, it is extremely difficult to break through in the mainstream publishing world in the west. There is a huge Barnes and Noble in Texas where I was shocked to find no books by Asians, not even Khaled Hossaini or Chitra Banerjee Divakaruni or Bharati Mukherjee or Jhumpa Lahiri, the ones who made waves in the international publishing world.
• What exactly you are doing now, other than writing books?
I have been quite on a publishing spree since my first book as a co-editor, 'Defiant Dreams: Tales of Everyday Divas' happened, along with Rhiti Chatterjee Bose. The book, published by Readomania, went on to be an Amazon bestseller and was chosen as a book worth reading by the Oprah Book Club 2.0. As a co-editor, I have been part of two books this year, one, an anthology of spine-chilling ghost stories titled 'Darkness There But Something More,' and another, an anthology of poetry by 28 women poets of Indian origin, titled 'Cloudburst: The Womanly Deluge. Also, I run the e-zine 'Learning & Creativity' with my friend Antara Nanda and have also launched an editorial imprint 'Blue Pencil.'
• What is your advise for young aspiring authors?
I would just like to share that it is important to know your inner voice and strive to chisel it as much as you can. Once you know your inner voice and want to present it with authenticity, the rest will follow.