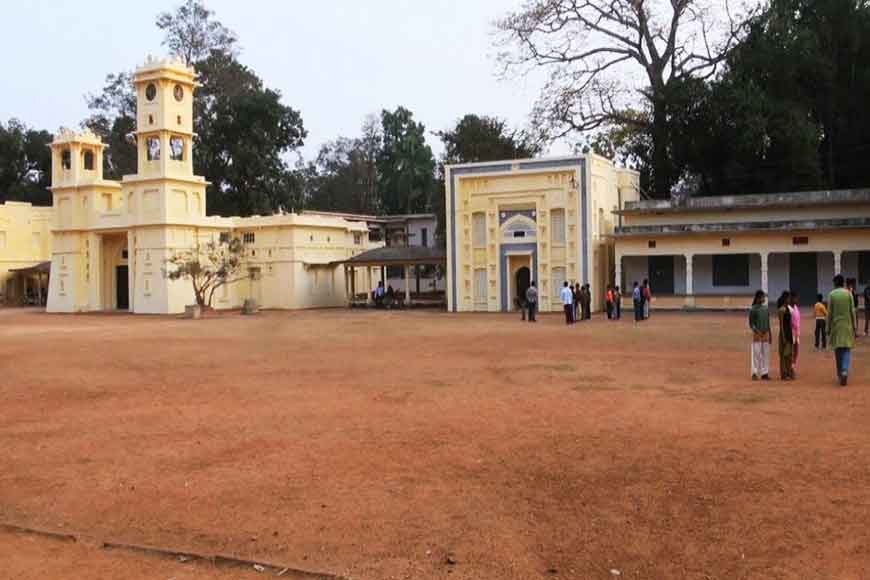 Visva Bharati University's latest move has raised many eyebrows. Recently, the university authorities decided to set up full-fledged dairy farming on the campus. A couple of months ago, a portion of 1.5 crore UGC grant, the university received, was spent to purchase 20 cows and refurbish the cow shed, that had been long discarded. Now, the varsity plans to approach various other Central government institutions, including the Indian Council of Agricultural Research and National Dairy Research Institute for funds. The authorities are willing to approach the state government as well, for support. The Central Public Works Department (CPWD) has been assigned to build the dairy farm.
At present the cow shed has been built within the campus on a 3-cottah (2,160 square ft) plot. It is well-equipped with amenities for the bovines: ample fodder, well-lit shed and caretakers to look-after the animals round-the-clock. The authorities plan to develop this into a world-class dairy farm. This sudden enthusiasm displayed by varsity officials has raised many questions. Dr Swapan Dutta, Vice Chancellor of Visva Bharati, recently informed a team of officers from the university would be sent to New Delhi to invite the Prime Minister, Narendra Modi, who is also the Chancellor of the University, to attend the upcoming convocation meet.
Detractors are, however, interpreting this recent initiative as a move to encourage 'Cow Politics' and please the saffron brigade. However, Dr Dutta clarified the cow shed was very much part of Visva Bharati, since Tagore's time. The milk and other produce obtained was used to feed residential students, teachers and other staff members. However, owing to mass-scale theft and lack of maintenance, it was shut down 26 years ago. The cow-shed was rebuilt and was made operational about three months ago. Of the total produce, 15 litres of milk is at present earmarked for junior students of Patha Bhavan. The rest is distributed among the staff. But as the VC said, they want to expand the cow shed and build a proper, state-of-the-art dairy farm where around 200 cows will be housed.
To make it a self-sustaining project, at least 80 to 90 litres of milk will have to be extracted daily and this will require huge funds to buy modern equipment. They also plan to expand the scope and include agriculture and poultry farming within the campus. However, many believe, this sudden enthusiasm and pro-activeness surrounding the dairy farm is politically motivated.
Visva Bharati is at present marred by a series of problems. No new recruitments have been made in the past three years and there is an acute dearth of teachers. This has been a major cause of concern and renowned artist and ex-principal of Kala Bhavana, Jogen Chowdhury says the condition of the museum, laboratory, library and hostels is pathetic. Years of neglect and apathy, have turned these buildings into dilapidated structures. "It is high time for the authorities to prioritize and look into this sector, instead of concentrating on a new project and channelizing a major portion of the grant money for this purpose." Dr Dutta, however, refutes all charges and says, Rabindranath Tagore himself propagated a self-reliant village economy and this initiative is a step towards actualizing his vision.