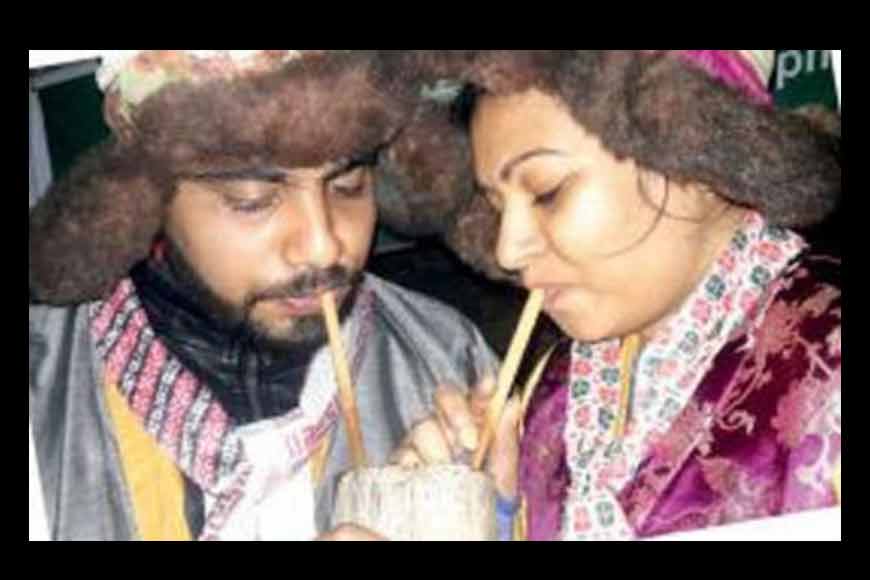 Salon manager Tarun Chakraborty of Rajarhat and his fiancée Riya went on a holiday trip to Kalimpong. On the way they impulsively made a stopover at Jhandi, a virgin village nestled amid nature's verdant greens. Most inhabitants of Jhandi are Sherpas, a Nepalese ethnic group, renowned for their mountaineering skills. Both Tarun and Riya were stunned by the breathtaking beauty of the village. It was a riot of colours when they reached Jhandias rhododendr¬on flowers were in full bloom. The panoramic view of Mt. Kanchenjunga and the spectacular sunrise over Bhutan Hills left them speechless.
While conversing with locals, they were bowledover about their marriage rituals and instantly decided to get married as per Sherpa tradition. Though an elaborate wedding ceremony had already been planned in the city for the couple, yet Tarun, too, loved the idea and was game to this ethnic wedding ceremony, amid natural surroundings. The locals were only too happy to comply and arranged everything for the ceremony. The entire village got involved in organizing the wedding. They formed two groups, one representing the bride's family and the other, the groom's.
Dressed in Sherpa outfits, Riya and Tarun tied the knot. A Buddhist priest chanted holy mantras and presided over the ceremony. The 'dung-chen,' the great conch shell made of brass that emanates a deep haunting wail was also blown. The couple drank tomba (a millet-based alcoholic beverage) from a fine bamboo straw and danced through the night with locals in colourful dresses. The couple is back, but both are still gushing about their memorable days and magical moments they spent there. For them, Jhandi will always occupy a very special place in their hearts.
Now, this unique wedding has initiated a new trend.The Sherpa-styled destination wedding at Jhandi could open up new vistas and young couples planning to get married 'differently' can very well consider Jhandi or some such virgin land as their wedding destination.Local tourism industry is very enthused by this idea and plans to market it widely. The mighty Himalayas beckon tourists from all over the world and now tourism honchos are optimistic about strategizing quaint little hamlets as wedding destinations and attract Westerners with this new concept. Arranging local wedding for tourists will also help to bridge the gap between locals and tourists and enable a better understanding of each other. Tourists will get an in-depth knowledge about the place, its inhabitants, their rituals and beliefs.