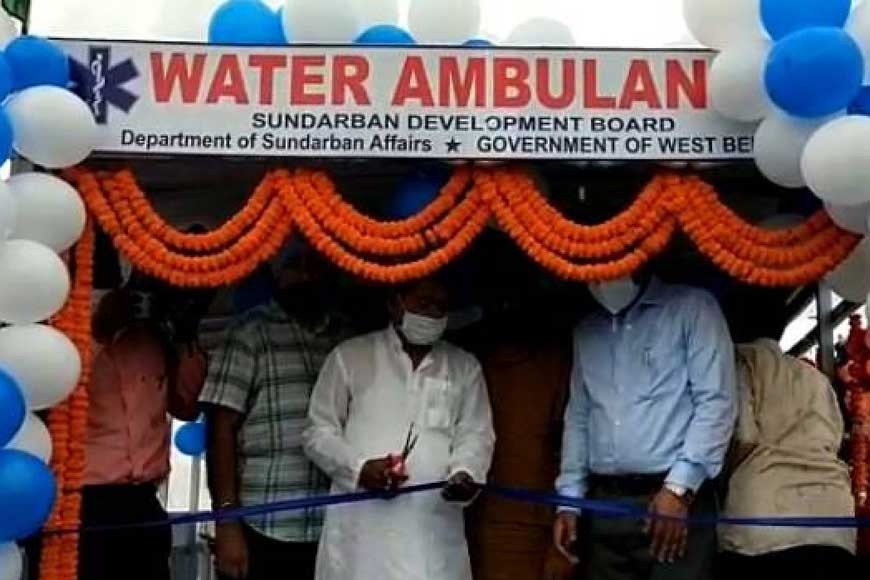 A large launch aka longboat has been modified into an ambulance with all essential facilities including bed and oxygen available within the boat. The ambulance service was launched recently to transport patients of Gosaba Block to nearby hospitals conveniently.
The Sundarban forest lies in the vast delta on the Bay of Bengal formed by the super confluence of the Hooghly, Padma (both are distributaries of Ganga), Brahmaputra and Meghna rivers across southern Bangladesh. The Sundarbans is intersected by a complex network of tidal waterways, mudflats and small islands of salt-tolerant mangrove forests. The interconnected network of waterways makes almost every corner of the forest accessible by boat. For the people of the nine islands of Gosaba, the waterways are the only means of communication.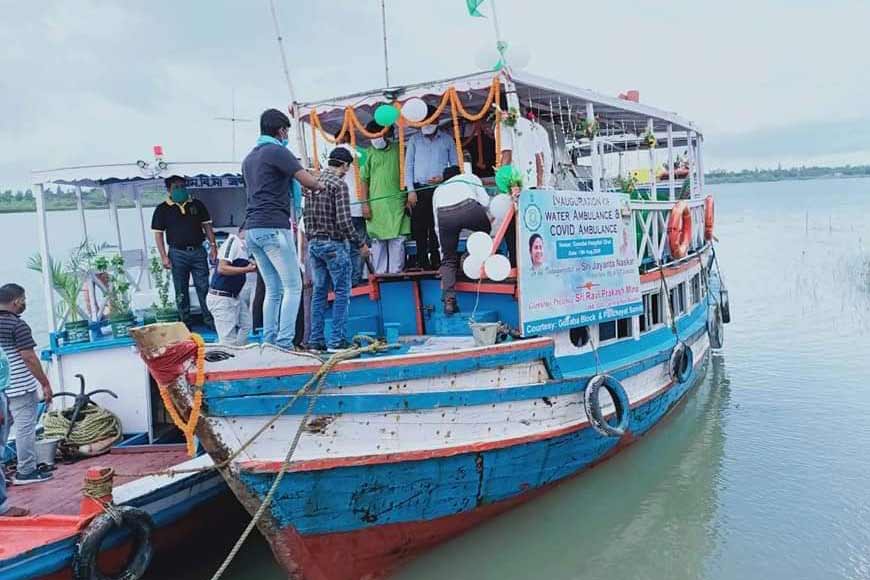 In the past, patients and their families living in these remote areas faced insurmountable problems when they had to rush to hospitals in Canning or Kolkata for treatment. Arranging a vehicle for transportation was next to impossible and rudimentary surface transport conditions made the journey during such emergency conditions even more difficult. There were times when patients died on their way to hospital. With the introduction of the water ambulance, a lot of time will be saved as patients can be rushed to Godkhali wharf by this water ambulance. From there, they can be easily taken to Canning Subdivision Hospital or elsewhere by surface transport or ambulance. As a result, it will be possible to provide treatment to the patient on time in specialized hospitals.
At present, the ambulance is stationed at Vidyanadi but it is equipped to reach remote islands like Kumirmari, Satjelia, Bali, Chandipur, Kachukhali, Gosaba, Chhotamollakhali, Radhanagar and Taranagar. Inaugurating the service, the Sunderbans Development Minister Bankim Chandra Hazra said, "Residents of Gosaba Block suffered a lot for so long to avail proper treatment on time. The introduction of the ambulance will ease their problems to a large extent."
Initially, it was decided that Rs 100 would be charged from the family of patients for availing the ambulance services, but later Sundarbans Development Department decided to bear the cost of the vessel. The Block Development Officer (BDO) of Gosaba, Sourav Mitra was upbeat about the project and was confident that the new water ambulance, launched by Sundarbans Development Department, will benefit the island's poor residents during health crises.
The idea of introducing a water ambulance service came upon during cyclone relief distribution, when the authorities were told by residents about their plight to reach a hospital in case of emergency.