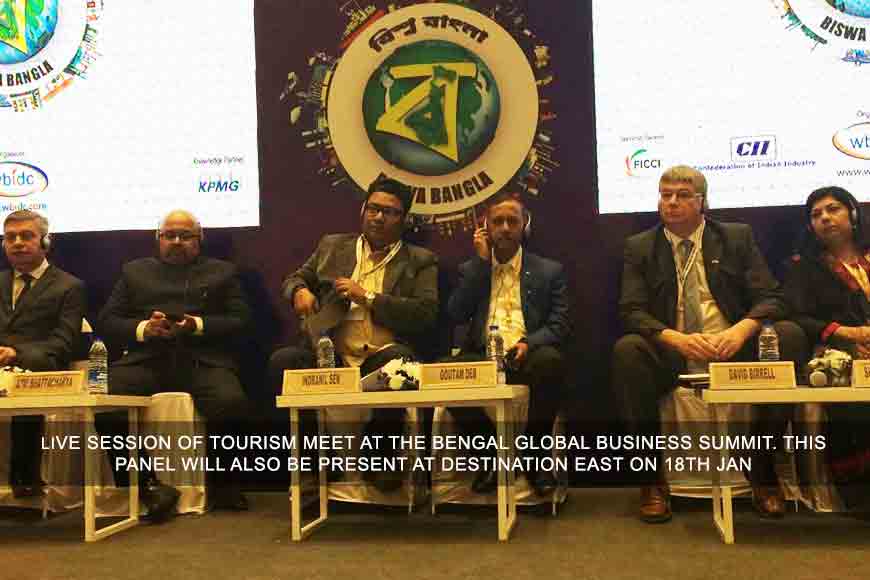 The inaugural day of Destination East on 18th January will see as many as 102 overseas delegates from 30 countries, including 14 from the US, 12 from the UK and 12 from Russia, who will discuss opportunities to access, experience and invest in West Bengal's tourism sector. The newly-built Biswa Bangla Convention Centre at Rajarhat New Town will host the 8th Destination East meet, that happens to be largest-of-its-kind held in Eastern India.
The inaugural session will be addressed by Goutam Deb, Tourism Minister of West Bengal, Indranil Sen, Minister of State for Tourism, Atri Bhattacharya, Principal Secretary to the Departments of Home, Hill Affairs & Tourism, West Bengal. Manish Jain, Tourism Secretary, West Bengal, Umesh Chowdhary, Chairman, CII Eastern Region & Vice Chairman and Managing Director, Titagarh Group, Dipak Haksar, Chief Executive, ITC Hotels & Welcome Hotels, Vijay Dewan, Chairman, CII Eastern Region Tourism Subcommittee & Managing Director, Apeejay Surrendra Park Group of Hotels, Atul Bhalla, Co-Chairman, CII Eastern Region Tourism Subcommittee & Area Manager East, ITC Hotels & General Manager, ITC Sonar.
The speakers of the panel discussion have a varied and eclectic display of names from various tour related sectors. There will be a series of B2B meetings. Speakers include Paramprit Singh Bakshi, VP, South Asia & Head- SBUs, CAPA, Koustav M Dhar, CEO & Director, Zoom Air, Rakshit Desai, MD (India), FCM Travel Solutions, Ranju Alex, Multi Property Vice President East India and General Manager, JW Marriott Kolkata, S P Jain, Managing Director, Pride Hotels Limited, Sharat Dhall, COO, Yatra Online Inc, Sandeep Dayal, Head- Sales, BD & Special Projects, Cox & Kings Limited, Rishi Jain, Executive Director General, Jain Group and Bjorn Noel DeNiese, Vice President, Sales & Marketing, Mayfair Hotels & Resorts Limited.