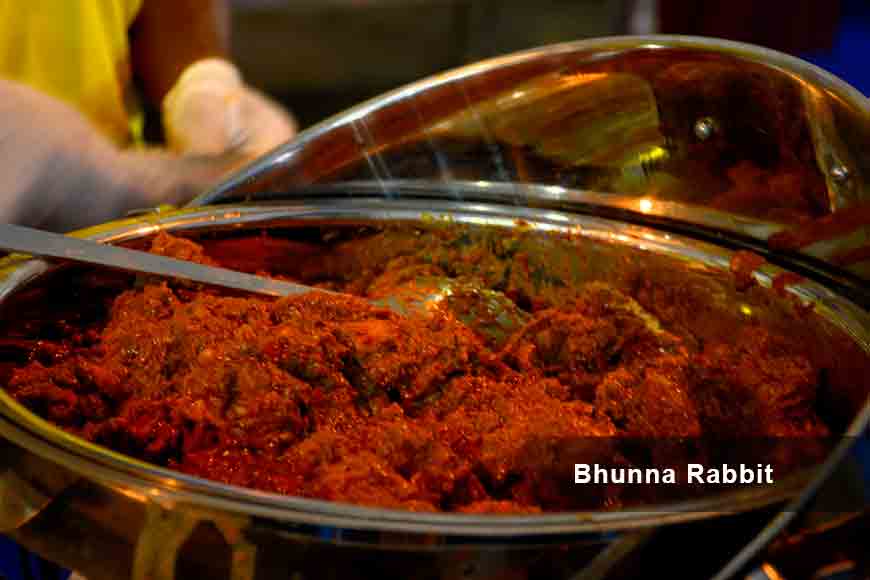 Atrei Chatterjee and Urvashi Basu.

Just imagine having some non-conventional meat at a Kolkata Food Festival! And that too exotic oriental dishes like Shark mixed meat, rabbit meat in wild green leaf paste with a dash of gondhoraj lebu, Rabbit bhuna, Turkey Pasinda, Emu Hariyali Kebabs! Astabacra Agro, a farm based out of Birbhum, was selling excellent roasted turkey and emu kebabs at just Rs75 and 150 each. Anjan Dutta's Speciality Group was seen serving quail biriyani, duck with rice, along with their traditional offerings. Asparagus Pvt Ltd, a catering service, was also selling shark, quail, and turkey as part of their menu.
Lamb Kasha
Duck biriyani
The international hangar 'C' has recommended restaurants from the Chinese, Japanese, and Russian consulates. Big Boss, Fuji, and Millee Droog were their chosen restaurants respectively. If you want to try some maki sushi, please do visit Fuji and Japanese Forest restaurant in EcoPark. If you're craving for some Russian pork dumplings, pork pancake or some hearty lamb shashlik, head on over to Millee Droog. What will catch your attention is that despite a lot of continental, pan-asian and Chinese cuisines available, people still flocked to north-indian and especially Bengali cuisines.
Smoked Octopus in brown sauce
Roasted shark with mix meat sauce
The outlets from the State Fisheries department had a variety of fish and seafood delicacies like goldac higri and paturi on board, along with assorted thalis. Please do try the crab mussallam from the State Fisheries stall - at 130 rupees per plate, it's a steal!
Gaurishankar Konar, managing director of West Bengal Livestock Development Corporation was ecstatic at the success. He says: "The young generation is more interested in unconventional meat and are leaving chicken and mutton to experiment with exotic dishes of quail, turkey, emu, rabbits etc. Thus, these dishes have been a great steal at the food fest this year." They have sold on a single day raw meat worth more than one and a half lakhs and prepared exotic meat dishes of more than 3 lakhs. These figures surely reflect the success of the meat trail at Ahaare Bangla!
Duck Dak Bungalow