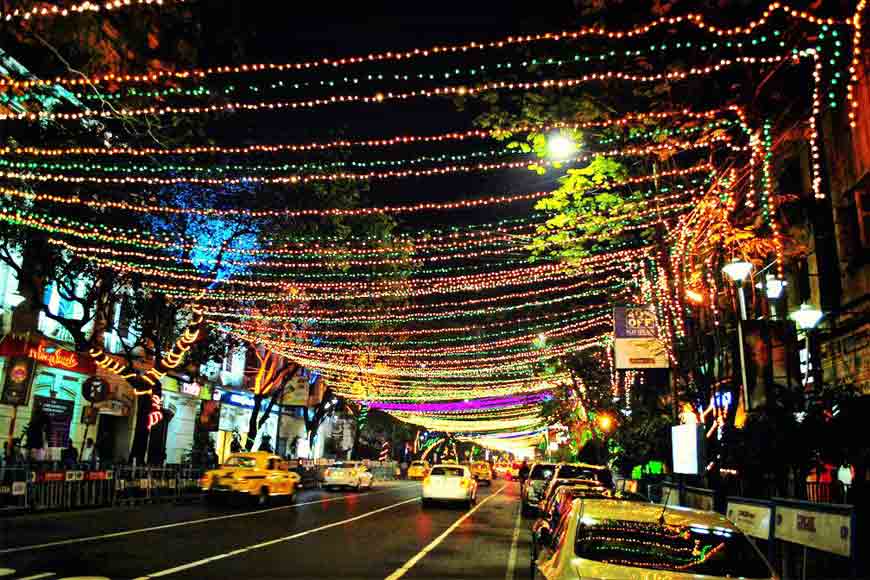 Come December and Kolkata's affair with its elusive beau, winter,begins. There is a sense of expectancy hanging low as Christmas approaches. Here Christmas is not just a festival for Christians. Park Street during Christmas turns the icon of a cosmopolitan city.
Park Street is always buzzing but it is at its resplendent best during Christmas. This area has the whole lane of best of restaurants, pubs, cafes, street food corners, bars, beauty salons, studios, bakeries, book hawkers and many more.During Christmas, Park Street gets a makeover and the dreamy blue illuminated corridor from Jawaharlal Nehru Road leading to Free School Street, Russell Street, Rafi Ahmed Kidwai Road and Camac Street looks magical. In fact, many find the area resembling abit of both New York's Times Square and London's Oxford Street.
The long street turns into an open-air Christmas party with food and drink stalls, live music, and entertainment at nearby Allen Park. From Christmas Eve, all vehicular traffic is closed off and hordes of celebrating crowd descend on the street to give it a carnival-like atmosphere. The whiff of freshly baked cakes and other delicacies permeates in the air. The heritage restaurants lined on this 3-km stretch, join in the fun by giving their frontages a festive look.
Hawkers have always been a part of Park Street but during the Christmas and New Year carnival, they have an eclectic ware to lure a casual visitor. They are walking-talking advertisements of their products and do not tire singing paean of the knick-knacks they sell. These can include anything from glittery party props, hats and caps, balloons, glitter hats and swords, masks, laser lights and what not. And all this at a throwaway price that is hard to resist.
The boutique hotels and bakeries work overtime to re-stock their counters with oven-fresh rich fruit and plum cakes that are sold as soon as they arrive. Flury's, one of the best in the business, also offers to bake customized Christmas cakes for customers who can take home the goodies to celebrate with friends and family.In the West, Christmas is a time to spend with family but in Kolkata, thousands of people come out in the streets and celebrate the festival outdoors, in the spirit of joy and merriment. This is unique and an USP of Christmas in Kolkata that enlivens the Park Street revelry and carnival.