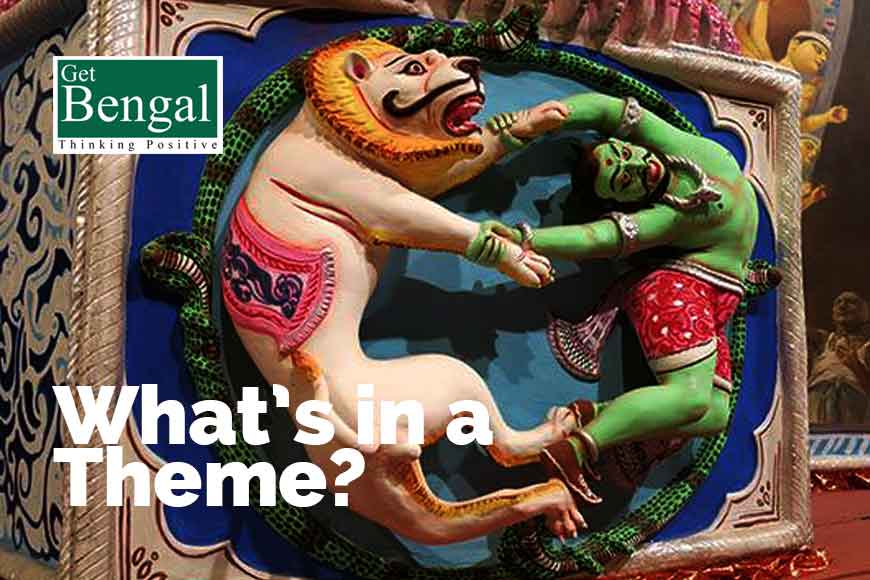 The celebration of triumph over evil has started with much anticipation and gusto. Down the ages, from the time of the zamindars of British era Bengal to communist Bengal and then to different puja loving Bengal, the festivities have always kept us alive. They have no doubt escaped from the reins of bonedi bari, the mansions of the erstwhile aristocrats, and spilled on to the para pandals, and thus turned a social venture joined and commemorated by the community.
Every neighborhood, every cul-de-sac honors the festival of Durga and a recent trend of 'theme' pujas have sprung up in the last decade or so. The design and decoration involves artists, architects and community representatives hosting it. Theme Pujas have significantly taken over traditional pujas over the years. And the competition to win every award from 'best pandal,' 'best idol,' to best Asura, have reached astronomical proportions.
Let's turn attention to Sreebhumi Sporting Club, that has entered the Guinness Book of World Records in 2018 for being the biggest crowd puller among the Pujas held in Kolkata, with more than 1,000 people visiting the pandal every five minutes. This year, too, grandeur is the USP for this pandal. It will be a replica of a Rajasthani Palace, akin to the sets of Sanjay Leela Bhansali's Padmaavat. The movie had caught the attention of the world not just because of its historical importance but also for the opulence and grandeur of the sets. Replicating such an elaborate set within the four walls of a Puja Pandal is really a tough task. Yet Sreebhumi has taken up the difficult job and is expecting to be the biggest crowd puller this year. But no to miss Baghbazaar's dak er shaaj er Durga, Kumortuli, College Square, Deshapriya Park, among others that are also boasting of eye-catching pandals.