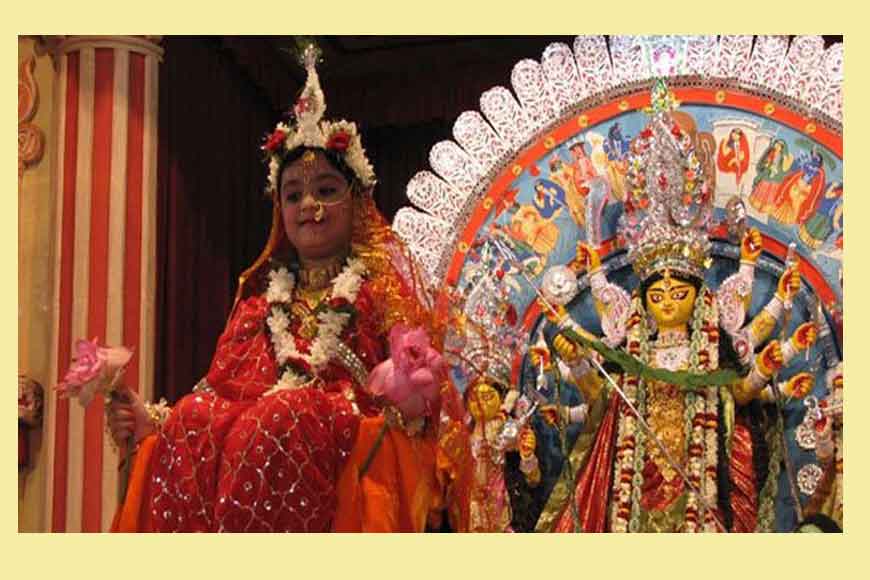 Dutta House of Baguiati has set this Durga Pujo with a difference. Believers in the teachings of Swami Vivekananda, the Dutta household celebrates Durga Puja every year in their own home, and also perform the auspicious Kumari Puja. Kumari Puja is the worship of Maa Durga in her most serene, innocent and virginal manifestation, to resurrect the celestial being in human form and worship her. A girl, selected between the ages of 2-12, is usually paid homage, to awaken the Goddess.
The Dutta household -- comprising of Tamal Dutta, an engineer of the Municipal Corporation, his wife, Moushumi, an advocate, and his mother -- have always tried to do away with caste and class distinctions. From choosing a girl from a non-Brahmin family, to a girl from a Dome family, usually considered as 'untouchables,' to a Muslim girl this year, the Duttas use Durga Puja rituals as a lesson for all.
Always looking for ways to break through class-and-caste stereotypes, the Dutta family have chosen unconventional ways to be true to their philosophy. The banal stereotype of worshipping 'pure Brahmin' girls has been done away with. This year a Muslim girl will represent Maa Durga. Fatima, a four- year-old niece of Muhammed Ibrahim, will be the Kumari who will personify the Kalika incarnation of the goddess. The Dutta family has proved their faithfulness and loyalty to the teachings of Swami Vivekananda by following his great acts of uniting people -- he, too, chose a Muslim girl, daughter of a boatman, to be the vessel of Durga in his Kumari Puja.
For religion doesn't divide, in all its celebrations it unites!