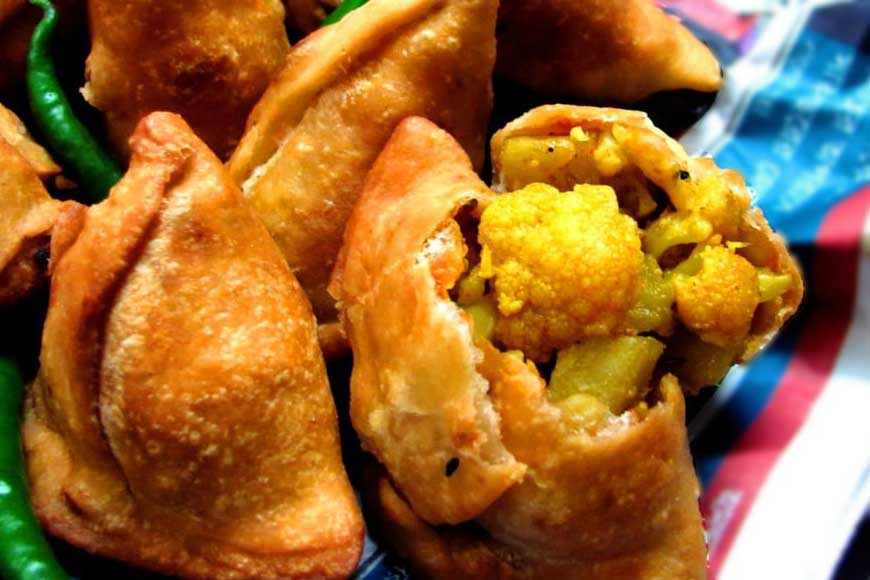 Of all the delectable street food items Calcutta is renowned for, shingara (do not mix it with North Indian samosa) definitely ensures its spot right on the top list. Shingara can be described as the cousin of Samosa though whose origin can be traced back to Iran where it is called sanbosag in Persian. It is also a popular snack in many other countries including Afghanistan, Tajikistan and Burma.
Samosas have been around for about 1,000 years now. Amir Khusro (1253–1325), a scholar and the royal poet of the Delhi Sultanate, wrote in around 1300 that the princes and nobles enjoyed the 'samosa prepared from meat, ghee, onion and so on.' Ibn Battuta, the 14th-century traveller and explorer, describes a meal at the court of Muhammad bin Tughluq where the samushak or sambusak, a small pie stuffed with minced meat, almonds, pistachio, walnuts and spices, was served. It is only in India that the samosa is for the most part a vegetarian snack.
Here in India, there are samosas and there are shingaras. Samosas are big, bold and spicy. The potato inside is mashed up and tempered with dhaniya, jeera, garam masala and chaat masala and made fragrant with chopped dhaniya. As for shingara, they are smaller than the samosas, small cubes of potatoes, fried peanuts, bits of diced coconut pieces and spiked with fried spices with a sprinkling of roasted cumin in a bite size maida patty, fried in ghee with a subtle sweetness from behind the masalas. Come winter, and the same shingara undergoes a transformation with tiny florets of cauliflower and peas added for the unique resplendence. Deep fried in oil or ghee, shingara tempers your nerves and tickles your taste buds. Few can tune up and set the tone in a adda like the good old shingara in its crusty best.
Since winter in Calcutta is very brief, phulkopir shingara shoots to the top of the food chart during this period. However, not many sweetmeat shops can make this delicacy to perfection. A few ancient shops, tucked in obscure nook and corner of the city's locality have perfected the art of making the phoolkopir shingara over generations. However, there are a few well-known shops as well where the brief annual appearance of phoolkopir shingara attracts the gourmet from all corners of the city and beyond. If we venture on a phoolkopir shingara trail, the first name that comes to mind is Deshbandhu Mishtanna Bhandar. This shop is located at the heart of Burrabazar, the business hub of Kolkata. It is a very old and familiar shop that offers a variety of traditional Bengali sweets and savouries and during winter, it serves piping hot scrumptious phoolkopir shinagara which sell like hot cakes and get over as soon as they are placed on wicker baskets daily.
Balaram and Radharaman Mullick has been satiating the Bengalis' palate for more than a century now. Set up in 1885, this shop at Padda Pukur, Bhaanipore, is part of the city's heritage. Although the shop has been adding numerous new fusion sweet and savouries to its already hit dishes, one item that has stood the test of time is this phoolkopir shinagara , sold during winter. This is a compulsory add on item and is a big hit here.
Mrityunjoy Ghosh & Sons in Sarat Bose Road, Kolkata, is another ancient old sweet shop and is known for serving varieties of sweets and desserts. Among the variety of snacks it serves, Phulkopir Singhara is highly recommended. It tastes best combined with green chutney. A great place to enjoy evening snacks with a cup of chai.
Putiram Sweets located in College Street, Kolkata, is an age-old Kolkata eatery that has been around for decades. It is known for the traditional Bengali mishti that it serves, especially its Rasmalai and Sandesh. The shop also serves typical Bengali snacks and during winter, it offers stuffed radhavallabhi and phoolkopir shinagara , a big hit among the student community.
V.I.P Sweets, comparatively a new entrant in the sweets market, has already made a name for itself by selling crispy Phulkopir Singhara during winter months from its Salt Lake outlet.
Apart from these well-known city joints, superb Phulkopir Singhara is sold on trains around Burdwan station. As you take out the shingara from the roughly-attached plate made of Sal leaves and the whiff of freshly-fried shingara hits your senses, you are transported to another world. With a cup of steaming tea, take a bite into the shingara, stuffed with potato, tender peas and cauliflower florets, flavoured with ground fennel. That's winter for you as you watch the world going by from the window of the moving train compartment.